281 votes
228 voters
47.8k views
7 items
Maggiano's recipes - the easy way to prepare the best dishes from the Maggiano's Little Italy menu. These are copycat recipes, not necessarily made the same way as they are prepared at Maggiano's, but closely modeled on the flavors and textures of Maggiano's popular food, so you can bring these exotic tastes to your own table for a fraction of the cost.
Maggiano's Little Italy was founded in 1991 in Chicago's River North neighborhood. The casual dining restaurant specializes in Italian-American cuisine, including pasta, salads, Italian steaks, seafood, and desserts like Maggiano's cheesecake and creme brulee.
From Red Lobster Cheddar Bay Biscuits to Buffalo Wild Wings hot sauce, chain and franchise restaurants are popular destinations around the world. Eating out too frequently can be costly, not to mention that it's hard to control portion size, ingredients, or the style of cooking to suit your preferences.
What are the best Maggiano's recipes? Making Maggiano's recipes on your own allows you to save money while enjoying your favorite menu items from the casual dining spot. This list collections the best copycat Maggiano's recipes from around the Web.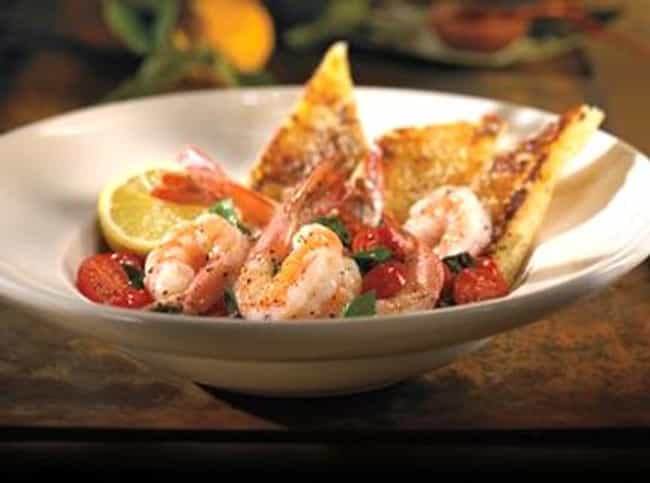 6 each Shrimp, (16-20 per lb)
2 Tbsp Olive Oil
6 each Grape Tomatoes, cut in ½
1 Tbsp Roasted Garlic Cloves
1/3 Cup Chicken Stock
1/3 Cup White Wine
2 Tbsp Butter
1 Tbsp Lemon Juice
1 Tbsp Fresh Basil, torn
4 pieces Garlic Bread, pieces, cut on a bias in half
1 each Lemon Half
½ Cup Parsley, chopped
Salt & Pepper, to taste
- In a sauté pan, heat olive oil until very hot; add shrimp and cook for a minute.
- Turn shrimp over and cook for 30 seconds.
- Immediately add grape tomatoes, roasted garlic cloves, chicken stock, white wine, lemon and butter.
- Allow sauce and shrimp to cook for 30-45 seconds.
- Add fresh basil and toss together with shrimp mixture; remove from heat.
- Place a piece of garlic bread in center of the plate and pour shrimp and sauce on top of bread; stack neatly and allow some tomatoes and basil to remain on top.
- Garnish with remaining garlic bread, half of lemon and parsley.

Would you try this?
2 tablespoons extra virgin olive oil
10 ounces button mushrooms
3 tablespoons balsamic vinegar
1 yellow onion , chopped
2 teaspoons garlic , pureed
salt and pepper
1 lb chicken breast , cut into 1 to 1 1/2 inch pieces
1/2 quart chicken stock
2 -4 ounces marsala wine (Cribari)
2 ounces white wine
1/2 quart heavy cream
1 lb rigatoni pasta
1 tablespoon fresh basil , chopped (and parsley mix)
2 tablespoons parmesan cheese , grated
2 ounces garlic butter
parmesan cheese , shavings (garnish)
chopped fresh parsley (garnish)
- Heat oil.
- Caramelize onions.
- Saute mushrooms with balsamic vinegar.
- Add onions to the mushrooms.
- Season with salt and pepper.
- Add garlic .
- Add chicken.
- Add chicken stock, Marsala, and white wine.; cook until reduced by half.
- Add cream and bring to a boil.
- Turn down heat and simmer to skim away any impurities.
- Cook rigatoni al dente.
- Add drained rigatoni to chicken mixture in pan; finish with basil-parsley mix, parmesan cheese, garlic butter, and salt and pepper.
- Add more Marsala for flavor as needed.
- Place in pasta bowl; garnish with parmesan shavings and chopped parsley.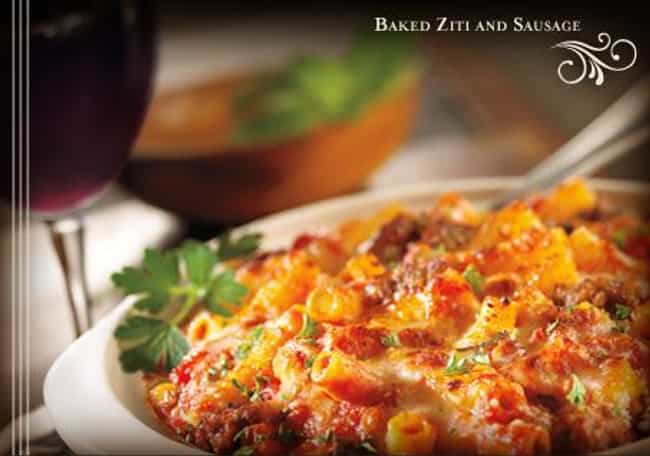 16 oz Ziti Pasta
2 oz Olive Oil
1 lb Ground Italian Sausage
2 Tbsp Minced Garlic
1 C White Wine
12 oz Diced Tomatoes
20 oz Canned or Fresh Marinara Sauce
1 oz Whole Butter
1 oz Chopped Basil
8 oz Shredded Mozzarella
3 Tbsp Grated Parmesan Cheese
1 Basil Sprig
- Place ziti in boiling water and cook as stated on package or until al dente.
- Place olive oil into a sauté pan over medium-high heat; cook Italian sausage.
- Once sausage is almost cooked, turn heat off and drain excess grease.
- Turn heat back to medium-high; add garlic and continue cooking for 30 seconds.
- Add white wine and bring to a simmer, reducing wine until almost completely dry.
- Lower heat to medium; add diced tomatoes, marinara sauce, butter and chopped basil.
- Remove from heat, add pasta and half of mozzarella; toss to blend.
- Transfer to baking dish and top with remaining mozzarella and Parmesan cheese.
- Place underneath a broiler or in an oven for 2-3 minutes until cheese is bubbly and golden brown.
- Garnish with basil sprig and enjoy.

Would you try this?
Godiva Chocolate Crème Brûlée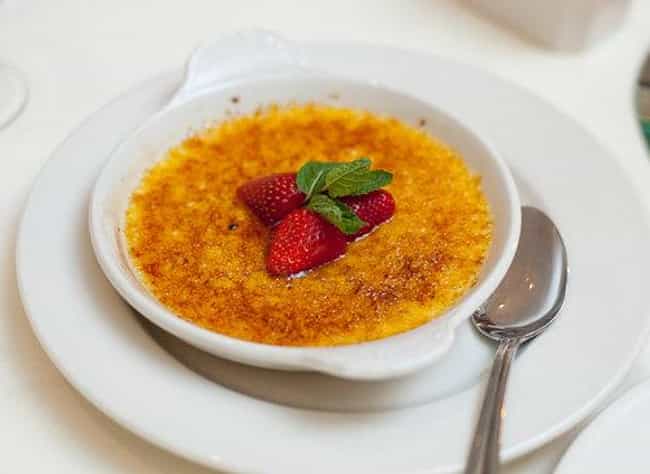 3/4 Cup Heavy Cream
3/4 Cup Half And Half
1/4 Cup Granulated Sugar
1/3 tsp Vanilla Bean Paste
Pinch Iodized Salt
2 Small Eggs, Yolk (1.5 oz)
1/3 Cup Callebaut Bittersweet Chocolate Pistoles
1/2 Tbsp Chocolate Godiva Liquor
6 Raspberries, Fresh
2 Mint Sprig, Fresh
4 Tbsp Crystallized Sugar
- Place chocolate into medium bowl.
- Place vanilla bean paste in a saucepot with half & half, heavy cream, sugar, and salt; bring to a simmer and remove from heat.
- Place egg yolks into a separate bowl.
- When cream mixture simmers, add half of it to yolks; whisk constantly.
- Stir yolk mixture back into cream mixture.
- Pour 1/3 of cream mixture over the chocolate; whisk until smooth.
- Add the rest of the cream mixture; whisk constantly.
- Add chocolate Godiva liquor – whisk to combine; mix until smooth with an electric mixer. Strain through a fine mesh strainer.
- Portion 8 oz each into 2 crème brûlée dishes.
- Place on a sheet pan in 300 degree oven with no fan.
- Fill sheet pans with hot water about ¼ ways up the sides of crème brûlée dishes.
- Bake with empty sheet pan on top rack.
- Bake for 40 minutes or until set in center; cool at room temperature.
- Sprinkle top of chocolate crème brûlée with crystallized sugar; use blow torch to caramelize until deep golden brown color is reached.
- Place raspberries in center of crème brûlée in a circle; add 1 mint sprig in center.

Would you try this?