Anime Underground
The 16 Greatest Manservice Anime Series

Updated September 24, 2018
8.5k votes
2k voters
48.1k views
16 items
List Rules Vote up the anime doing the best job showing off its male characters' sexiness.
Fanservice is one of the most common tropes in anime, and it basically constitutes highly suggestive or sexualized animation for the benefit of fans. Since fanservice largely caters to people attracted to women, the best manservice anime is a great alternative for those more interested in looking at men. What is manservice? The short answer: Free! - the anime series directed by Hiroko Utsumi.
The longer, more comprehensive answer: it's like the best fanservice anime, but featuring the assets of male characters rather than female ones. Manservice isn't exclusively focused on a character's body. While an attractive physique is a component, there's no male equivalent of panty shots or outlined private areas. The audience, which primarily consists of straight females - but can include anyone - is not drawn to such visuals. Instead, a character might appear shirtless or simply strike an alluring pose.
Besides good-looking characters showing off their bodies, characters in a manservice anime also display romantic interests in other male characters. It's not the same as BL, which means "boy's love," a genre with its own established tropes where male characters actually form relationships; yaoi, the more developed version of boy's love; or actual queer representation. On the contrary, characters in a manservice anime build tight bonds interpreted as friendship, but are close enough to encourage fantasies of a romantic or sexual relationship.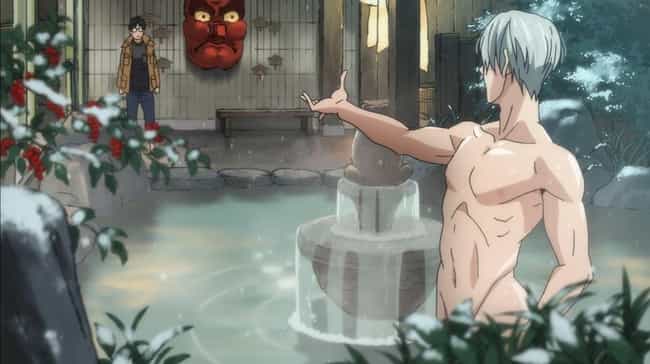 Is Yuri!!! on ICE manservice? Technically, Yuri and Victor's relationship offers a genuine romantic relationship involving a serious marriage proposal, making this particular moment closer to queer representation than it is to yaoi, which tends to titillate.
But when it comes to the rest of the series, the manservice is unquestionable. Whether it's those lingering shots of Victor's butt, or Yuri's come-hither look toward his audience during a skating routine, this show knows exactly what its viewers want to see.
With glistening, half-naked muscular guys appearing in nearly every scene, Free! - Iwatobi Swim Club is arguably the epitome of manservice. Not only does this swimming anime go out of its way to highlight the attractiveness of its mostly male cast, it also includes another important element of manservice: serious hints at a romantic and sexual relationship between the characters.
Whether you ship it or not, Free! makes it impossible not to think there's something going on between Makoto and Haru.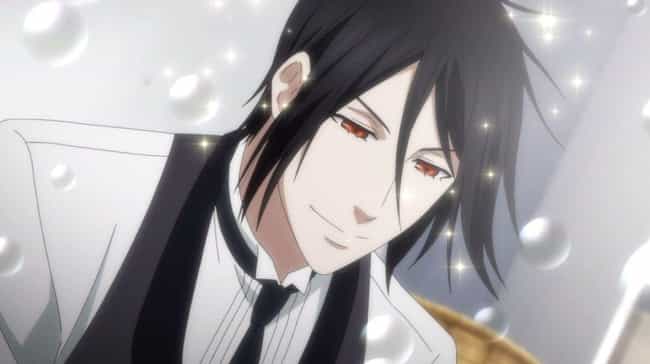 Though he's a demon driven to collect a young boy's soul, Sebastian Michaelis is also one hell of a manservice icon. Sebastian only needs to walk into a room to get viewers drooling, but his provocative moments with other demon butlers really send the audience over the top. There are similar moments involving Ciel Phantomhive, the 12-year-old boy who sold his soul to Sebastian in exchange for lifelong devotion.
Manservice involving a child is sketchy at best. Consequently, while Black Butler is a well-plotted and skillfully animated series with several seriously sexy scenes involving its adult protagonist, it's important to understand the show sometimes veers off into creepy territory.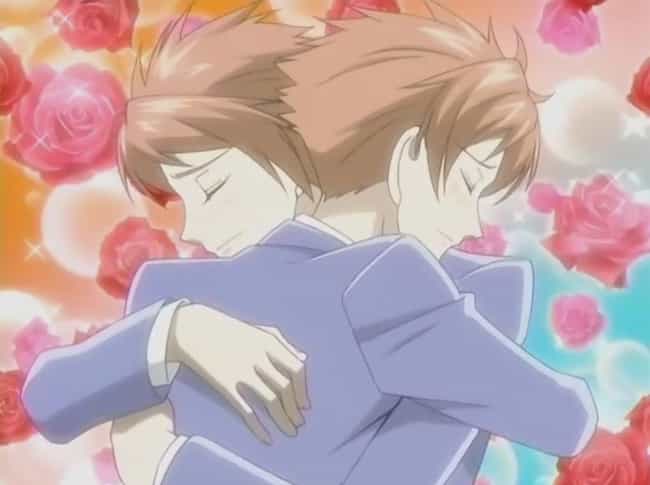 Ouran High School Host Club provides a somewhat meta example of manservice. The titular host club appears modeled after real host clubs, which are essentially establishments where men receive pay to flirt with women.
While real-world host clubs can involve alcohol, as well as occasional sex if the client pays enough, the host club in this anime is a PG-13 version of the real thing. Tamaki Suoh and his fellow hosts use their charm, beauty, and flirtatiousness to make both their clients and the show's fans swoon.