Anime Underground
The 16 Greatest Manservice Anime Series

7.1k votes
1.6k voters
33.3k views
16 items
List Rules Vote up the anime doing the best job showing off its male characters' sexiness.
Fanservice is one of the most common tropes in anime, and it basically constitutes highly suggestive or sexualized animation for the benefit of fans. Since fanservice largely caters to people attracted to women, the best manservice anime is a great alternative for those more interested in looking at men. What is manservice? The short answer: Free! - the anime series directed by Hiroko Utsumi.
The longer, more comprehensive answer: it's like the best fanservice anime, but featuring the assets of male characters rather than female ones. Manservice isn't exclusively focused on a character's body. While an attractive physique is a component, there's no male equivalent of panty shots or outlined private areas. The audience, which primarily consists of straight females - but can include anyone - is not drawn to such visuals. Instead, a character might appear shirtless or simply strike an alluring pose.
Besides good-looking characters showing off their bodies, characters in a manservice anime also display romantic interests in other male characters. It's not the same as BL, which means "boy's love," a genre with its own established tropes where male characters actually form relationships; yaoi, the more developed version of boy's love; or actual queer representation. On the contrary, characters in a manservice anime build tight bonds interpreted as friendship, but are close enough to encourage fantasies of a romantic or sexual relationship.
back to page 1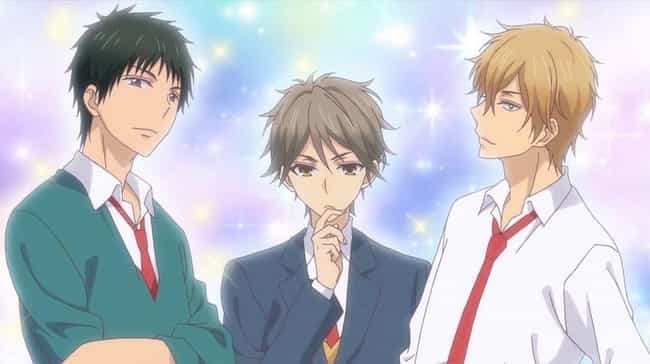 Kiss Him, Not Me gently makes fun of manservice fans while still giving them exactly what they crave. Kae Serinuma is a fujoshi who just wants to watch cute boys fall in love - she isn't interested in participating in romance herself.
But when she accidentally loses a ton of weight, a group of attractive boys are wildly attracted to her, relentlessly competing for her affections. Since everything appears through Kae's eyes, ordinary interactions between her suitors seem romantic, and there's more than enough beautiful boys striking alluring poses to satiate any thirsty fan.

Is this good manservice?
see more on Kiss Him, Not Me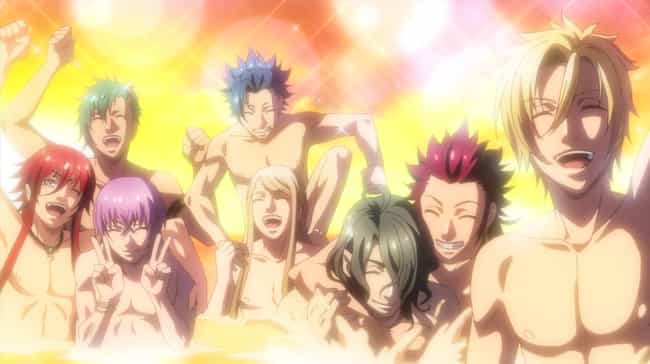 Yui Kusanagi is just a regular human girl, but she still has an objective in the realm of the gods. For story purposes, Yui helps these beautiful deities remember their responsibilities to humanity. She allows viewers to project themselves onto her while she takes her place at the center of a reverse harem, which features personifications of Greek gods, Egyptian gods, Norse gods, and more.
Each representation is as attractive as one might expect given their origin, and the show takes every opportunity to show this off. There's even a beach episode where everyone is half-naked, their physiques in full view.

Is this good manservice?
see more on Kamigami no Asobi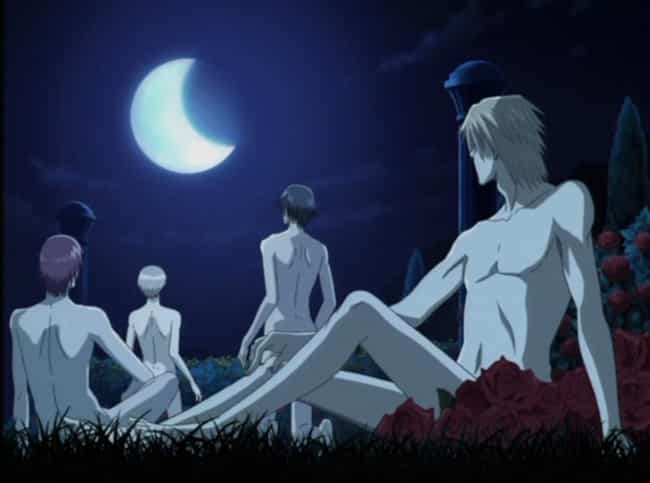 The protagonist of The Wallflower, Sunako Nakahara, lives life like she's the antagonist of the film The Ring. Sunako's aunt fears Sunako's dark personality prevents her from living her best life. Naturally, the aunt enlists the help of her four gorgeous renters to turn Sunako into a lady.
Each of these men, who are famous for their beauty, appeal to different sensibilities: Kyohei is a classic headstrong yet handsome man; Takenaga is a gentleman; Yuki is androgynous; and Ranmaru is sensual. Viewers witness the series through Sunako's point of view, meaning they witness a small harem of attractive men bending over backwards for the protagonist.

Is this good manservice?
see more on The Wallflower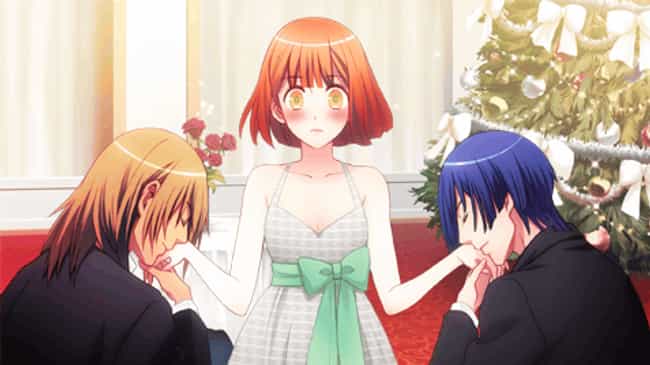 Nearly every episode of Uta no Prince-sama, an anime about male idols pursuing their music careers, is chock-full of manservice. The attractive protagonists gyrate their hips, flash seductive expressions, and just generally try to get a reaction out of both the in-series audience and the real-world one.
But things become even more heated in the eighth episode of the series, when they introduce a beach episode allowing the characters to show off their half-naked bodies.

Is this good manservice?
see more on Uta no Prince-sama: Maji Love 1000%