Entertainment
Maps to the Stars Movie Quotes

18 votes
14 voters
10 items
Maps to the Stars movie quotes tell the satirical tale of a washed up actress who hires the daughter of a highly dysfunctional Hollywood family. The drama was written by Bruce Wagner and directed by David Cronenberg. Maps to the Stars first premiered at the 2014 Cannes Film Festival before an American theatrical release on February 27, 2015.
In Maps to the Stars, aging actress Havana Segrand (Julianne Moore), hoping to break out of the shadow of her late mother, Clarice Taggart (Sarah Gadon), who famously died in a fire, looks to revive her career by taking a role in a remake of her mother's film playing the same character. She discusses this opportunity with television psychologist Dr. Stafford Weiss (John Cusack) and mentions to him that she's recently hired a new assistant, Agatha (Mia Wasikowska), who was also burned in a fire.
This interests Dr. Weiss, who, along with wife Christina (Olivia Williams), have an estranged daughter with the similar history. While Stafford and Christina try to control their teen son Benjie (Evan Bird), who just left rehab, they live in fear of Agatha's return to their lives after their horrific history together. Meanwhile, Havana continues to hallucinate her mother and begins a sexual relationship with Agatha's love interest, Jerome (Robert Pattinson), a move that only further disturbs the toxic relationship the characters have with one another.
Maps to the Stars
brings a unique commentary on the entertainment world to the big screen as it opens alongside the likes of
The Lazarus Effect,
Hot Tub Time Machine 2,
McFarland, USA,
and
Fifty Shades of Grey.
Dr. Stafford Weiss: "I think she may be back. I don't know if she's dangerous."
Dr. Weiss explains to wife Christina and son Benjie that their broken and estranged daughter, Agatha, may have returned to their lives. The family didn't disburse on good terms, making Agatha's return potentially dangerous.
Should this be higher or lower?
Havana Segrand: "I hired a girl. It's amazing."
Dr. Stafford Weiss: "Why is it amazing?"
Havana Segrand: "She was burned in a fire."
Havana explains to Dr. Weiss the unique connection she has to her new assistant, Agatha. Agatha was badly burned in a fire, similar to Havana's mother, who was killed in a fire.
Should this be higher or lower?
I Just Can't Take it Anymore, Jacob
Havana Segrand: "I thought that Gary Marshall was going to be there, that it was a meet. I didn't know that I was going to have to read and then they gave me the wrong drive on and I had to walk like a mile. I stank by the time I got there and then the casting director, who I know doesn't even acknowledge me, she just walks right by without saying a word and then she tells me that she doesn't even know if Gary knows I'm coming in. It's Gary Marshall, not Bartolucci. His movies don't make money anymore and I know Gary. And then says they want to put me on tape and I'm like 'excuse me, but you need special makeup for that or you look green' and she says, 'you can either tape or not' like it's all some pointless exercise and I just can't take it anymore, Jacob! I'm so tired and it's so pathetic."
Havana has a small meltdown after a poor experience at a casting. She feels entitled to a better experience than she received and is irate that she was treated so badly.
Should this be higher or lower?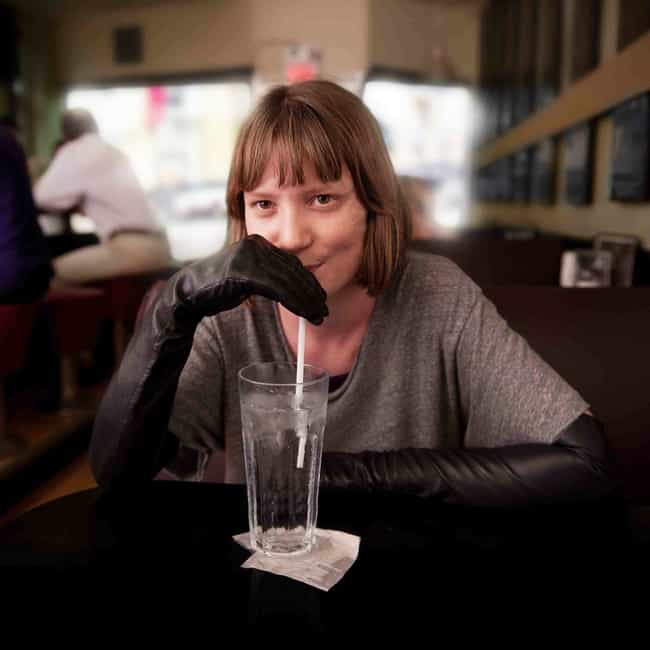 Jerome Fontana: "Where'd you come in from?"
Agatha Weiss: "Jupiter"
Jerome Fontana: "Now that you're in tinseltown, what are you going to do?"
Agatha arrives in Los Angeles and sparks up a conversation with chauffeur Jerome. Agatha seems to have something off about her and that something goes way further than her visible burn scars.

Should this be higher or lower?