Entertainment
Mara Wilson's Transition From Child Star To Literary Maven

Child stars don't often turn out as well as Mara Wilson. After achieving early international success as one of the Mrs. Doubtfire child stars, and later as the titular character in Matilda, Wilson emerged from her child star chrysalis as a successful word smith. She regularly contributes to national publications, and, in 2016, dropped knowledge in the form of a memoir. She's prominent on Twitter, where she jokes about international politics and her own social awkwardness. With her cynical, self-deprecating wit, Wilson is far from Matilda, as these Mara Wilson facts will attest.
If you're experiencing some 100% natural curiosity over how Mara Wilson became a Twitter star, you're in luck. This list will tell you everything you need to know about Matilda all grown up; you'll find all the facts and stories you need to answer the nagging question, what happened to Mara Wilson?
She Quit Acting After Her Mother Died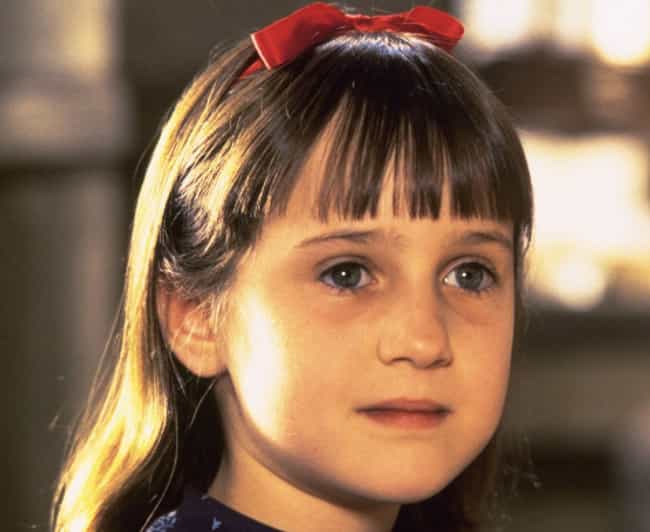 Many people have asked Mara Wilson why she quit acting so early in her career. She sometimes traces her decision to disillusionment with Hollywood after her mother passed away in 1996. Though her career slowed down dramatically in 1996, she didn't officially quit acting until 2000, when she was 13.
As she told Parade,
"I found it kind of overwhelming. Most of the time, I just wanted to be a normal kid, especially after my mother died. I think if I could do it over again—as much as I loved meeting the people I did on the films after Matilda—I wish that I had stopped after Matilda."
Wilson has written that acting was more a hobby than a passion, and that she had never planned on pursuing it forever. Waxing philosophical on her blog, she wrote,
"A philosophically-inclined friend once remarked, in a conversation about ethics, that he thought it was fine to forsake a task as long as you knew there was someone else who could perform that task as well or better than you could. I agree, and I think that there are many much more talented, much more conventionally attractive actresses out there who are taking the roles I would have been offered. To paraphrase the showtune, anything I can do, Anna Kendrick or Ellen Page or Jennifer Lawrence (or any actress from the plethora of actresses waiting to be 'discovered') can do better."
She Turned Down A Role In Donnie Darko
Wilson described to The AV Club what it was like to read the script for Donnie Darko while suffering from sleep deprivation and nausea during a publicity tour for another project:
"It was just the most terrifying thing. I was sleep deprived and I was exhausted and I was hungry and I didn't know what was real anymore and then all of the sudden there was this goddamned 6-foot metal rabbit who may or may not predict the future and there was time travel and there were wormholes and there was all this crazy sh*t and I thought it was the scariest thing I'd ever read."
Would you quit life after that? Yes. Yes, you would.
She Came Out As Bisexual In Solidarity For the LGBTQ Community After The Pulse Nightclub Shooting
In the wake of 2016's shocking massacre at Pulse, a gay club in Orlando, Wilson took to Twitter with a message of love for her LGBT fans and to announce her bisexuality. She declared herself a two on the Kinsey scale, and wrote "the LGBTQ community has always felt like home, especially [...] when I, uh, learned something about myself. So thank you."
She Suffers From OCD And Works With A Mental Health Organization To Raise Awareness
In the mid-2010s, Wilson began speaking publicly about her mental health issues, which are rooted in her OCD. In an interview with Daily Dot in 2014, she commented, "I've always been an extremely anxious person. I have panic attacks, I have OCD, I've always been nervous. I've always had a lot of really strange fears, most of which I'm embarrassed to admit."
In 2015, Wilson partnered with nonprofit mental health organization Project UROK to raise awareness for mental health issues, saying, "There was a big stigma around this. We were all worried... especially with me being a child actor, how the public would approach it and would understand it. Twenty years ago, we didn't talk about mental illness."
Wilson recorded a video for Project UROK, in which she discusses her experience with OCD and offers advice for dealing with mental health issues. She also wrote and performed a live theater piece entitled What Are You Afraid Of? addressing her anxiety, fears, and mental health.