2020 Election
Twitter Reacts To Marianne Williamson At The June 2019 Democratic Debate

June 28, 2019
110 votes
28 voters
25 items
List Rules Vote up the Twitter reactions that make you laugh.
Self-help author, spiritual advisor to Oprah, and former roommate of Laura Dern, Marianne Williamson filled five minutes with absolutely riveting entertainment at the second night of June 2019's Democratic Debate. Williamson not only called out New Zealand for striving to be the best place to grow up, but she also announced her intention to face off against President Trump with a message of love.
Williamson presents what many are calling - humorously or otherwise - a refreshingly new perspective on political policy, and she's difficult to debate given her creative responses to questions other candidates meticulously plan for. As Williamson is a woman of few words, the internet took the liberty of surmising what else she might have said given the opportunity. Her persona as a representative for America's new-age generation has garnered her a reputation of eccentricity that always leaves Twitter wanting more.
For those interested in learning more about Williamson's perspective, her literature includes A Politics of Love: A Handbook for a New American Revolution and A Return to Love: Reflections on the Principles of "A Course in Miracles."
Someone Get That Woman A Glass Of Rosé


Is this hilarious?
Williamson Is A Relatable Candidate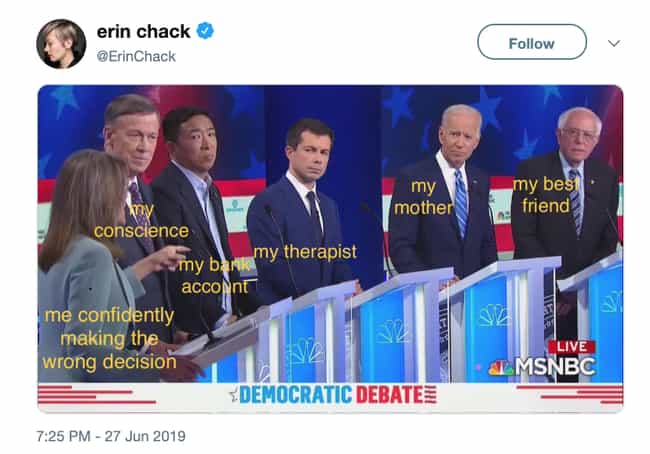 Is this hilarious?
Williamson Has Some Tricks Up Her Sleeve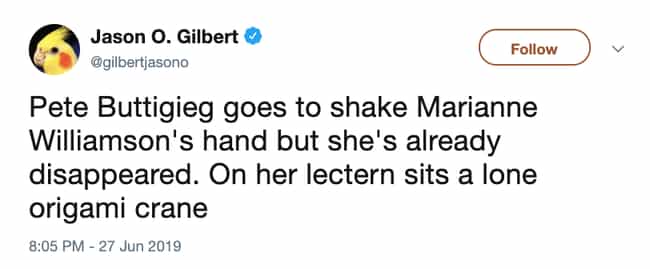 Is this hilarious?