Weird History
How A Veteran Assaulted & Nearly Killed Outside A Bar Faced His Trauma Through Miniature War Scenes

Updated February 27, 2019
76k views
14 items
In the backyard behind a small New York trailer home, WWII miniatures play out scenes of horror and vengeance. The model town is called Marwencol, a tiny, fictional Belgian village created by Navy veteran Mark Hogancamp.
In 2000, Hogancamp was viciously assaulted outside a bar after admitting to wearing high heels in his spare time. The incident was nearly lethal, and Hogancamp spent the next few years trying to piece his life back together. He had no memories, and had to re-learn how to walk and speak.
Recovering from trauma like that is a daunting process, but Hogancamp created his own secret solution - his 1:6 scale town, which gave him a creative outlet and served as a form of therapy. The true story behind Marwencol, the documentary about his ordeal, is a touching and inspiring tale of a man who refused to let the hateful actions of others stop him from living the life he wanted, and who now serves as an unexpected beacon of hope to those who are afraid to be their true selves.
Hogancamp Woke Up Thinking It Was 1984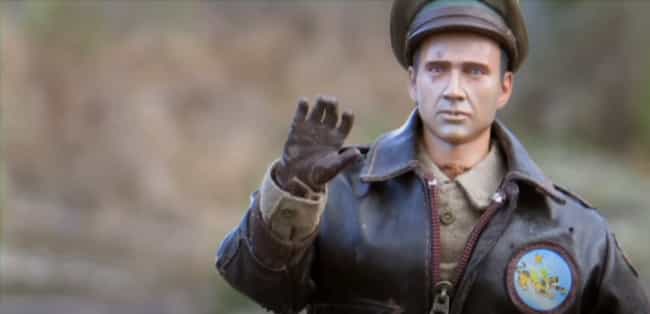 When he woke from a coma in 2000 and was told he'd been assaulted by five men, Hugancamp said, "I forgive them." A friend by his bedside replied, "You wouldn't forgive them if you knew what they did to you." Hogancamp was unconscious for nine days, after being severely beaten. The five men had stomped on his skull, causing brain damage and severe memory loss - when asked what year it was, Hogancamp told doctors it was 1984 and he was serving in the Navy in Ibiza.
While his memory hasn't fully returned, Hogancamp regained many of his motor skills and is able to walk, talk, and ride a bike again. He was a skilled artist before the attack, filling notebooks with sketches; he hasn't yet regained the ability to draw, but his avatar in Marwencol, Hogie, carries a sketchbook.
After all Hogancamp has been through, he has a positive outlook for the future. He told The New York Times in 2015, "Things have gotten better, they have gotten as good as they're going to get... Except my imagination. That keeps expanding."
Hogancamp Was Assaulted After Admitting To Wearing High Heels And Stockings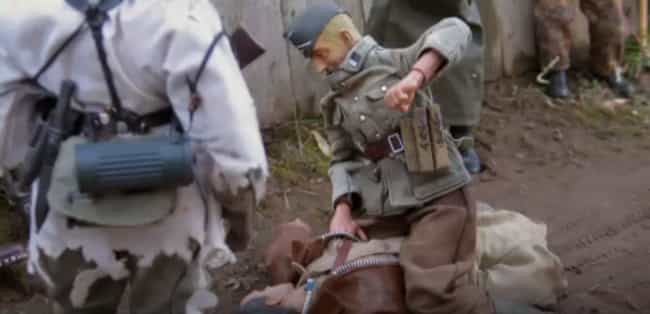 In 2000, 38-year-old Hogancamp went to a local bar called the Anchorage near his home in Kingston, NY. After several drinks, he began talking and joking around with a group of young men. Things were going well, until Hogancamp admitted he enjoyed wearing nylon stockings and women's high heels. When Hogancamp left the bar, the five young men viciously assaulted him, beating him within an inch of his life before leaving.
"I was given the ultimate truth serum, which is alcohol. I guess I thought people could handle it. But apparently not," he said.
All five men were convicted; two were given probation, while the others received prison sentences. Two got five years, while the leader of the group was sentenced to nine.
Hogancamp Began Building Marwencol As A Form Of Therapy When His Insurance Money Ran Out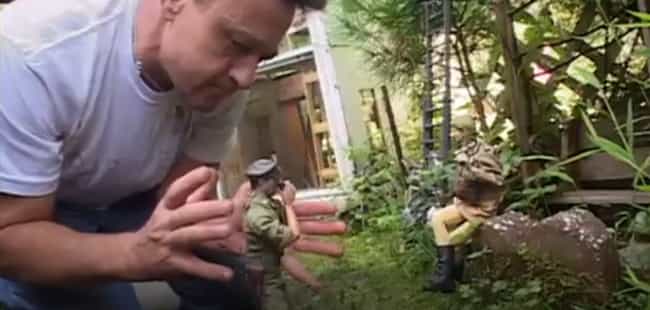 Hogancamp began constructing Marwencol after his insurance ran out. Following the attack, he stayed in the hospital for 40 days, but had to go home because his insurance for hospital stays ended. After one year, the money for physical therapy also vanished.
Unable to afford therapy on his own, Hogancamp was despondent. He felt like he'd been alienated from the rest of humanity. In a 2015 interview with The Guardian, he said, "When my therapy was cut off I hated every man on Earth." That was when he began putting all of his energy toward building Marwencol.
Many Tableaus In Marwencol Are Graphic Wartime Scenes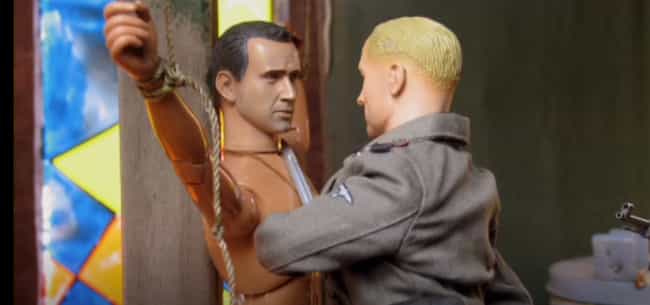 Hogancamp was no stranger to graphic images before the incident. He was a talented sketch artist, with notebooks full of horrifying yet skillful drawings of GIs slaying Nazis, as well as pulp-style sketches of women in lingerie. These images were translated into the lives of the people of Marwencol; it's a Belgian WWII-era town, with no shortage of conflict between Allied soldiers and German officers.
Hogancamp wasn't afraid to create images that were incredibly gruesome and lifelike, using 1:6 scale figures that he modified himself. There are scenes of torture and beatings, with fake blood applied artfully to tiny wounds. Hogancamp's avatar, Hogie, a captain in the Air Force, is the star of a scene that plays out the drama of his real-life assault. Of course, in the Marwencol version, the perpetrators face swift and immediate justice: their corpses are seen hanging by their feet after Hogie and his friends are done with them.