Entertainment
Who Are All The Masked Singers In Season 3?
Updated April 2, 2020 · 1:45pm PDT
18 items
The third season of The Masked Singer brings us new contestants, new clues, and new costumes with its premiere after Super Bowl LIV. Based on a Korean series with a similar name and theme, this competitive singing show on Fox has become a fan favorite as clues help the audience guess who The Masked Singer contestants are. The Season 3 contestants on The Masked Singer have earned 69 Grammys, 88 gold records, 11 Super Bowl appearances, three stars on the Hollywood Walk of Fame, hundreds of tattoos, and one title in the Guinness Book of World Records.
Each week, pairs of the mysteriously masked singers compete by singing songs head-to-head, and the winner by audience and panelist vote is safe from elimination. The losers of the face-offs then are voted on to see who will continue to the next week and who will be unmasked. As amazing and skilled as all the competitors are, guessing who are the masked singers is one of the best parts of the show. Contestants on The Masked Singer share (sometimes tricky) clues to their identities, from their costumes to what they tell the judges - even the songs they pick. We've compiled a list of contestants on The Masked Singer and clues accompanied by links to Ranker lists that can help you guess who are all the masked singers this season.
Check out all the competitors for The Masked Singer Season 3 below, listed in alphabetical order, from the Astronaut to the White Tiger, and every Llama, Night Angel, T-Rex, and Robot in between. Each week, as more clues are revealed, we'll update with new lists for the latest Masked Singer clues.
This season, the masked contestants have been split into three groups of six. The first three episodes of the season feature Group A, followed by Group B, then Group C for three episodes each. The final three from each group - the Super Nine - will then compete against each other.
Group A: Llama, Robot, White Tiger, Kangaroo, Miss Monster, Turtle.
Group B: Banana, Elephant, Frog, Kitty, Mouse, Taco.
Group C: Astronaut, Bear, Night Angel, Rhino, Swan, T-Rex.
After eliminations, The Super Nine are: Astronaut, Banana, Night Angel, Frog, Kangaroo, Kitty, Rhino, Turtle, and White Tiger.
In order of elimination, the revealed Masked Singer competitors were:
Robot: Lil Wayne, revealed Week 1
Llama: Drew Carey, revealed Week 2
Miss Monster: Chaka Khan, revealed Week 3
Elephant: Tony Hawk, revealed Week 4
Mouse: Dionne Warwick, revealed Week 5
Taco: Tom Bergeron, revealed Week 6
Bear: Sarah Palin, revealed Week 7
Swan: Bella Thorne, revealed Week 8
T-Rex: Jojo Siwa, revealed Week 9
White Tiger: Rob Gronkowski, revealed Week 10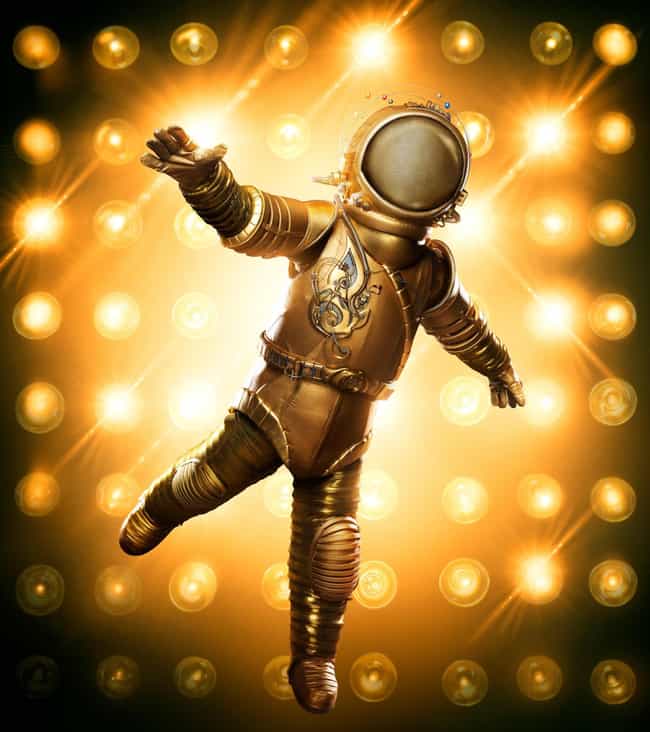 "I've always dreamt of flying high."
Clues:
His friend reminisces: "One time, in front of thousands of people, he took a huge nosedive and fell flat on his face."
"We can all reach the stars. Sometimes, it just takes a little help from someone from an organized crime family."
"When I was young, I was a bright star. But then, I overreached and I got burned. I found myself isolated and so very lonely."
"I kept wandering for what felt like 500 days, using sign language until I found my own voice."
We see a projection image of a musical horn instrument.
"People say the sky's the limit, but when you're an astronaut, the sky is just the beginning, and even though I started at a young age, I feel like I'm just getting started."
In his spaceship we see a lei, a skeleton foot, and a broom.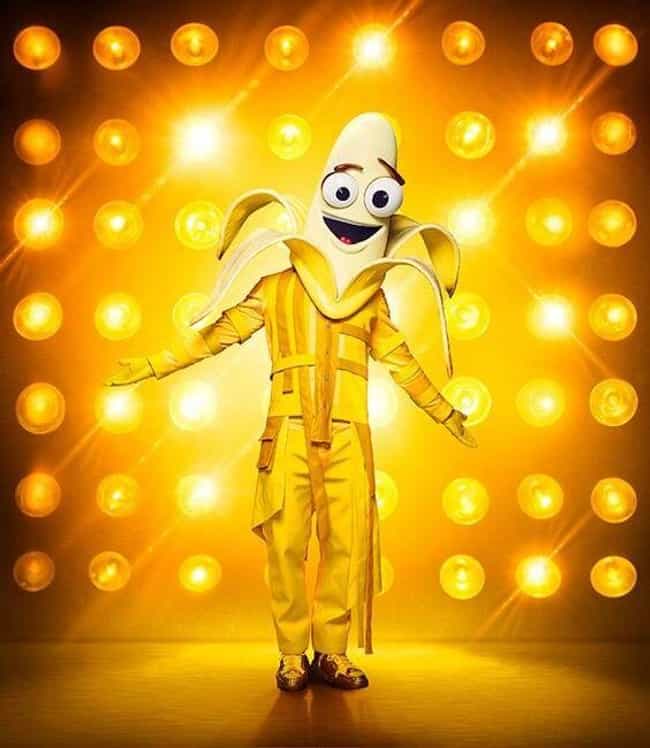 You'll go bananas when you find out!
Clues:
Says a traumatic injury from his past made him forget the lyrics to his second performance.
Says "you might be a kindred spirit if you've rocked one of these" and points to someone wearing a mullet, adding, "business in the front, party in the back."
Gives Jenny a friendship bracelet that says "Nineties Love," adding, "I'm just gonna say, we had a little chance to hang, as friends, and we had a great time and I love ya. You are an awesome person."
Two female bananas who are referred to as the "Banana Fam" share their memories of Banana. They say people would be surprised to learn "that he's such a great role model."
Is told, "Look, we have some concerns about your shelf life. So we think you could use a rebrand."
A poster for different TV shows is shown, with shows including "Sons Of Bananarchy" and "Banana CHIPS."
While he's napping next to a track, we see a cowboy hat next to him, and red, white, and blue stripes on the ground.
Is shown partying with two women made entirely of lettuce.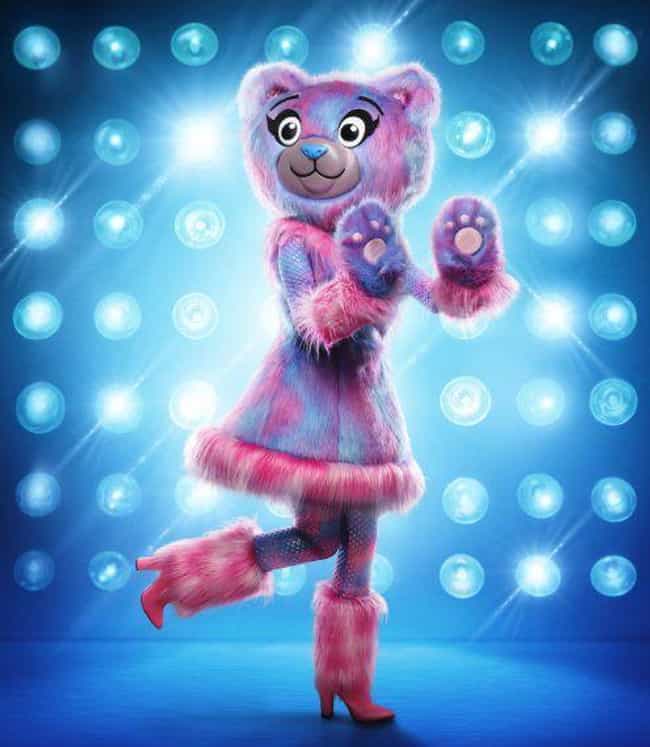 Unmasked Week 7, March 11: Sarah Palin
To not being able to see anything out of this is nice. It takes a little bit of edge off the world. Everything is a little nicer and sweeter.
Clues:
"In my life, I've been both the hunter and the hunted."
We see a pair of hockey skates.
Calls herself a "Mama Bear" and says that after being in hibernation, the mask has given her "the courage to come out of my cave and face the world head on."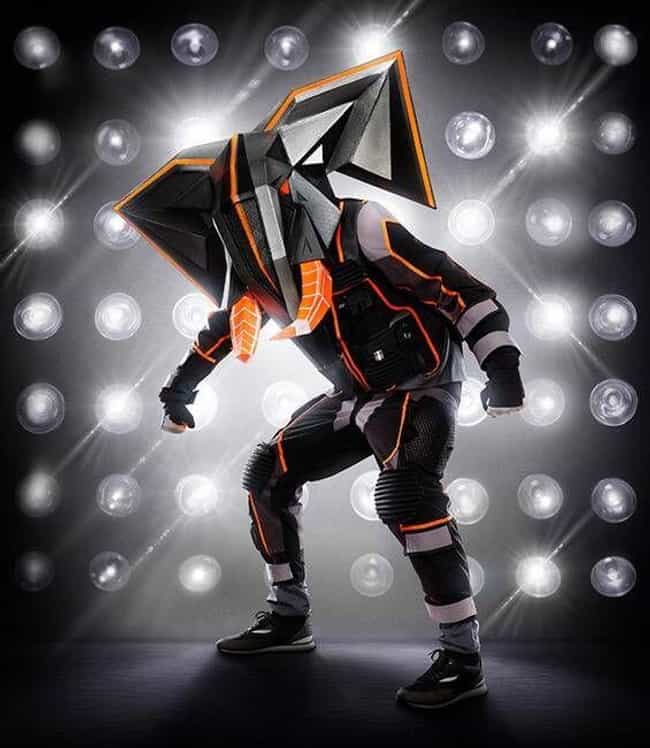 Unmasked Week 4, February 19: Tony Hawk
So, to sum it up, go risk it all for what you love and what everyone else says is irrelevant.
Clues:
He plays on a drum set while saying, "I was a calf when I found my calling."
"I went from canvassing park benches to leading the charge of a massive movement, even parading through white houses."
We see two blue jay pinwheels.