Entertainment
9 Best Masterminds Movie Quotes & Lines (2016)

282 votes
183 voters
23.1k views
9 items
List Rules Vote for your favorite Masterminds movie quotes!
Masterminds movie quotes bring the laughs to the comedy movie about an unlikely pawn who pulls off one of the biggest cash heists ever. Based on the true story of the 1997 Loomis Fargo robbery, the film was directed by Jared Hess and written by Chris Bowman, Hubbel Palmer and Emily Spivey. Pushed back from a 2015 release date, Masterminds opened in theaters on September 30, 2016.
In Masterminds, David Ghantt (Zach Galifianakis) is a mild-mannered night guard for the armored car company Loomis. Though he's dreamed of an adventurous life, he settled for a boring life with few moments of excitement. But this all changes when David meets the beautiful blonde Kelly (Kristen Wiig), who, along with Steve (Owen Wilson), convinces David to steal $17 million from Loomis.
As David is living his dreams as a millionaire, albeit one on the run from the law for the robbery, it doesn't take long for Steve to cross David. Steve bails with the money, leaves David to take the fall and even hires slightly unstable hit man Mike (Jason Sudeikis) to kill off David. This doesn't please David, who must embrace that adventurous spirit to see vengeance against Steve.
Masterminds movie quotes also feature lines from other costars, including Kate McKinnon and Leslie Jones. If these quotes don't make you laugh, check out quotes from other September 2016 films such as Deepwater Horizon, Miss Peregrine's Home for Peculiar Children, Goat, and The Dressmaker.
back to page 1
Destined for a Life of Adventure
David: My name is David Ghantt. I always felt I was destined for a life of adventure. It didn't quite pan out that way. Then one day I met Miss Kelly Campbell.
David explains his life and a bit of the plot of the film in this Masterminds movie quote. He always wanted a life of adventure, but settled for much less, at least until he met Miss Kelly Campbell.
Should this be higher or lower?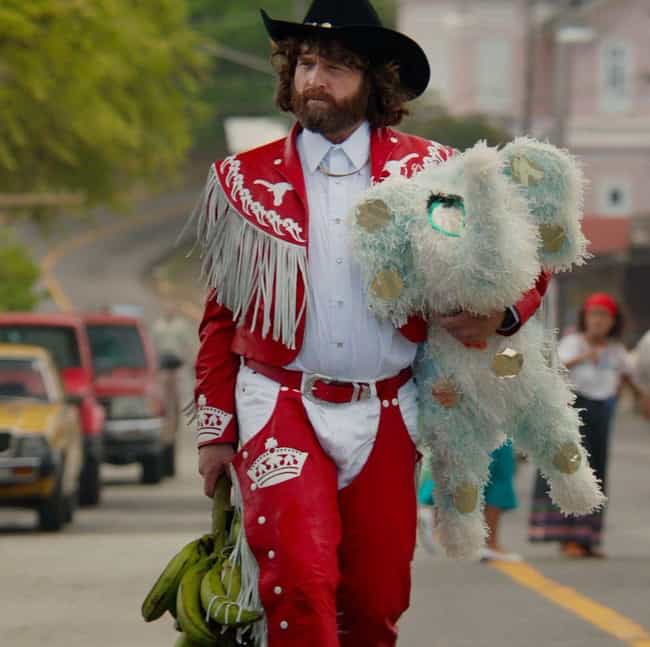 Beryl: There he is, the man of your dreams.
Jandice: It's like you're marrying both of us, David, me and mama.
Standing in a camp-decorated tuxedo, David sees his sad future ahead of him. Bride Jandice and her mother, Beryl, are about to be David's family. So exciting!
Should this be higher or lower?
One of the Largest Cash Heists Ever
Anchorwoman: Police are calling it one of the largest cash heists ever. Authorities are now searching for this man.
In this Masterminds movie quote, a news anchorwoman describes the robbery in which David stole $17 million from his armored car company. Though it was a team job, it's David that is being pursued by the cops.
Should this be higher or lower?
Steve: Kelly tells me y'all work together over at Loomis. That strikes me as an incredible opportunity.
David: You talking about robbing a bank?
Steve: How hard can it be? You load up a truck and you drive away.
Steve approaches David with what he calls an incredible opportunity. Steve wants David to rob a bank and thinks even the most idiotic person could pull off a job this easy.
Should this be higher or lower?