For centuries, many have called gout "the disease of kings" because it affected men who ate rich diets and drank heavily. As early as the ancient Greeks, doctors wrote about gout, claiming that only wealthy men could become afflicted with it. And when royals like Henry VIII came down with gout, it transformed into a fashionable condition. Just like the French imitated the royals at Versailles, Europeans aimed to get gout as a status symbol. In the 16th century, men claimed that gout prevented other maladies and even called it an aphrodisiac. 
What causes gout? Today, we know that uric acid in the blood leads to gout, but ancient doctors blamed a simpler culprit: rich foods. The symptoms of gout include excruciating pain, often in the foot or joints. And while gout might seem like a disease of the past, it's on the rise in the United States today.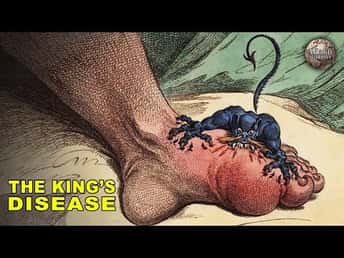 Photo: John Cawse/Wellcome Images / Wikimedia Commons / CC BY 4.0

The Malady Targeted Feet, Making Sufferers Feel Like They're 'Walking On Eyeballs'

People affected by gout describe the condition as agonizing. In the late 17th century, physician Thomas Sydenham wrote that gout was "so exquisitely painful as not to endure the weight of the clothes nor the shaking of the room from a person's walking briskly therein." Patients were often "awakened by a pain which usually seizes the great toe," Sydenham wrote. He likened the sensation to a "dislocated bone."

In the 19th century, Sydney Smith said it felt like "walking on eyeballs" when his gout flared up.