Weird Nature Meet Big Chicken - A Terrifying Chicken-Beast Taking The Internet By Storm

21.4k views
3 items
Follow
If you don't think chickens are just little dinosaurs walking the Earth, wait until you see this. Meet Big Chicken - a literal big ol' chicken - who shot to Internet fame after a video of it was posted on Twitter. What is this massive chicken beast, and why has it come to terrify us? More importantly, is this just a sign of more gigantic chickens to come?
Whatever it is, Big Chicken is terrifying, intriguing, and looks like something you could only dream up in the worst of your nightmares. Don't say we didn't warn you.
Big Chicken Is Not Alone - In Fact, His Breed Is Popular In North America
After this video hit the Internet, everyone was wondering whether this chicken - informally dubbed Big Chicken - was even real. And while it seems like Big Chicken is some sort of mutant X-Men poultry, think again. An expert from the Livestock Conservancy told CBS News that the chicken in this video is actually a Heritage Breed Brahma chicken. These beasts, also called "The King of All Chickens," weigh in at a respectable 13 to 14 pounds if they're female, and a whopping 17 to 18 pounds if they're male. They're also known to survive in cold climates.
Despite Their Horrifying Exterior, These Chickens Are Actually Pretty Chill
Despite their nightmare-inducing look, these chickens are actually super chill animals. According to the Livestock Conservancy, Brahmas are easy to breed, fairly docile, and flightless, making them an ideal chicken pet. Often called "gentle giants," they are used for their meat and egg-laying abilities.
Big Chicken's Real Name Is Merakli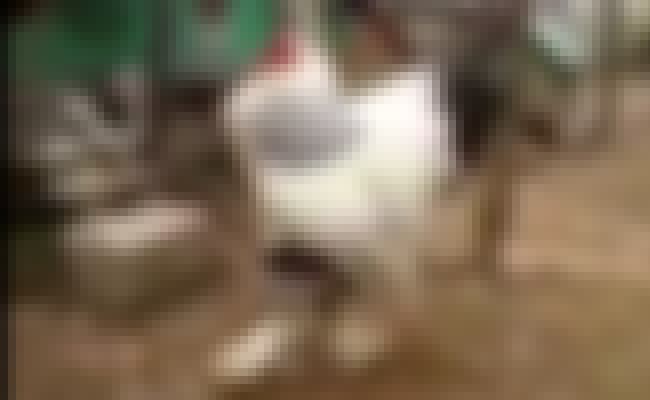 Big Chicken is actually named Merakli, and not only is he 100% real, but he is also 100% loved. His owner is a man from Kosovo who first posted the video of Big Chicken - uh, Merakli, sorry - to a Facebook group called "Decorative Poultry."
"Enjoy looking at Merakli," said his proud and unnamed owner. Not everyone was so pleased:
WAS ABT TO FALL ASLEEP BUT JUS REMEMBERED I LIVE ON THE SAME PLANET AS THAT HUGE CHICKEN N NOW IM SCARED

— PUTHY PRINT (@princessg4y) March 20, 2017