VOTE
Hot Megan Fox Tattoos

2.5k votes
723 voters
172.2k views
8 items
If the question "what are the meaning behind Megan Fox's tattoos" keeps you up at night then worry no more. Megan Fox's tattoos give insight into the young actress yet remain private at the same time. From her ode to icon Marilyn Monroe with the now-removed tattoo on her forearm to her very personal tattoo for husband Brian Austin Green below her belt, Megan Fox's tattoos are partly about her and partly about those she loves, or once loved and they all have a great deal of meaning to her.
The "Transformers" actress has never been shy about talking about her tattoos, even telling a magazine once that she enjoys getting inked as "every time I get another tattoo, it's like a little F-you to anyone who told me not to." No word on if someone urged her against getting the portrait of fellow bombshell Marilyn Monroe on her arm but either way that is one mistake Fox has regretted on her own. Using laser therapy, Fox has been getting the iconic star tattoo removed, stating that Marilyn is a "negative character."
The majority of Megan Fox's tattoos are words, such as the name Brian on her hip, or her many quotes across her back and ribcage. These quotes speak of heartbreak, such as her quote about a little girl learning about love, and nudge at the entertainment industry, with her Shakespeare quote about gilded butterflies.
What tattoos does Megan Fox have? There is photographic evidence of at least eight tattoos, including the removed Marilyn portrait, though rumors persist that the starlet has more. Among the rumors talk of ink on her inner thigh and buttocks however those rumors could not be confirmed.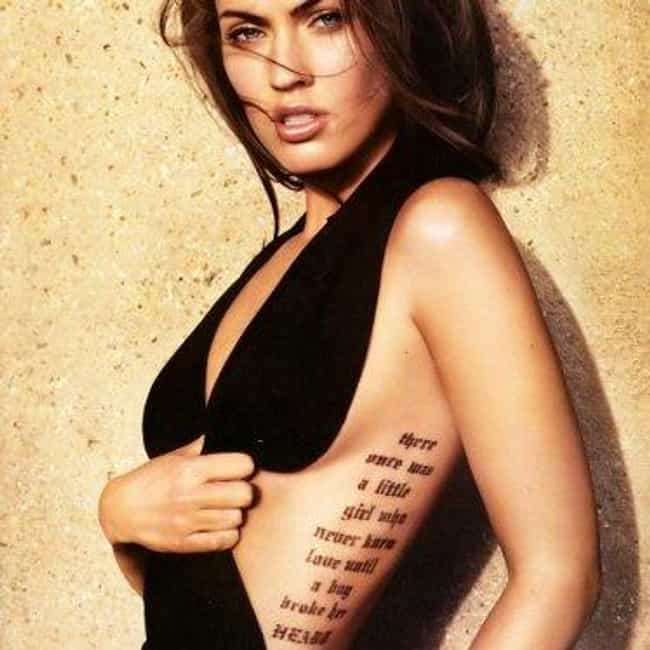 Extending from under her left arm down her ribcage to her waist, Megan Fox's love tattoo states:
there
once was
a little
girl who
never knew
love until
a boy
broke her
HEART
Like the gilded butterflies tattoo, this too is inked in simple black Old English font. As you can probably surmise, this is a personal tattoo to remind her of a lost relationship.

Agree or disagree?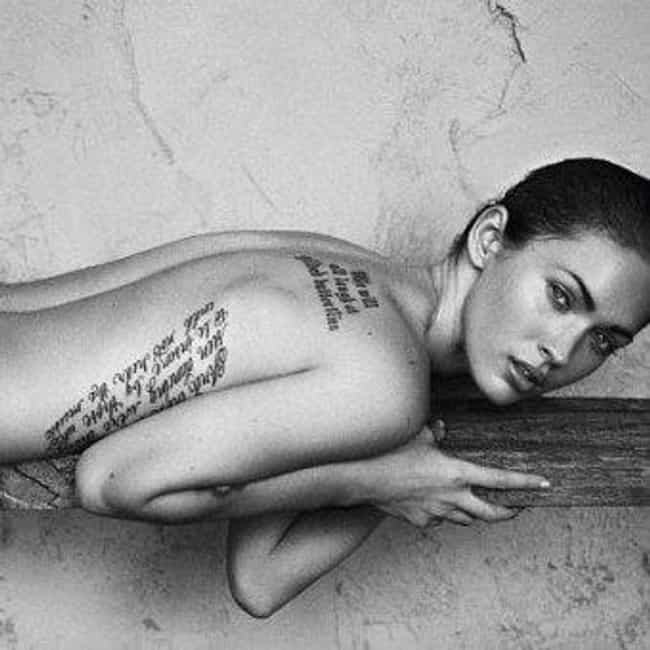 Balancing the text on her opposite ribcage, Megan Fox has a quote from German philosopher Friedrich Nietzsche in script lettering on her right ribcage. Though the exact wording of the quote on the tattoo, which is considerably newer than the rest, is unclear, it's believed to say something close to Nietzsche's quote of "And those who were seen dancing were thought to be insane by those who could not hear the music."

Agree or disagree?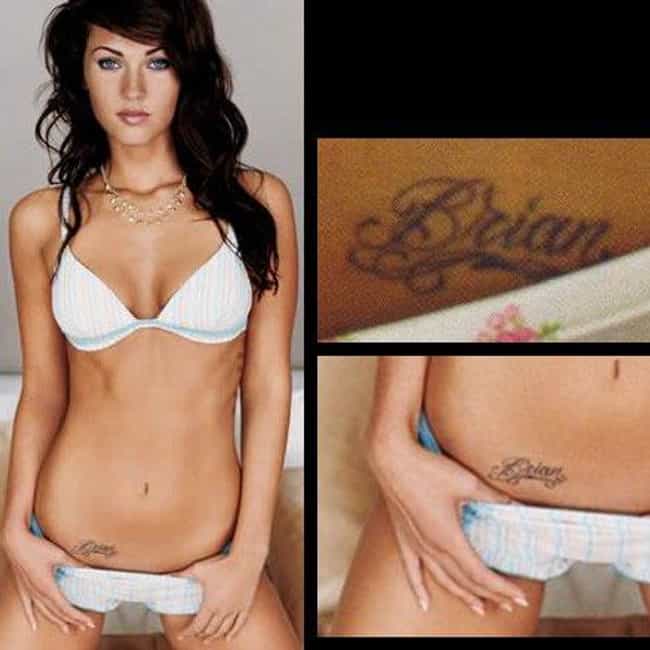 The private tattoo of the name Brian, tattooed right above her pelvic bone
below the waist
, is for none other than her longtime love and now-husband actor Brian Austin Green. The name Brian, in calligraphy, was added before the pair married in 2010 in an intimate ceremony in Hawaii.

Agree or disagree?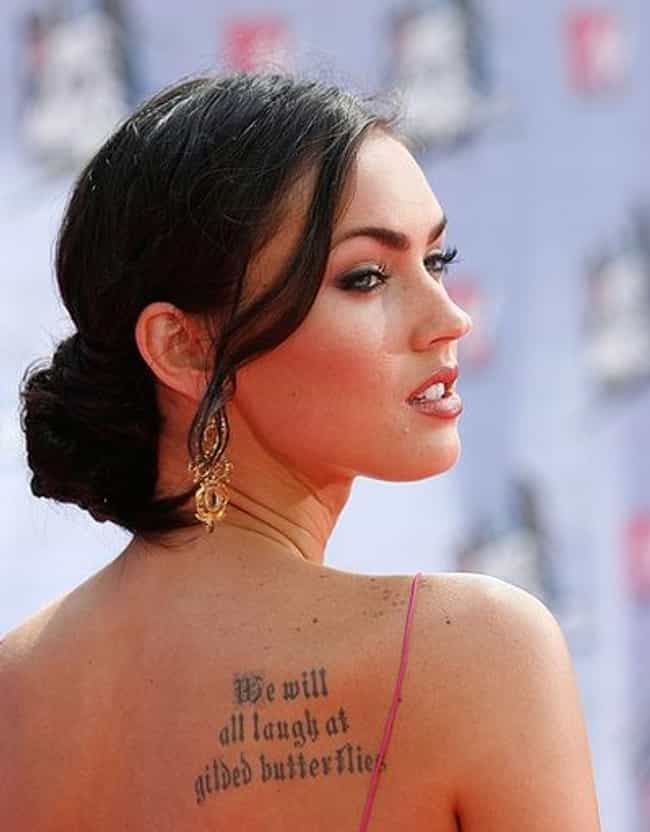 Appearing in Old English font, the phrase "we will all laugh at gilded butterflies" is a Megan Fox tattoo on her right upper back. Sitting over her right scapula, the phrase is taken from, though not a direct quote from, Act V of Scene III of the Shakespeare play "King Lear." The full quote, as spoken by King Lear's daughter Cordelia, says:
No, no, no, no! Come, let's away to prison.
We two alone will sing like birds i' th' cage.
When thou dost ask me blessing, I'll kneel down
And ask of thee forgiveness. So we'll live,
And pray, and sing, and tell old tales, and laugh
At gilded butterflies, and hear poor rogues
Talk of court news; and we'll talk with them too-
Who loses and who wins; who's in, who's out-
And take upon 's the mystery of things,
As if we were God's spies; and we'll wear out,
In a wall'd prison, packs and sects of great ones
That ebb and flow by th' moon.

Agree or disagree?