Entertainment
The Most Memorable Oscar Moments of All Time

Updated October 13, 2018
4.6k votes
1.1k voters
66.5k views
29 items
List Rules Vote up the Oscar memories that deserve to go down in history.
The Academy Awards are cinema's most prestigious prize. Although there are moments of humor, the ceremony is typically a buttoned-up, serious affair. An Oscar can change the entire life for a winning actor, or generate millions of extra dollars at the box office for a motion picture. However, you have to remember that the ceremony is live, and even though the people attending are mostly superstar Hollywood celebrities, they're still human. Here are the best Oscar moments of all time.
These Oscar moments consist of a little bit of everything. If you're looking for a list that concentrates on just the best acceptance speeches, you'll find that here. Of course, there are a few memorable speeches included, no Oscar list would be complete without a mention of Sally Field, and how much everyone likes her.
This list also celebrates the awkward moments. Remember when John Travolta called Idina Menzel, "Adele Dazeem"? How about when poor Frank Capra walked up to the stage when Frank Lloyd was actually the winner?
There are special Oscar moments on this list as well. From the wonderful time when John Wayne got to say his own kind of farewell to his colleagues and fans before passing away a few months later, to when Woody Allen made his lone appearance at the Oscars to pay tribute to his native New York six months after 9/11. There are also the unforgettable outfits - thank you Cher and Björk for being true fashion statement makers.
Make your voice heard, vote up the most memorable Oscar moments of all time.
back to page 1
Marlon Brando is often cited as one of the best actors of all time. However, awards do not mean the same thing to everyone. When Brando won his second Oscar in 1973 (Best Actor for his performance as Don Vito Corleone in
The Godfather
), he sent Sacheen Littlefeather up to the podium to decline the award for him, because of Hollywood's unfair treatment of Native Americans.
Is this iconic?
A Mix-Up With Envelopes Names The Wrong Best Picture Winner
At the 2017 Academy Awards, everyone was anxiously awaiting to see who would take home Best Picture. While La La Land was the favorite, many predicted the stunning and emotional Moonlight would take home the top honor. Warren Beatty and Faye Dunaway went on stage to announce the award - but they had the wrong envelope. Instead of Best Picture, Beatty had the envelope for Best Actress, which went to La La Land's Emma Stone. In a moment of mass confusion, La La Land's team came up on stage, took the award, and began giving their acceptance speeches before someone alerted La La Land producer Jordan Horowitz that Moonlight had actually been crowned the winner.
Despite the huge mix-up - and the chaotic 10 minutes that followed - both teams from La La Land and Moonlight supported one another and were congenial about it.
Is this iconic?
Charlie Chaplin, one of the first icons of film, and still considered one of the most innovative directors ever, made a joyous return to Hollywood after a two decade absence over alleged Communist ties. Chaplin received an honorary Oscar in 1972, along with an emotional 12-minute standing ovation.
Is this iconic?
The Selfie Seen Around the World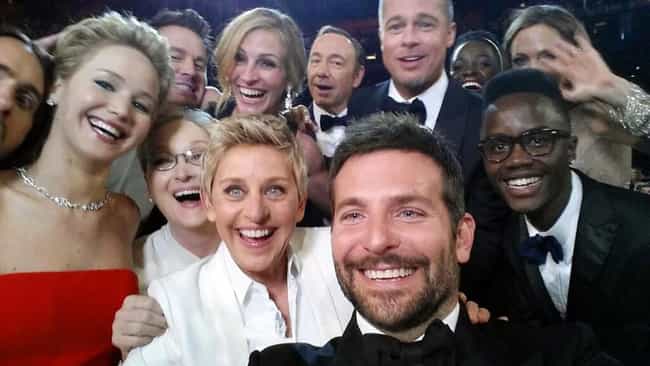 2015 host Ellen DeGeneres originally planned the selfie gag to be a goof on Meryl Streep. Instead, Bradley Cooper took over the camera and snapped one of the most memorable Oscar moments of all time. The now famous selfie featured some of the biggest faces in Hollywood: Jennifer Lawrence, Julia Roberts, Kevin Spacey, Brad Pitt, Angelina Jolie, Lupita Nyong'o, Bradley Cooper, Jared Leto, Channing Tatum, Meryl Streep, and Ellen Degeneres. Ellen tweeted the selfie and just about broke the Internet.

Is this iconic?