Anime Underground
Michael B. Jordan Might Be Hollywood's Biggest Anime Fan

February 27, 2020
6.1k views
12 items
When most people think of Michael B. Jordan, they picture him as a dominating force in the movie Creed, or perhaps as a dangerous mercenary bent on taking over Wakanda in the MCU's Black Panther. But Jordan is much more than an actor; he's Hollywood's biggest anime fan.
In the same way that Joe Manganiello loves Dungeons & Dragons, Jordan is all about anime. The best part about his fandom is that he's into the same stuff most fans love watching and geeking out over. You won't find too many obscure titles in his library either; Jordan is a huge fan of some of the most mainstream anime out there, including Dragon Ball Z and Naruto.
If you're already thinking that this can't be true - that this man, this Adonis who looks like the prototypical jock, couldn't possibly love anime as much as the rest of us - check out the list below. You will quickly see that Michael B. Jordan loves anime as much (or more) than the average fan.
He's Been A 'Naruto' Fan Since His Early Teens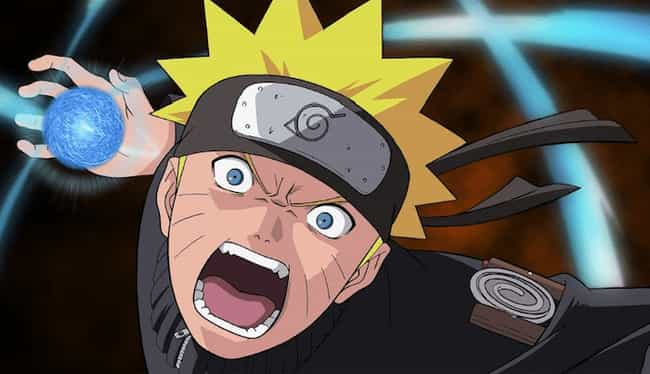 Since becoming a world-famous actor, the one thing Michael B. Jordan hasn't kept quiet about his life is his love for anime. When he was asked about this on Twitter, he went into detail as to which series was his favorite:
My favorite anime is Naruto: Shippuden. Been a fan of it for years, since I was maybe 12-13 years old. I've literally seen Sasuke and Naruto grow up. At the end of it, it was pretty sad. I dropped a couple tears.
Naruto is one of those series that follows the growth of the characters, and it's clear from his comment that he stuck with it until the bitter end. He even Tweeted numerous times about the series while it was on hiatus, as well as when its ending finally arrived.
His Coach Apparel Line Includes 'Naruto'-Inspired Designs
In September 2019, Coach named Michael B. Jordan its first-ever brand ambassador, and within a month, the company released the Coach x MBJ collection. The apparel includes items aesthetically tied to Naruto.
Some of the items in the collection include a backpack, hooded jacket, lined jacket, short sleeve shirt, and basketball sneakers. There's even a steampunk-tinged leather belt, which is a fancy way of saying "fanny pack." In a statement about the designs, Jordan said he wanted them to reflect "my cultural influences and my community." Jordan described how anime influenced him in the designing of his line:
Anime is something that was a big piece of my childhood, my adult life, and my creativity. Stuart [Vevers, a designer who worked with Jordan] was super creative. I built a relationship with him over the years and got a chance to know him. I gave him the education on Naruto - what everything means, the characters, and the symbols. Then we started picking out pieces and started to design them.
He's Encouraged Outfit Comparisons Between Killmonger And Vegeta From 'DBZ'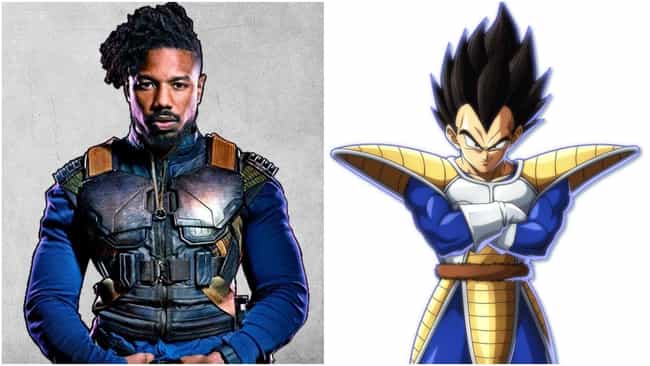 Fans of Dragon Ball Z noticed something interesting when the MCU's Black Panther film was being promoted, and it didn't have anything to do with the hero of the film. Jordan played Erik Killmonger, the principal villain, and his costume looked almost identical to Vegeta's outfit from the popular anime series.
According to Jordan, this familiar look wasn't crafted on purpose. Instead, it was more serendipitous. Speaking about the fan comparison, Jordan said:
I can't remember if me and Ryan [Coogler, director of Black Panther] talked about it. I'm not sure if that was intentional. I thought it was dope - even a happy coincidence. I thought it was fly that people saw that and actually turned it into [memes].
'DBZ' Inspired The Actor For A Particular Scene In 'Creed II'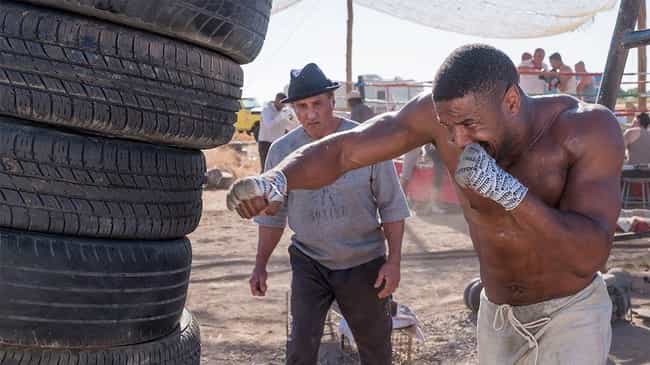 Michael B. Jordan's work in both Creed and Creed II shows an intense devotion to his craft. He transformed his body into a lean, mean, fighting machine, and it shows. Like most actors, he takes inspiration from his life and the things he enjoys, like anime.
To find inspiration for a scene in Creed II, Jordan focused on a particular moment in Dragon Ball Z:
I think there was a moment in Creed II actually during my training montage where I fall on the ground and kind of get up. It was like that legendary Goku, Gohan... get up. Like when Gohan had that dead arm when he was fighting Cell. That was definitely motivated by anime for me.