baseball

Moneyball Movie Quotes

224 votes
113 voters
72.4k views
25 items
Follow
Embed
List Rules Upvote your favorite quotes from Moneyball
'Moneyball' movie quotes include some of the best lines from Brad Pitt, who plays real-life Oakland Athletics general manager Billy Beane in the film. Beane's unique system of scouting and evaluating players helped to change the game of baseball. If your favorite 'Moneyball' quote isn't on this list, add it!
'Moneyball' is based on the best-selling book 'Moneyball: The Art of Winning an Unfair Game' by Michael Lewis (who also wrote 'The Blind Side'). Love him or hate him, few can deny that Billy Beane's sabermetric approach to baseball did get everyone's attention. How do you take a team of total underdogs and make them winners? Beane's system.
'Moneyball' features an all-star cast, led by Brad Pitt, but also including Jonah Hill (as the Ivy League wiz who helps Beane come up with a formula to get players), Philip Seymour Hoffman (as A's manager, Art Howe) and Robin Wright. In January of 2012, 'Moneyball' received multiple Academy Awards nominations, including Best Picture, Best Actor (Pitt), Best Supporting Actor (Hill) and Best Adapted Screenplay.
Looking for more movie quotes? Check out these lists for the best quotes from
'Contagion,'
'Straw Dogs,'
'Rise of the Planet of the Apes'
'Shark Night 3D'
and
'Fright Night.'
back to page 1
Billy Beane: "If we pull this off, we change the game. We change the game for good."
They did and...they did. The game is definitely changed, as a direct result of what Billy Beane pulled off in Oakland.
Billy Beane: "How can you not be romantic about baseball?"
Say what you want about Billy Beane's system and tactics, but there's no denying he loves the game.

Billy Beane: "David, you're 37. How about you and I be honest about what each of us want out of this? I want to milk the last ounce of baseball you got in you, and you want to stay in the show. Let's do that. Now, I'm not paying you for the player you used to be - I'm playing you for the player you are right now. You're smart, you get what we're trying to do here. Make an example for the younger guys, be a leader. Can you do that?"
David Justice: "Alright, I got you."
Billy has a heart to heart with David Justice, explaining that he really needs him to step up and be a true team leader. He also diplomatically (ahem) points out that he's not really paying him the true big bucks - and neither are the Yankees. David's time to be "told" he can no longer play the game is coming. For now, though, he's got a chance, as Billy says, to stay "in the show."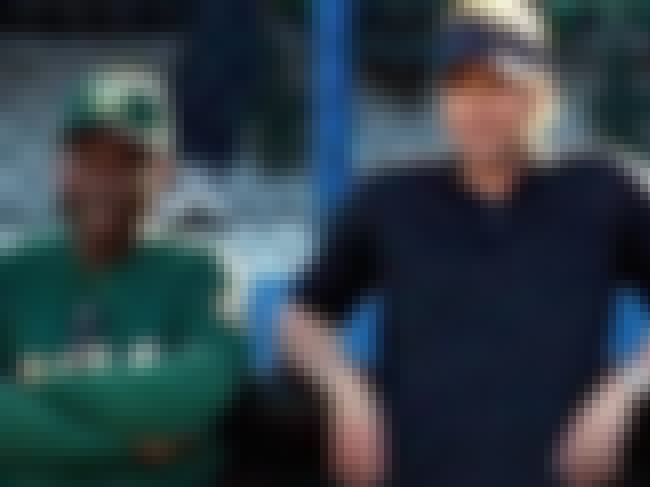 Scott Hatteberg: "I've only ever played catcher."
Billy Beane: "It's not that hard, Scott. Tell him, Wash."
Ron Washington: "It's incredibly hard.
This is a great, funny moment in 'Moneyball,' when Billy is trying to sign Scott Hatteburg (catcher) to play first base for him with the A's. Coach Ron Washington thinks Billy's out of his mind, but he tries to go along anyway - up to a point.