Comedy

Moonrise Kingdom Movie Quotes

126 votes
80 voters
40.3k views
9 items
'Moonrise Kingdom' movie quotes represent the best lines from this 2012 Wes Anderson movie. The comedy film features an A-list ensemble cast, led by Bill Murray, Frances McDormand, Tilda Swinton, Bruce Willis, Harvey Keitel and Edward Norton, among others. In 'Moonrise Kingdom,' the search for a pair of young lovers who've run off together turns into something much more. See a favorite quote from 'Moonrise Kingdom' listed here? Vote it up, by all means. And, if you know of a great 'Moonrise Kingdom' quote that's missing, add it to the list!
In 'Moonrise Kingdom,' the search is on for two missing 12-year-olds. Sam Shakusky (Jared Gilman) and Suzy Bishop (Kara Hayward) have fallen in love, and decided to run away together. Leading the search party is led by the local sheriff, Captain Sharp (Willis), Suzy's parents, Walt and Laura Bishop (Murray and McDormand) and Khaki Scouts Master Randy Ward (Norton) . Set in the mid-1960s on a picturesque New England island, 'Moonrise Kingdom' received rave reviews by movie critics, after premiering at the 2012 Cannes Film Festival. FYI: 'Moonrise Kingdom' is the sixth movie that features the teaming of Wes Anderson and Bill Murray.
Interested in more great quotes from popular movies? Check out these lists for the best lines from
'God Bless America,'
'The Dictator,'
'Dark Shadows,'
'Bernie,'
'The Five-Year Engagement,'
'The Three Stooges,'
'Damsels in Distress,'
'Goon,'
'Wanderlust,'
'The Descendants,'
'Goon,'
'30 Minutes or Less,'
'Young Adult,'
'Think Like a Man,'
and
'Darling Companion.'

Cousin Ben (to Suzy and Sam): "I can't offer you a legally binding union. It won't hold up in the state, the county or frankly any courtroom in the world due to your age, lack of license and failure to get parental consent. But, the ritual does carry a very important moral weight within yourselves. You can't enter into this lightly. Look into my eyes: Do you love each other?"
Suzy: "Yes, we do."
Cousin Ben: "Think about what I'm saying, are you sure you're ready for this?"
Suzy: "Yes, we are."
Cousin Ben: "They're not listening to me. Let me rephrase it..."
Suzy: "We're in a hurry."
Cousin Ben: "Are you chewing...spit out the gum sister. In fact everybody." (Everyone spits out gum) "I don't like the snappy attitude. This is the most important decision you've made in your lives. Go over by that trampoline and talk it through before you give me another quick answer."
Cousin Ben (Jason Schwartzman) is a Falcon Scout, and he means business. When Sam and Suzy come to him, hoping to get married, he tactfully explains that they need to think long and hard about the decision before they proceed. Oh, and they also need to spit out their gum. Because they're 12...
Should this be higher or lower?

Sam (to Suzy): "Dear Suzy, walk four hundred yards due north from your house to the dirt path which has not got any name on it. Turn right and follow to the end. I will meet you in the meadow."
Ah, young love: Clandestine meetings in beautiful meadows, how wonderful! Sam and Suzy's decision to run away together sets off a crazy chain of events, as Suzy's parents and the locals all try to find them before a terrible storm hits the island.
Should this be higher or lower?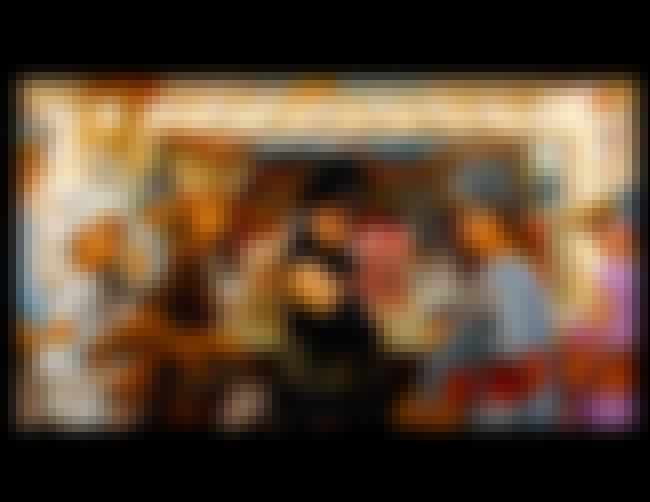 Sam (to Suzy): "What kind of bird are you?"
Sam takes an instant liking to Suzy. And he's really, really serious. He doesn't want to talk to her silly bird friends -- he wants only to talk to her. Instant attraction, sort of...

Should this be higher or lower?

Mrs. Bishop: "Walt, where the hell are you?"
Mr. Bishop: "I'm right here. Why are you cursing at me?"
Mrs. Bishop: "Does it concern that your daughter has just run away from home?"
Mr. Bishop: "That's a loaded question."
Mr. and Mrs. Bishop (Bill Murray and Frances McDormand) don't exactly have an ideal relationship. In fact, it's an awful one. Their already troubled union is about to be tested in a major way, when their eldest child, daughter Suzy, runs away from home.
Should this be higher or lower?