Entertainment
Mortdecai Movie Quotes

82 votes
45 voters
13.2k views
8 items
"Mortdecai" movie quotes tell the comical tale of one eccentric man tasked with recovering a stolen painting. The crime comedy movie was written by Eric Aronson and directed by David Koepp. In the second collaboration between Koepp and Johnny Depp, "Mortdecai" opened in theaters on January 23, 2015.
In "Mortdecai," the title character or Charlie Mortdecai (Johnny Depp) lives a lavish life as an art dealer with a beautiful wife, Johanna (Gwyneth Paltrow), and man servant Jock Strapp (Paul Bettany). While being a dashing art dealer with an interesting mustache doesn't necessarily make him the best choice for the job, Mortdecai is summoned by Inspector Martland (Ewan McGregor) to hunt down a stolen Goya painting.
So Mortdecai, along with man servant Jock, heads to Los Angeles to find the painting but may have an ulterior motive. See Mortdecai is in some financial trouble but if, say, he could profit from the possession of the stolen painting, all that could be taken care of. Accomplishing this all, however, will be a hilarious tasks in itself.
"Mortdecai" helps open the 2015 movie season along with the likes of
"The Boy Next Door,"
"Still Alice,"
"The Wedding Ringer,"
"Blackhat,"
"Taken 3,"
"Predestination,"
"A Most Violent Year,"
"The Interview,"
"Unbroken,"
"American Sniper,"
"Into the Woods,"
"Big Eyes,"
"The Gambler,"
"The Hobbit: The Battle of the Five Armies,"
"Annie,"
"Night at the Museum: Secret of the Tomb,"
"Mr. Turner,"
"Life Partners,"
"Comet,"
"The Hunger Games: Mockingjay Part 1,"
and
"Horrible Bosses 2.
I Have a Bloody Man Servant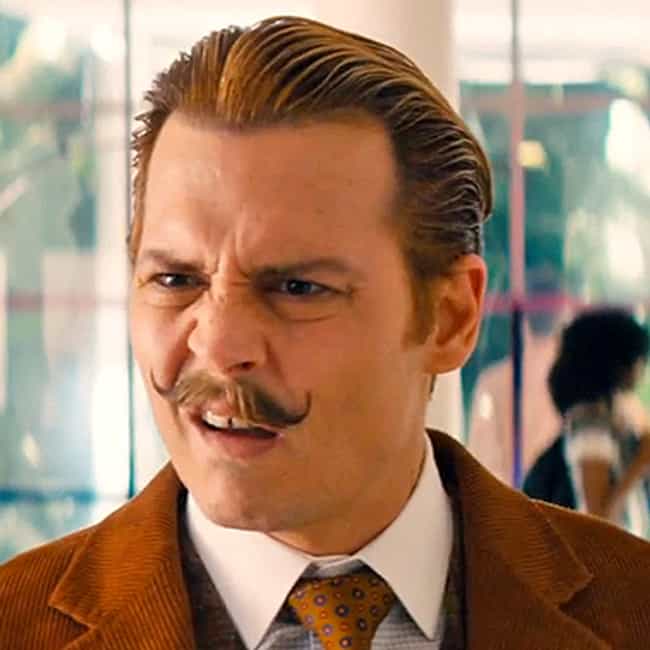 Johanna Mortdecai: "Charlie Mortdecai, where are you?"
Charlie Mortdecai: "Oh, a terribly vulgar place called Los Angeles."
…
Charlie Mortdecai: "I am Mortdecai."
Hotel Clerk: "Do you need help with your bags?"
Charlie Mortdecai: "No, I do not need help with my bags. I have a bloody man servant!"
When the hotel clerk offers Mortdecai help with his bags, he is stunned that he would be offered such a thing. How dare the clerk fail to recognize that he has a man servant with him?

Should this be higher or lower?
On the Set of a Pornographic Film
Inspector Martland: "Go to America and do what it takes to bring the painting back."
…
Charlie Mortdecai: "I feel as though we've made a wrong turn and arrived on the set of a pornographic film."
Sent to America to find the painting, Mortdecai finds more than he bargained for. The loose clothing norms among American women are surprising to Mortdecai, not that he's especially complaining.

Should this be higher or lower?
I Am Lord Charlie Mortdecai
Charlie Mortdecai: "I am Lord Charlie Mortdecai, respected by all who know me, slightly. I am an art dealer, an aficionado. My wife, Johanna, my only true love. Jock is my man servant and handles all of our most pressing affairs. I am also on the verge of bankruptcy and therefore, we need a fiendishly clever plan to secure our reward."
Charlie Mortdecai explains a bit about his life and those around him. Along with his wife and man servant, Mortdecai is kind of a big deal.
Should this be higher or lower?
I Shall Have to Put My Foot Down, Darling
Johanna Mortdecai: "I thought I'd see how you secret agent men run the world."
…
Charlie Mortdecai: "I'm afraid I shall have to put my foot down, darling."
Johanna Mortdecai: "Sorry?"
Charlie Mortdecai: "With your permission, of course."
Johanna is interested in learning about how secret agent men work. Meanwhile, Mortdecai is ready to put his food down with her, with her permission, of course.
Should this be higher or lower?