Button Mash
17 Annoying Overwatch Players You Have Probably Cussed At

Updated November 5, 2019
2.2k votes
360 voters
6.7k views
17 items
List Rules Vote up the worst kinds of players to be stuck on a team with.
Overwatch exploded onto the multiplayer scene in 2016 and has already amassed more than 25 million players across PC and console platforms. While that number is remarkable in its own right, it's even more impressive when you realize Overwatch is a brand new IP.
The benefit of such a large and active community is that you'll never have to wait long for a match. The downside is that every gene pool has a shallow end, and this one is filled with dummies and jerks. There are specific Overwatch player stereotypes, like the Hanzo Main, the Ult Farmer, and Panicked Ult Popper. But there are also selfish and obnoxious gamers in general, like the Rage Quitter and the Griefer, which are the most annoying Overwatch players of all.
If the success of Overwatch has taught us anything, it's that finding a regular crew is important when you're trying to save the world. Especially with so many buttholes solo-queueing in comp.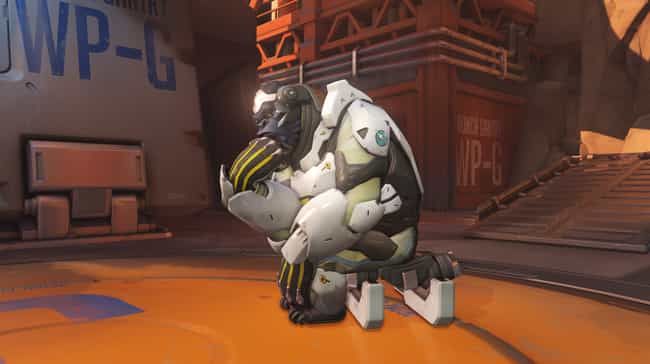 The Sandbagger purposefully sabotages their team because they have no control over any other parts of their lives. Their natural habitat is the spawn point, where they move just enough to not get kicked from the match for inactivity. They solo queue because everyone hates them, including their immediate family.
This player gets off on stressing out their teammates. They throw up Mei walls to trap people in the spawn room and deny their ults and pop Symmetra teleporters that lead people off the map. They flex with Reinhardt in the middle of a firefight and are most likely cat people.
This player is the single biggest reason teams lose Overwatch matches. The Trickler dies quickly, gets frustrated, and makes a bee-line from the spawn back into the fight (only to be mowed down in mere seconds), leaving their team down a man for the entirety of the match. Rinse. Repeat.
This one is pretty self-explanatory, but in the world of competitive Overwatch, rage quitting almost guarantees a loss of SR for your teammates. The suspension/ban mechanic is inconsistent, which gives a lot of power to just one angry player on a 12-person battlefield.