Weird Nature
The Most Charismatic Megafauna

1.4k votes
280 voters
6.5k views
27 items
Megafauna. Charismatic megafauna. What are they even? They are elephants and pandas and lots of other popular animals that people just love. These large animals are the poster children of environmental movements, put on posters and turned into adorable stuffed animals to gain public support for conservation and other environmental goals.
So, if you are wondering why you see giant pandas everywhere, it's because conservation groups were like, "Hmm, how can we get people all over the world to care about an ecosystem in China that is facing some peril?" The answer was cute pandas.
What are some popular charismatic megafauna? Well, think of just about any wild animal you are familiar with and have seen in the gift shop at your local zoo. Elephants, lions, sea turtles - the California condor even. They are all well-known species that were chosen to be the faces of various conservation campaigns and other endeavors.
Some of the animals on this list are endangered megafauna, while others are more ubiquitous, and some were maybe once on the brink of extinction, but thanks to their charisma, were saved! What a tale! Which charismatic megafauna species do you think look the most friendly? Are any of the animals on this list ones that you would love to chat with at a bar? Upvote the most charismatic of the megafauna creatures below, and go get yourself a stuffed red panda to cuddle until the end of time.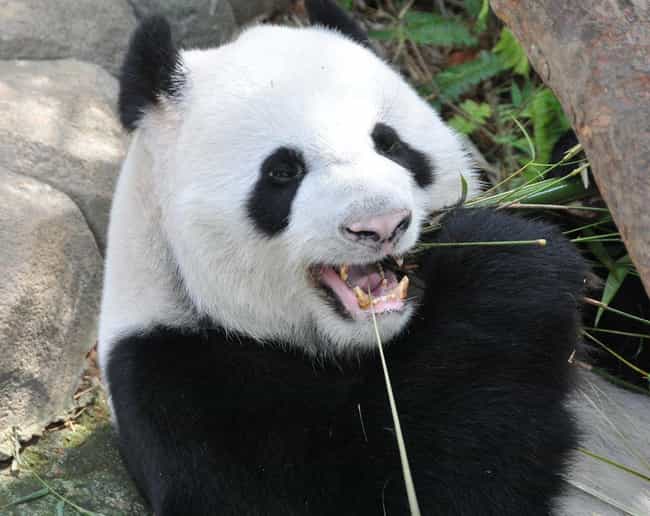 The giant panda (Ailuropoda melanoleuca; Chinese: 大熊猫; pinyin: dà xióng māo), also known as panda bear or simply panda, is a bear native to south central China. It is easily recognized by the large, distinctive black patches around its eyes, over the ears, and across its round body. The name "giant panda" is sometimes used to distinguish it from the red panda. Though it belongs to the order Carnivora, the giant panda is a folivore, with bamboo shoots and leaves making up more than 99% of its diet. Giant pandas in the wild will occasionally eat other grasses, wild tubers, or even meat in the form of birds, rodents, or carrion. In captivity, they may receive honey, eggs, fish, yams, shrub ...more on Wikipedia

Charisma or cha-blah-sma?
The wolf (Canis lupus), also known as the gray/grey wolf, timber wolf, or tundra wolf, is a canine native to the wilderness and remote areas of Eurasia and North America. It is the largest extant member of its family, with males averaging 43–45 kg (95–99 lb) and females 36–38.5 kg (79–85 lb). It is distinguished from other Canis species by its larger size and less pointed features, particularly on the ears and muzzle. Its winter fur is long and bushy and predominantly a mottled gray in color, although nearly pure white, red and brown to black also occur. Mammal Species of the World (3rd ed., 2005), a standard reference work in zoology, recognises 38 subspecies of C. lupus. The gray wolf is ...more on Wikipedia

Charisma or cha-blah-sma?
The tiger is the largest cat species, reaching a total body length of up to 3.38 m over curves and weighing up to 388.7 kg in the wild. Its most recognisable feature is a pattern of dark vertical stripes on reddish-orange fur with a lighter underside. The species is classified in the genus Panthera with the lion, leopard, jaguar and snow leopard. Tigers are apex predators, primarily preying on ungulates such as deer and bovids. They are territorial and generally solitary but social animals, often requiring large contiguous areas of habitat that support their prey requirements. This, coupled with the fact that they are indigenous to some of the more densely populated places on Earth, has ...more on Wikipedia

Charisma or cha-blah-sma?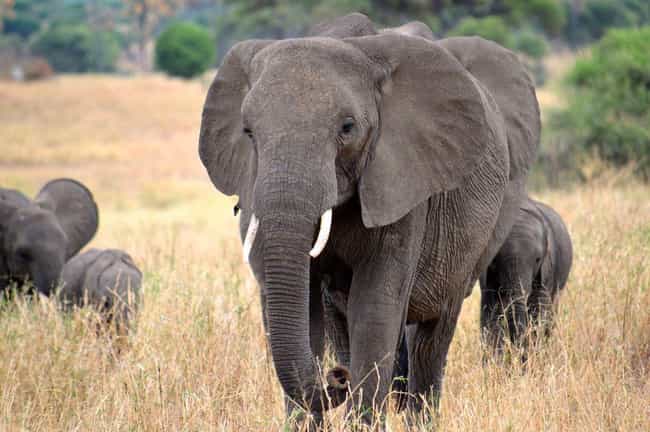 Elephants are mammals of the family Elephantidae and the largest existing land animals. Three species are currently recognised: the African bush elephant, the African forest elephant, and the Asian elephant. Elephantidae is the only surviving family of the order Proboscidea; extinct members include the mastodons. The family Elephantidae also contains several now-extinct groups, including the mammoths and straight-tusked elephants. African elephants have larger ears and concave backs, whereas Asian elephants have smaller ears, and convex or level backs. Distinctive features of all elephants include a long trunk, tusks, large ear flaps, massive legs, and tough but sensitive skin. The trunk, ...more on Wikipedia

Charisma or cha-blah-sma?