Entertainment
15 Nasty Body Horror Films, From 'Hard To Watch' To 'Positively Depraved'

18.4k votes
3.7k voters
195.2k views
15 items
List Rules Vote up the body horror flicks you least want to experience IRL.
Not everyone can handle disgusting body horror movies, but those who can appreciate them like a fine wine, which is perhaps appropriate, given that wine is substituted for the blood of Christ and The Passion of the Christ is kind of a body horror movie. The best body horror movies are incredibly difficult to pull off; the extreme nature of the genre makes it easy for the most disgusting body horror movies to come across as cheesy if the writing, effects, and acting aren't exactly on point.
The disgusting body horror films below are the nastiest of the nasty, and paragons of their genre. The 2010s alone had more than their share of memorable body horror moments. Keep in mind that these films aren't slasher flicks, so don't expect to see Leatherface or Jason Vorhees. These are horrors that come from within, which may be scarier than any serial killer looking to gouge some eyeballs. While not every film here is rife with deluges of blood, they're all very disturbing horror movies.
You'll find everything from '70s shoestring-budget horror to '80s remakes and modern body mutilation porn. Chances are you've seen a lot of these gross movies (this list isn't really stuff for neophytes), but in case you haven't, you'll find their levels of nasty ranked on the following scale (starting with the easiest on your stomach):
Hard To Watch
Pretty Darn Gross
Vomit Inducing
Absolutely Disgusting
Positively Depraved
So, if you're curious to see just how bad these movies get, check out the list below!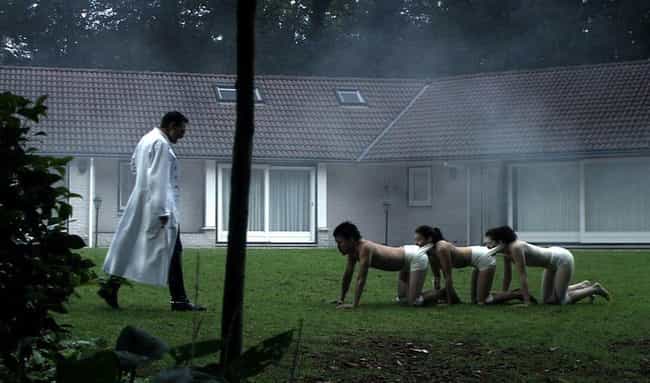 Level Of Disgusting: Positively Depraved
Movie Rating: 49% on Rotten Tomatoes
The Body Horror: The Human Centipede has no political agenda or great purpose. It's not really even trying to tell a story. It just wants to gross out everyone who watches it. And boy is it gross. Who knows how filmmaker Tom Six thought of locking three people ass-to-mouth, but perhaps that thought process is best left a mystery.
Actors: Ashley C. Williams, Dieter Laser, Akihiro Kitamura, Ashlynn Yennie, Andreas Leupold, + more
Released: 2009
Directed by: Tom Six

Is this disgusting?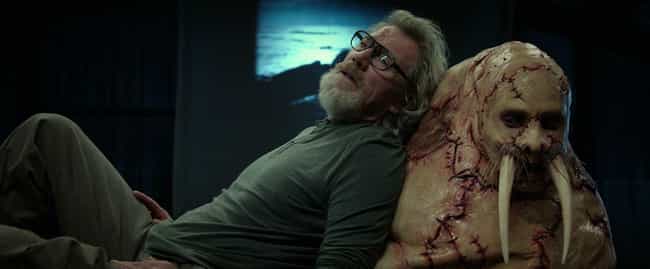 Level Of Disgusting: Absolutely Disgusting
Movie Rating: 41% on Rotten Tomatoes
The Body Horror: Who would have thought the guy who made Clerks would go on to make Tusk, a body horror film about Wallace Bryton (Justin Long) becoming a human walrus? Based on a story from director Kevin Smith's "SModcast" podcast, the movie starts with a podcast host (surprise!) who falls into the clutches of a disgruntled ex-seaman obsessed with turning people into walruses. The old guy deforms Bryton's body and puts him into a suit made of human skin, conditioning him to act like a walrus. It's essentially The Human Centipede with tusks, so watch at your own risk.
Actors: Johnny Depp, Haley Joel Osment, Génesis Rodríguez, Justin Long, Michael Parks, + more
Released: 2014
Directed by: Kevin Smith

Is this disgusting?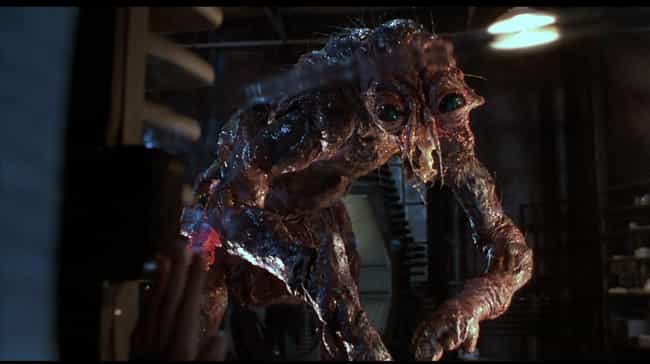 Level of Disgusting: Positively Depraved
Movie Rating: 91% on Rotten Tomatoes
The Body Horror: If you were to watch the first half of The Fly, it'd be easy to mistake it for a quirky romance about a reporter who falls in love with an anti-social scientist. But then protagonist Seth Brundle gets his DNA spliced with a housefly and starts to mutate into a man/fly hybrid. It's full of absolutely horrible stuff, including acidic vomit, impregnation horror, and Seth's ultimate fate: turning into the horrific Brundlefly. It's hard to get more disturbing than the body horror in this flick.
Actors: Geena Davis, Jeff Goldblum, David Cronenberg, George Chuvalo, John Getz, + more
Released: 1986
Directed by: David Cronenberg

Is this disgusting?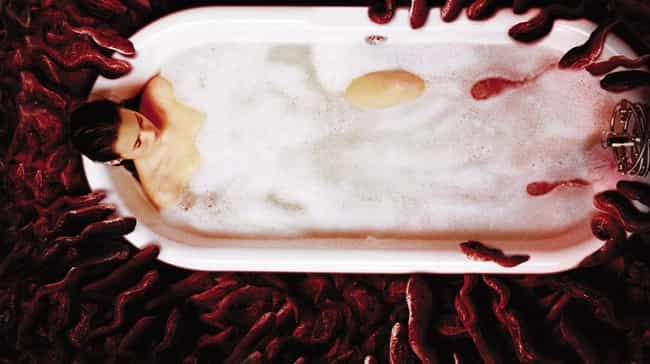 Level Of Disgusting: Absolutely Disgusting
Movie Rating: 86% on Rotten Tomatoes
The Body Horror: It's always been plain to see James Gunn has a twisted mind, and Slither might just be his most screwed up movie to date. When an alien parasite lands in a small town in South Carolina, it infects humans in pretty insane ways. Grant, the first person infected, becomes a disgusting, tentacle-clad creature. He then infects a woman with hundreds of alien slug babies, to the point that her body swells up like a massive balloon.
Actors: Elizabeth Banks, Jenna Fischer, Rob Zombie, Nathan Fillion, Michael Rooker, + more
Released: 2006
Directed by: James Gunn

Is this disgusting?