Culture
The Most Expensive Everyday Items You Can Find on Amazon
605 votes
142 voters
32.2k views
41 items
List Rules Vote on the most ridiculously priced item.
Here is a list of the most ridiculously expensive everyday items you can find on Amazon. Got a few extra thousand dollars burning a hole in your pocket? Great! Browse through this list and pick your poison--you can purchase one packet of pocket tissues, a gallon of shampoo and 18 rolls of toilet paper... but its going to cost you well over $100,000!
When you think about expensive items, you definitely don't think about a 12-volt charger that will set you back an ungodly sum of money. Anyone who regularly browses though products available on Amazon inevitably comes across items randomly priced so high that it causes you to wonder what kind of tricks they have up their sleeve. It seems like Amazon.com
really
doesn't want you to purchase items from third party sellers. But posting things like cupcake trays for $50,000 on their site sure seems ballsy.
Here are the most brazenly priced everyday items you can find on Amazon.

3
A $95.6k Charger Has A Whole 12 Volts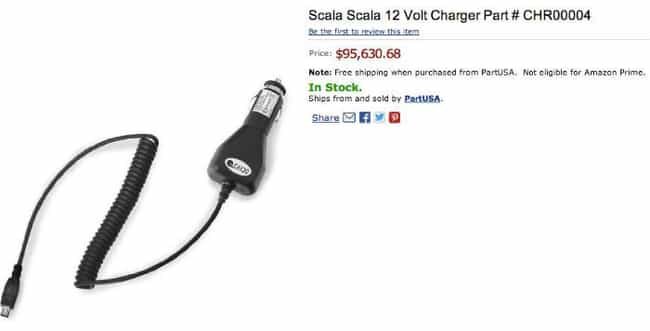 + Free Shipping
Costs more than the car you are riding in.