Entertainment
20 Celebrity Social Media Posts That Totally Backfired

Updated March 3, 2020
2.4M views
20 items
As we all know, everyone, including celebrities, love to give their unsolicited opinions via social media. So, when Twitter was invented, lots of Hollywood stars made sure to optimize those measly 140 characters and let everyone know what was exactly on their minds, for better or worse. Sure, celebrity tweets are fun and give fans a glimpse into the lives of famous people, but celebs often find themselves in hot water for offensive tweets and Twitter controversies.
When it comes to the celebrities on this list, 20/20 is hindsight when one wrong Tweet leads to disaster. Everything from celebrity feuds, losing money, getting fired, facing a public relations nightmare, and plain old embarrassment has occurred just because of one regrettable Tweet.
In the end, we can all learn a lesson from these celebrity tweets that backfired: always think twice before you add your two cents to a public forum. Here's a list of the most hated celebrity tweets.
James Gunn's Comments Got Him Dropped From 'Guardians of the Galaxy'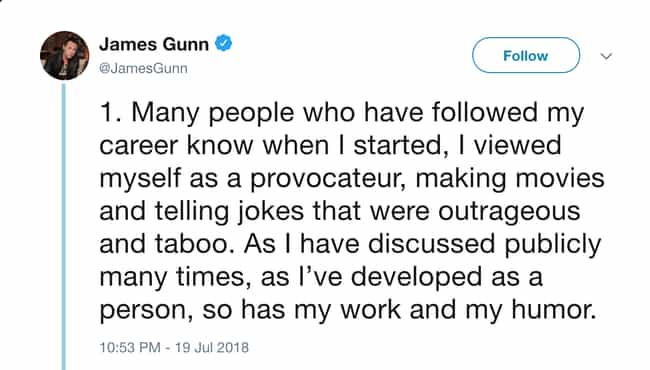 James Gunn was swiftly dropped from the Guardians of the Galaxy franchise after the discovery of a series of old Twitter posts. The posts in question were penned and posted before Gunn began work on the franchise and touched on a series of controversial subjects. Gunn made jokes about serious topics including adult relations with children, sexual assault, the Holocaust, and AIDS. He momentarily shutting down his Twitter and deleted the tweets shortly after various news outlets reported on them, but screenshots were widely shared online.
A Walt Disney chairman released a statement following Gunn's firing:
The offensive attitudes and statements discovered on James' Twitter feed are indefensible and inconsistent with our studio's values, and we have severed our business relationship with him.
Gunn defended himself on Twitter, releasing a series of tweets arguing his past jokes were merely an aspect of his previously provocative sense of humor. He went on to claim his humor has since evolved and he would be unlikely to make such jokes again in the future.
Roseanne Barr's Derogatory Tweet Aimed At A Former Obama Adviser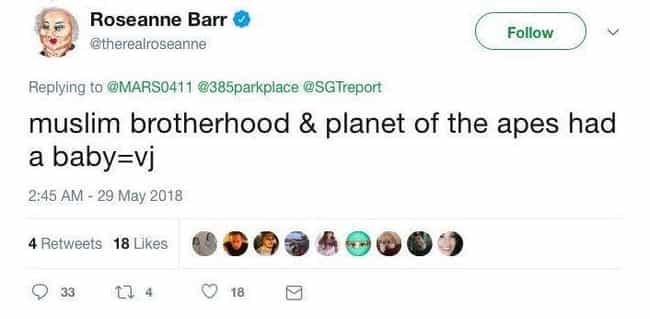 Roseanne Barr's Twitter feed has been full of conspiracy theories and biased tweets for the past decade, but one in particular she posted on May 29, 2018, really had her in hot water. The Roseanne co-creator and star tweeted about Valerie Jarrett, a Black woman who is a former Obama adviser. In a string of Tweets, Barr likened Jarrett to an ape.
After receiving a slew of backlash from her peers and the Twittersphere alike, Barr issued an apology, saying: "I apologize to Valerie Jarrett and to all Americans. I am truly sorry for making a bad joke about her politics and her looks. Forgive me - my joke was in bad taste."
Unfortunately for Barr, no one wanted to pardon her comments. ABC canceled Roseanne. ABC Entertainment president, Channing Dungey, said, "Roseanne's Twitter statement is abhorrent, repugnant, and inconsistent with our values, and we have decided to cancel her show."
Barr's representation, ICM Partners, also dropped her. In an official statement, the company said:
We are all greatly distressed by the disgraceful and unacceptable Tweet from Roseanne Barr this morning. What she wrote is antithetical to our core values, both as individuals and as an agency. Consequently, we have notified her that we will not represent her. Effective immediately, Roseanne Barr is no longer a client.
Barr said she was leaving Twitter in the midst of the aftermath of her comments.
Betsy DeVos's Tweets About Pencils
Betsy DeVos - the Michigan billionaire who supposedly bought her way into the White House - tweeted a picture of her first day on the job as Secretary of Education. Throughout her confirmation hearings, DeVos faced an onslaught of politicians and citizens questioning her qualifications. Her opposition maintains she has never taught in a public school, she has no training as an educator, and she and her children have never even attended a public school. DeVos critics even made jabs about her stance on gun in schools.
Despite this, she was confirmed after Vice President Mike Pence broke a tie vote. On her first day on the job, she tweeted a picture of herself, asking: "Now where do I find the pencils? :) " and people were not pleased. The Twitterverse came for dear ol' Betsy, mercilessly mocking her and presenting her as an anti-public school GOP shill.
Representative Who Opposes Obamacare Posts Controversial Poll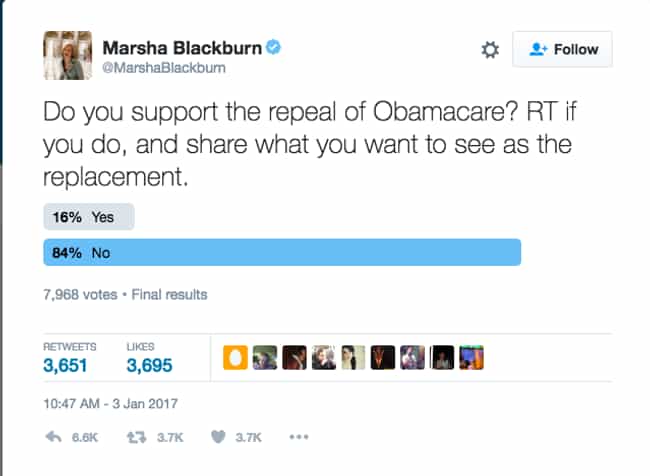 Staunch Obamacare hater Rep. Marsha Blackburn, R-Tenn., thought she'd fire up her constituents by asking via a Twitter poll what they thought about repealing the health care law. Unfortunately for her, 84 percent of people who voted - or about 6,700 people - didn't want congress to repeal it.
However, as CNBC pointed out, it's possible her poll was slightly influenced by Democrats. Obama White House Press Secretary Eric Schultz retweeted the poll to his more than 23,000 Twitter followers.