Cartoon Network Shows
The Most Pathetic Things That Have Ever Happened To Jerry On Rick And Morty

2.8k votes
516 voters
20k views
17 items
List Rules Vote up the times you (almost) felt bad for Jerry.
If you're a fan of Rick and Morty then you're aware of just how sad Morty's dad, Jerry, can be. It's almost like the show's creators truly hate Jerry and want to see him cry within the first 60 seconds of every episode. There's an unending amount of sad Rick and Morty Jerry moments, but these are some of the most downright pathetic Jerry moments on Rick and Morty.
Jerry is a pathetic, sorry excuse for a dad. He's essentially half-man, half-worthles-garbage-person. He's the kind of pasty guy that you want to punch in the face before he even speaks one word. Over the course of series, Jerry has become increasingly involved in the titular duo's shenanigans, but that doesn't mean that he's gotten any cooler.
The audience has even been treated to the idea that the one thing it would take to turn Jerry from a sniveling caricature of a man into an actual father is an all out Cronenberg mutant apocalypse. It shouldn't take that kind of thing to be a good dad or an okay husband! As it stands, Jerry is kind of a waste of space, and these are his most pathetic moments.
back to page 1
All He Had To Offer For Morty's Life Was His R2-D2 Coin Collection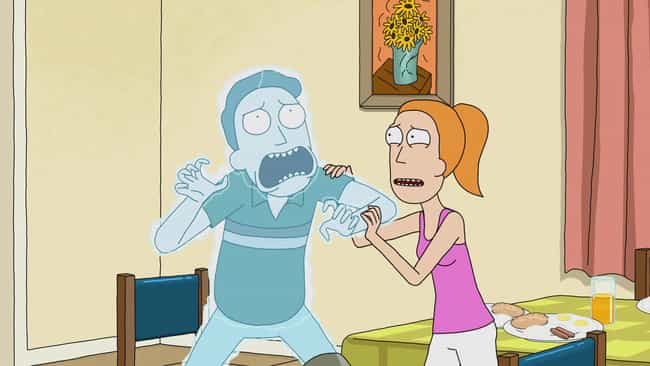 When Rick and Morty are kidnapped by the Council of Ricks in "Close Encounters of the Rick Kind," Jerry is frozen before he can try to save Morty. It's revealed that after he's unfrozen that the one thing he had to offer up for the life of his only son was a collection of state quarters where George Washington is replaced by R2-D2. Not only is it sad that he was only willing to pay $25 for his son, but that coin collection is just so depressing.

Is this sad?
Jerry Needs Rick To Invent Something To Open A Jar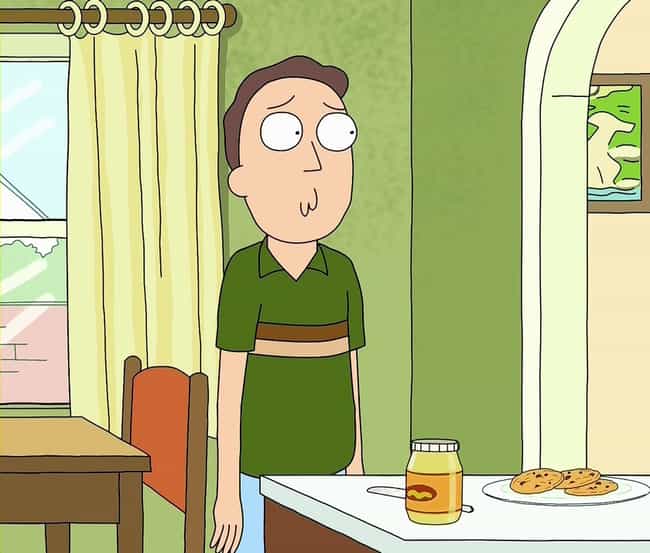 With one sentence at the beginning of the Season 1 episode "Meseeks and Destroy," Jerry lets you know what kind of person he is. As soon as Rick and Morty return from an adventure, Jerry asks Rick, "Do you have some kind of hand shaped device that can open this jar?" Just bang the jar against the kitchen island like everyone else, Jerry!

Is this sad?
Mr. Meeseeks Can't Help Him Take Two Strokes Off His Golf Game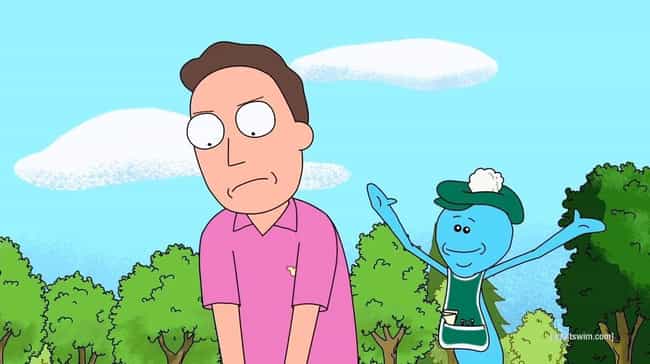 After being introduced to the Meeseeks Box, Summer and Beth are able to use the helpful blue creatures to take care of their existentially complicated problems (being popular, and being a better woman, respectively). But poor, stupid, dumb Jerry can't even use the Meeseeks Box to become a better golfer.
He's such a bad golfer that the creature who was summoned to improve his game has to summon even more creatures until there are a plethora of Meeseeks who have been driven insane by Jerry's ineptitude. Get it together, Jerry.

Is this sad?
In Every Alternate Reality Beth Is Better Off When She's Not Married To Jerry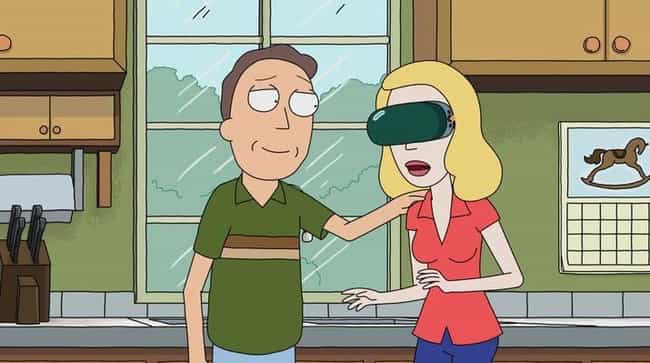 While taking a visual trip through the alternate realities where Jerry and Beth didn't get married (or have Summer) in "Rixty Minutes," it's revealed that Beth is having a much better life than the one she has in her reality. She's a real doctor! She doesn't have to put up with Jerry!
And hey, Jerry's having an okay time in the alternate reality too, doing cocaine with Johnny Depp and banging Kristen Stewart. But he can't live life with out Beth and goes on a drugged out scooter ride to find her. Pull yourself together, Jerry.

Is this sad?