watchworthy
presents
14 Teen Movies That Definitely Made You Cry

February 12, 2020
443 votes
110 voters
2.2k views
14 items
List Rules Vote up the teen movies that brought the waterworks.
If you think sad teen romance movies skew too young to truly affect you, you're just plain wrong. Just like the heartbreaking moments in every lovable Disney movie, teen films know how to lay on the emotional content. In fact, they can be more overtly sad than some of their adult counterparts.
By focusing on a younger audience but addressing very real issues, teen movies have the ability to hit you right where it hurts. You don't have to pretend that you just spent an hour cutting onions. It's okay to admit that the cheesy teen rom-com made you cry.
From sweet coming-of-age stories to dramatic tales of loved ones lost to illness, adults and children will find themselves reaching for the nearest box of tissues when they pop one of these films on. Take a look at these teen movies that will definitely make you cry, and vote up the titles that are real tearjerkers.
Data-driven recommendations based on voting from over 40 million monthly visits to Ranker.
Try the free app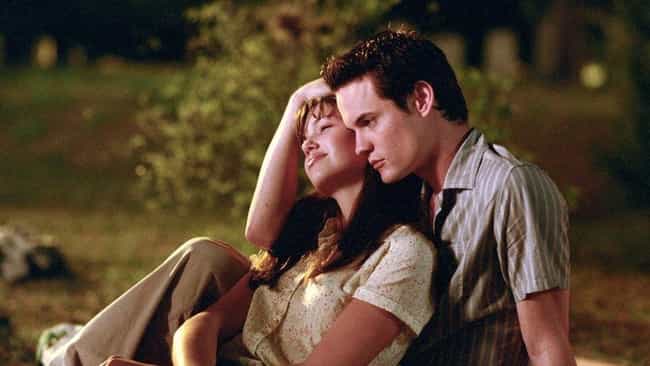 The Story: In A Walk to Remember, rebellious teen Landon Carter (Shane West) is forced into community service in order to atone for a past deed that resulted in a serious injury to one of his classmates. Part of his community service involves participating in the school play, and there, he becomes acquainted with Jamie Sullivan (Mandy Moore), the local minister's daughter. Landon and Jamie gradually grow closer, but Jamie insists that Landon can't fall in love with her. Despite his best efforts, Landon does fall for Jamie.
The Defining Moment: When Jamie finds out Landon is in love with her, she reveals that she has leukemia and hasn't been responding well to treatment. As Jamie's condition grows worse and worse, Landon asks her to marry him. They spend a final summer together as husband and wife before Jamie passes.
Why It's Sad: At the start of the movie, it's clear that Landon has no future ahead of him. He's a rebellious kid who doesn't seem to care about anything. However, all that changes when he meets Jamie. He's committed to their relationship throughout her illness and learns to put someone else's needs above his own. By the end of the film, Landon reveals that he was accepted into medical school. Their love changes him forever, which makes it all the more heartbreaking that their time together is so short.
Teen tearjerker?
The Story: Gilbert Grape (Johnny Depp) is a 24-year-old man tasked with caring for Arnie (Leonardo DiCaprio), his developmentally disabled brother, after their father's passing. Gilbert's mother has barely left the couch following his father's passing, and the day-to-day running of the house is now the responsibility of Gilbert and his two sisters. Throughout the movie, Gilbert tries to care for Arnie to the best of his ability while still maintaining his own life. The massive responsibility takes a toll on the entire family, and the film follows Gilbert as he struggles to find his place in the world while feeling like he has to be there for the people he loves.
The Defining Moment: After caring for Arnie for years while simultaneously putting his own desires on hold, Gilbert finally snaps. Arnie tries to run away from his bath and Gilbert becomes frustrated and hits him multiple times. He quickly realizes what he's done, and disgusted with himself, he runs away.
When Gilbert returns home to repair things with his family, he also mends the relationship with his mother. She acknowledges what a burden she has become and finally makes her way to her upstairs bedroom for the first time since her husband's passing. Shortly after, she passes, and the family chooses to burn their home down rather than allow the town to make fun of her.
Why It's Sad: The entire film elicits a feeling of sadness. While the relationship between Gilbert and Arnie is heartwarming, it's also clear that the bond is taking a toll on Gilbert. The entire family struggles to make ends meet with a mother they can't rely on. Although they fight to stay strong together, they also have to deal with the derision of their peers. It's a bittersweet peek inside the life of a 24/7 caretaker that's sure to result in quite a few tears.

Teen tearjerker?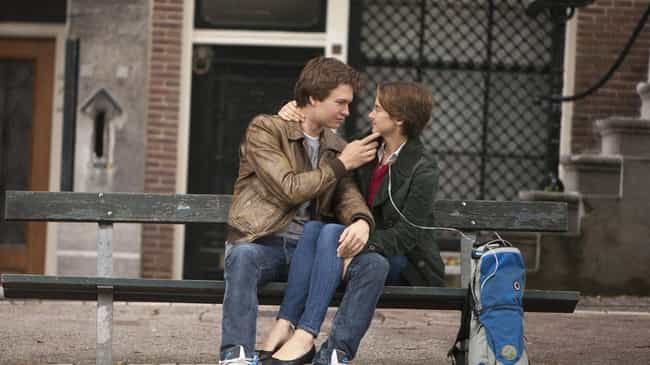 The Story: This book-to-movie adaptation follows Hazel Grace Lancaster (Shailene Woodley), a teenager with terminal thyroid cancer that has spread to her lungs. Although Hazel maintains a generally pessimistic view of her life, she meets Augustus "Gus" Waters (Ansel Elgort) at a cancer patient support group and quickly falls in love. Gus lost a leg to bone cancer, but his disease is thankfully in remission. Although Hazel's health is deteriorating, she commits most of her remaining energy to spending time with Gus. He encourages Hazel to keep living, particularly since she may not be able to do anything in the near future.
The Defining Moment: While on a trip to Amsterdam, Gus reveals to Hazel that his cancer has returned and spread quickly. His condition is now terminal, and he doesn't expect he'll have much longer to live. Upon their return home, Gus's health deteriorates and he passes away in a matter of weeks.
Why It's Sad: Throughout the entire movie, Hazel's health is the primary concern. She's in a significantly worse condition than Gus, and viewers are certain that she'll pass before the story is done. The revelation that Gus is now deathly ill is entirely unexpected. It shifts the mood of the movie, and his passing comes so quickly that it's difficult to process. What's most heartbreaking, however, is watching Hazel deal with the loss of her first love. Her grief and anger are palpable, making it hard to get through the film without a box of tissues on hand.

Teen tearjerker?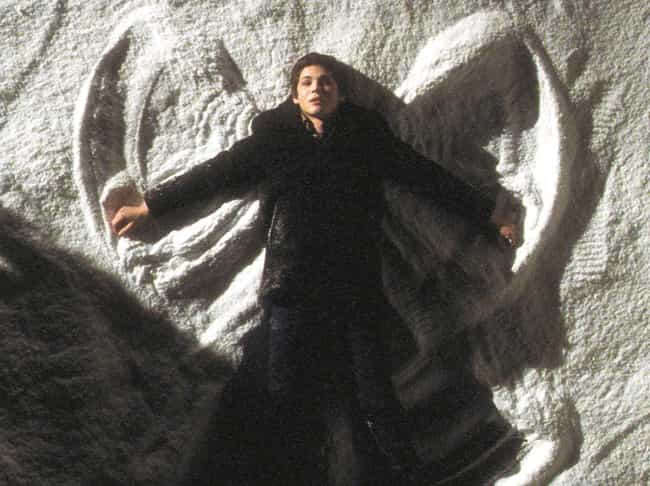 The Story: When Charlie (Logan Lerman) starts high school, he quickly realizes that he doesn't quite fit in. Just before his freshman year began, Charlie was discharged from a mental health care institution following a particularly bad spell that resulted from his lifelong struggle with clinical depression. While still trying to recover and get his health back on track, Charlie bonds with two seniors, Sam (Emma Watson) and her stepbrother Patrick (Ezra Miller). The rest of the story follows the many ups and downs of Charlie and his friends, all of whom are dealing with their own unique issues as they try to find their place in the world.
The Defining Moment: During the movie, Charlie's mental health continues to deteriorate until he eventually recalls some traumatic repressed memories involving his Aunt Helen.
Why It's Sad: This movie perfectly captures the difficulty of surviving in the world when you're just a bit different. From struggles with sexuality to mental health issues to normal teen jealousy, this film touches on various emotional aspects that come with being a young adult. Each issue is depicted in a painfully raw and real fashion, which makes the entire movie a bit of an emotional experience.

Teen tearjerker?