Total Nerd
17 Most Sexist Superhero Shirts and Merchandise

1.3k votes
167 voters
14k views
18 items
List Rules Vote up the most shamelessly sexist pieces of comic merch. Which is the most offensive?
Sexism in comics is nothing new, which is extremely sad. And sure, maybe it's easy to trivialize this paradigm in the medium where women are drawn in much more revealing costumes than the men when they're supposed to be going out to fight or battle. Covers feature supposedly powerful, but obviously not empowered, women in ridiculously suggestive poses and situations. While men are seen as tough, strong, and everything a woman should strive to find in a man, not strive to be, but strive to find, according to comic book companies.
And it translates out of that medium, too. How many solo superheroine movies have we had so far? Can you name two? Name one? How many solo male lead superhero films? How the heck is an Ant-Man movie going to come out before a Wonder Woman film?
With the impressively shameless "SCORE! Superman does it again!" shirt, the "Training To Be Superman's Wife" shirt that just came to light, and with comicdom's long history of questionable ethics when it comes to sexism, we've decided to compile a list of the most sexist comic merchandise ever. Vote up the ones that grind your gears.
What *Does* The 'Training' Entail?... And DO They Mean Alfred?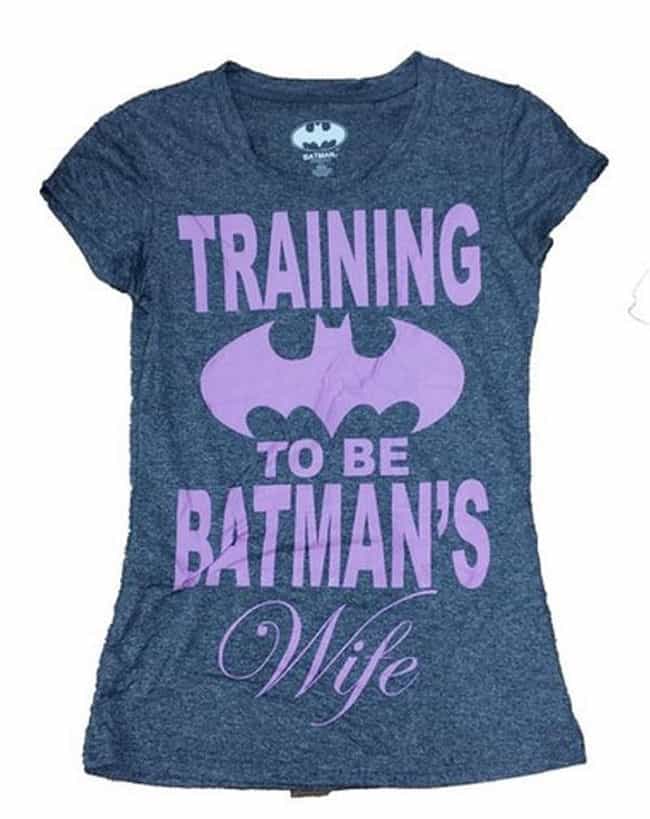 Is this offensive?