Total Nerd
All The Rarest And Most Valuable LEGO Minifigures

Every LEGO enthusiast knows it's an expensive hobby, but few know just how expensive it can be. The most devout fans may be willing to shell out a few hundred bucks for a rare LEGO set, but how much would you pay for an individual minifigure? $100? $1,000? It turns out the most valuable LEGO minifigures can cost a collector thousands of dollars, with the rarest valued at over $2 billion! That's an unreasonable pricetag for a toy, even compared to other rare LEGO minifigures. Still, LEGO collectibles are hot commodities, and some people are willing to dish out dough for unique toys.
The most expensive minifigures are often one-of-a-kind collectibles, which explains the exorbitant price tags. Some are made of precious metals like solid gold, while others are so rare, you'd have to literally travel to another planet to find them. No matter the case, most of their price tags will make you drop your jaw.
The Roman Gods Jupiter And Juno, Plus Galileo, That Were Launched Into Space By NASA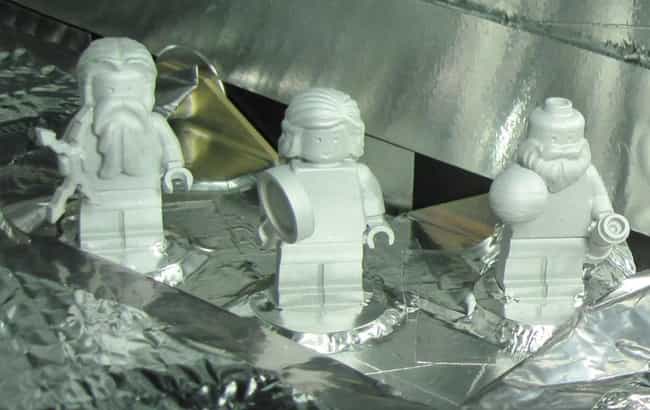 What It's Worth: $2.2 Billion
Why It's Worth So Much: Even Elon Musk couldn't buy these figurines if he wanted to. The three minifigures were sent to Jupiter on the Juno Spacecraft in August of 2011 as part of an educational outreach program conducted by NASA and LEGO. The minifigures are made of space-grade aluminum and depict the Roman gods Jupiter and Juno, as well as famed astronomer Galileo Galilei. The trio cost roughly $5,000 to make, but their high price tag comes from the fact that you'd literally have to go to space to find them. Although LEGO has confirmed a duplicate of the trio was made in case they were needed as an emergency replacement, the whereabouts of these minifigure backups is unknown.
Wooden Wu Prop For 'The Lego Ninjago Movie'
What It's Worth: $104,500.95
Why It's Worth So Much: This minifigure was made exclusively to be used as a prop in The Lego Ninjago Movie, and there are only four in existence. One of them is confirmed to belong to Simon Lucas, the creator of LEGO Ninjago.
What It's Worth: $26,125.95 to $300,000
Why It's Worth So Much: This rare C-3PO minifigure is made from 14k gold. Only five of these minifigures were produced as part of a giveaway contest through LEGO Magazine. As of May 2019, one of these five is allegedly up for grabs on eBay for a cool $300,000.
Solid Silver C-3PO (Star Wars Celebration IV, 2007)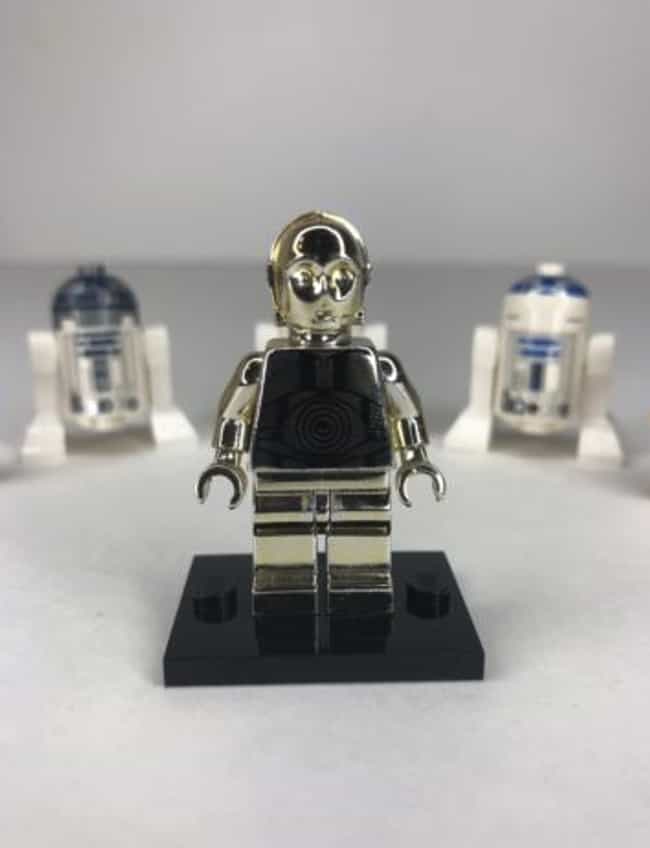 What It's Worth: $34,485.95
Why It's Worth So Much: Made of sterling silver, only one of these guys was ever crafted. It was given away as part of an exclusive contest at Star Wars Celebration IV.