Weird History
The Most Valuable US Coins Of All Time

There is an undeniable, almost magic allure to collecting old coins that has drawn dedicated numismatists - the scientific term for people who dedicate their lives to gathering coins and studying their provenance - for years. This is why there are quite a few coins that are worth a lot of money. In America, our metallic currency has been a fascinating record of the development of our nation in many facets, from our political differences to our artistic interests.
When it comes to numismatics, there are all different types of coins that attract the eye of passionate (some might say obsessive) hobbyists. Some people are enamored with pennies - especially pennies with some sort of striking error - while others are dedicated to possessing the rarest, oldest examples of American coins dating back to before we even had a unified currency and a central US Mint. And yes, some numismatists are passionate about paper currency with its many beautiful designs, but the price tags for bills aren't even in the same universe as coins.
In an effort to complete their collections, some of the world's most devoted (and monumentally wealthy) numismatists have put down millions of dollars for a single coin, and the reasons behind these coins' values are strange, often intricate and always unique. From special "proof sets" that were struck solely for the purpose of giving out as gifts to foreign dignitaries to gorgeous coins that became superstars among collectors for their stunning designs, here's a look at some of the most valuable, expensive coins ever sold, ranked by the highest price each individual coin or type of coin has ever fetched at auction.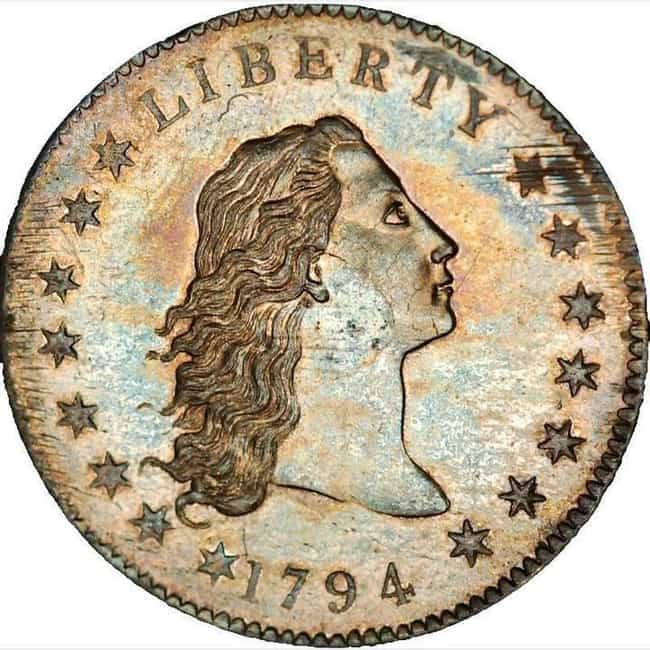 What It's Worth: $10,016,875
Why It's Worth So Much: Known by collectors as the 1794 Flowing Hair silver dollar, this treasured coin set the current world record when it comes to auction sales prices in 2013. It was purchased by a rare coin firm known as Legend Numismatics, which told Reuters, "We felt in our heart that this would be the very first coin to exceed the $10 million barrier in auction and were in fact prepared to bid much higher in order to acquire this unique piece of history."
So what makes it so historically valuable? According to David Bowers, the chairman emeritus of the gallery that auctioned off the coin, "It is the first American metal dollar struck and the finest known. You have these combinations coming together. No museum has an equal piece."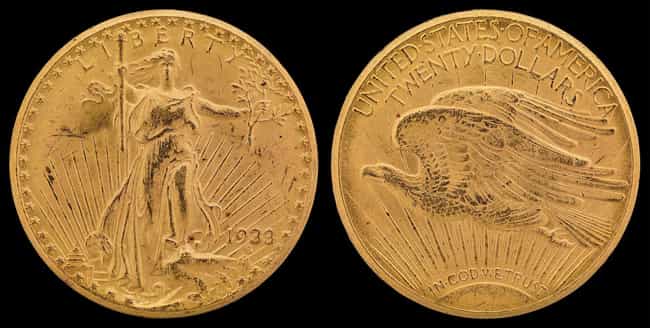 1933 Saint Gaudens Double Eagle $20 Coin
What It's Worth: $7,590,000
Why It's Worth So Much: This stunning coin, first minted in 1907 at the insistence of Teddy Roosevelt, was designed by artist Augustus Saint-Gaudens and proved to be a massively impractical headache for the US Mint, as it required multiple strikings and plates to achieve Saint-Gaudens's intricate design. This unique coin has a complex legal history, as President Franklin Roosevelt banned the release of the gold coins in 1933 - when an executive order outlawed gold ownership by private individuals - but a number of them managed to get mysteriously spirited out of the country.
The coin - which has been sought after by the government since it disappeared - was found decades later during a sting operation in New York City. Under an agreement struck by the government, this specific coin is the only one of its kind that can ever legally be sold. However, its value also lies in the fact that it was originally commissioned by one Roosevelt and was finally ended by another. As founder of the Professional Coin Grading Service David Hall explained during the auction:
The coin itself is magnificent and it bookends two extremely important numismatic events; Theodore Roosevelt's commissioning of world renowned artist Augustus Saint-Gaudens to breathe life into US coin design in 1907, and Franklin Roosevelt's banning gold ownership by US citizens in 1933.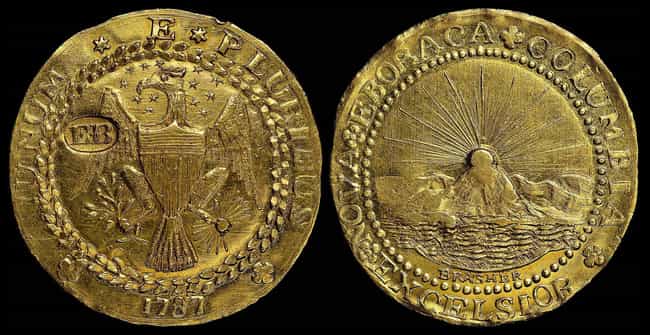 What It's Worth: $7,400,000
Why It's Worth So Much: This unusual coin - which was sold for the nearly recording-setting sum in December 2011 - is referred to as a $15 coin, making its value particularly unique. According to numismatic researcher David McCarthy, "The coinage standards of weight and value established by the Bank of New York in 1784 indicate that Doubloons weighing 17 pennyweights (about ¾ of an ounce) were valued at $15. Brasher's Doubloons weigh 17 pennyweights, and would therefore have been $15 coins."
The coins, made of pure gold, were stamped and produced for distribution by a New York jeweler named Ephraim Brasher, who had been a neighbor of President George Washington. These gold pieces - of which several examples exist and typically fetch between $2 million and $5 million - are some of the most treasured and sought-after early American coins, and were created five years before the establishment of the US Mint.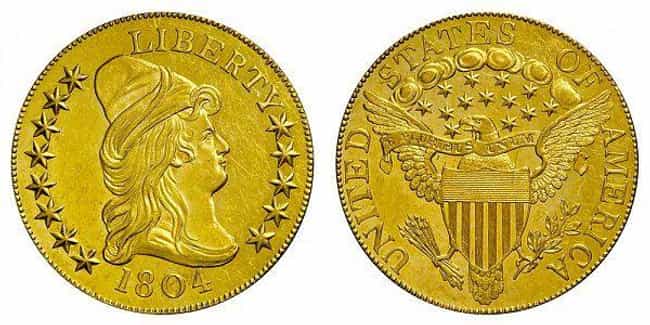 What It's Worth: $5,000,000
Why It's Worth So Much: Only eight coins of this type were ever minted, and only three of those are known to exist today. This particular coin - which was never intended for circulation - was struck in 1834, specifically for President Andrew Jackson to give out to foreign leaders and dignitaries during America's first forays into expanding trade relations with Asia.
This coin, which also set a record for its auction price when it was sold, is the only one to exchange hands in generations. One of the other three examples is on permanent display at the American Numismatic Association museum, and the other is part of the King of Siam proof set.