Entertainment
13 Times Movie Characters Summed Up Their Story With A Climactic Essay Or School Presentation

Updated November 4, 2019
121 votes
30 voters
13 items
List Rules Vote up the essays and presentations that you think deserve a passing grade.
Even the very best teen movies sometimes rely on cliches. One of the most common is the Big Moment, in which a character gives a presentation, makes a speech, or writes an essay that overtly sums up the emotional journey we've just spent two hours watching them take.
Such scenes are tricky to pull off. When done right, they reveal how much the protagonist has grown over the course of the story. This can send viewers away feeling satisfied. Done poorly, these moments just feel repetitious, like they're beating us over the head with something that should be obvious to anyone who wasn't asleep during the film.
The Big Moment can come in a variety of forms. Sometimes it's done via a school presentation, such as a report in front of the class or a graduation speech. Other times, the character is writing an essay for a college application and uses the story's events as their subject. A few movies find original twists to put on the trope. Regardless of how it's presented, hammering home the theme with a climactic exposition dump has been done many times in film.
back to page 1
In The Spectacular Now, Sutter Keely (Miles Teller) is supposed to write an essay describing a challenge he faced in life as part of his college application. He somewhat superficially writes about getting dumped by his girlfriend. Then he gets drunk, which he does a lot.
Sutter is a guy who uses alcohol to bury the pain of having an absentee father. The happy-go-lucky party boy image is just a facade. Falling for a new girl, Aimee (Shailene Woodley), and inadvertently causing her to get hit by a car after one of his intoxicated rages spurs him to reevaluate his life. Sutter rewrites his essay to talk about how he numbed himself from emotions through alcohol use, how that affected the people around him, and how he plans to start making every day count.
We're left not knowing if he got into college, but it's clear nonetheless that he's made a solid step toward a brighter future.

Does this get an A?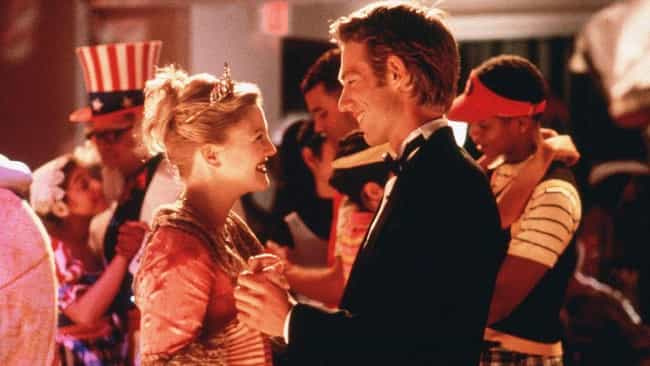 Proms are inherently dramatic events. Josie Geller (Drew Barrymore) learns that the hard way in Never Been Kissed. She's a 25-year-old reporter who poses as a high school student for an article she's writing. To say she screws things up would be an understatement. At the behest of her editor, Josie betrays the unpopular students who initially befriend her by dumping them for the cool kids. She puts a male teacher in an awkward position by pursuing her romantic interest in him. And going back to high school triggers memories of her own adolescence, a time of great insecurity.
At the prom, Josie finally snaps from all the pressure. She reveals her true identity, then delivers a lecture to the students, telling them that the way people perceive you in high school doesn't matter once you get into the real world. She encourages them to figure out who they are and learn to be comfortable with it. The message mirrors her personal arc, as her return to high school gets her to leave the geeky adolescent Josie in the past and focus on the adult Josie.
She doesn't stop there! Josie then writes her article, which now has a very confessional tone. It encapsulates all the lessons we've just seen her learn. At least she gets to kiss the teacher on the pitching mound at a school baseball game after it's published.
Does this get an A?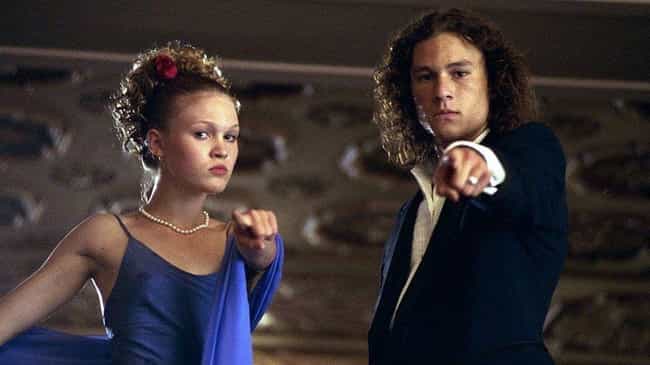 Julia Stiles plays Kat, a teen girl with a gruff personality in 10 Things I Hate About You. She's so difficult to like that someone has to pay Patrick (Heath Ledger) to date her. There's a whole complex backstory about why, but the bottom line is that she and Patrick have a rough relationship, despite some undeniable feelings bubbling up between them. When it's revealed - at prom, no less - that Patrick initially only dated her for money, Kat is angry and hurt.
The big speech comes in the form of a poem she is required to write by a teacher. In front of the entire class, Kat gets up and does her own version of a Shakespearean sonnet, in which she confesses that she loves Patrick, despite all they've been through. Her emotional confession prompts him to confess his love in return. He also gives her a guitar that he bought with the money.

Does this get an A?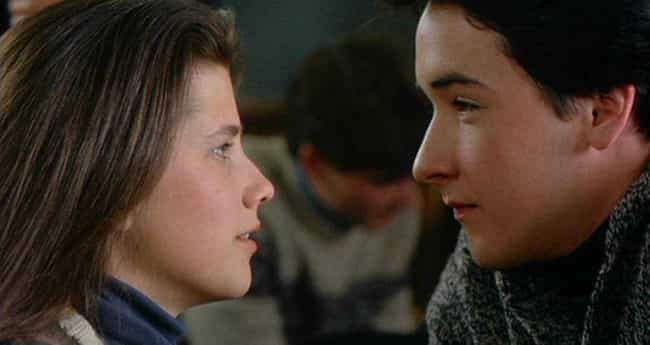 The Sure Thing is a classic example of an "opposites attract" romantic comedy. John Cusack plays girl-crazy college student Walter "Gib" Gibson. Over Christmas break, he gets a ride from New England to California, where his best friend promises that a gorgeous blonde is waiting to meet him. Daphne Zuniga is Alison Bradbury, an uptight fellow student also making the cross-country trek, albeit for different reasons.
Gib and Alison are like oil and water, clashing as soon as they get in the car together. When the couple driving them gets fed up and kicks them out, the two are forced to work together to complete the trip amid numerous hardships. Romantic feelings start to develop, but when they reach their destination, Alison discovers the real reason Gib came. She is not happy when he goes off to finish his mission.
The movie ends back at college after the holiday break is over, and both students are supposed to write an essay for their class. The teacher reads Gib's aloud, and it's literally a summation of the movie's entire story. It concludes with the revelation that Gib didn't bed his "sure thing" after all. Alison forgives Gib, and the film ends with them kissing.

Does this get an A?