True Stories
The True Stories Behind Well-Known Scenes of Movie Violence

Updated June 14, 2019
46.1k views
11 items
Classic scenes of movie violence often have interesting back stories (and, in some cases, interesting hack stories. As in cleavers). To be sure, artistic license helps itself to varying degrees of influence: Martin Scorsese, for example, is famous for basing his films on real crimes (and for depicting said crimes more or less exactly as they happened). Others, like Peter Jackson (who directed Heavenly Creatures), chose to add idiosyncratic, poetic, and even romantic flourishes to famously bloody scandals.
Then you have filmmakers like the creators of the Child's Play series, who opt to base their movies on IRL murders committed by toys; because, when human influence runs out, dolls are always at the ready. And if you think that's made up to lead you on, you need to read these true stories behind classic scenes of movie violence. Below are films (both darkly hilarious and heartbreaking ones) that made the most of true crime inspiration.
Based on the notorious 1954 Parker-Hulme murder case, Peter Jackson's Heavenly Creatures is an enchanting, visually ravishing story of innocence gone wrong. But its real-life inspiration was far more diabolical. The movie, which marked the film debut of actors Kate Winslet and Melanie Lynskey, tells the story of best friends Pauline Parker and Juliet Hulme, who bludgeoned Parker's mother to death. Their motive was "liberation" from the elder Miss Parker, who refused to let her daughter accompany Hulme and her family to South Africa, where they were moving (very much against Hulme's will).
Too young for the death penalty (both were 15 at the time), the girls were imprisoned for five years each; legend has it they never met again. Their obsessive friendship, which was informed by a vividly imaginative fantasy world, was brilliantly chronicled in Jackson's film, 99% of which plays like an adventure story. But, in the end, the director doesn't hesitate to show the actual horror of the crime, blow by blow and splatter by splatter.
Hulme later changed her name, and is now well known as detective novel writer Anne Perry. Make of that what you will.
Goodfellas (1990) - The Rampages Of Thomas DeSimone (Joe Pesci)
Joe Pesci getting pissed because someone thinks he's funny, Joe Pesci borrowing a butcher knife from his mother so he can hack up the "deer" he hit on the road (i.e. the wiseguy he just whacked), Joe Pesci blowing away a bartender he doesn't like - the merriment never lets up in Martin Scorsese's Goodfellas. And Pesci, as IRL gangster Tommy De Simone, is the life of the party.
According to an extensive piece in Den of Geek examining the real people behind the characters in film,
"Tommy was an associate of New York's Lucchese family, and his two brothers were associates of the Gambino family. [He was] was married to Angelica 'Cookie' Spione; her brother was gangster Joe 'The Barber' Spione ...who Tommy killed. Tommy carried his his gun in a brown paper bag on hijackings."
Goodfellas's famous deer scene (above) was apparently based on an actual event. Legend has it Tommy killed gangster William 'Billy Batts' Bentvena with a tire iron and stopped at his mom's house on the way to the local dog kennel, where he disposed of the corpse (he was buried under the kennel, not eaten by the dogs). Whether he borrowed a piece of cutlery from his elderly mother is anyone's guess.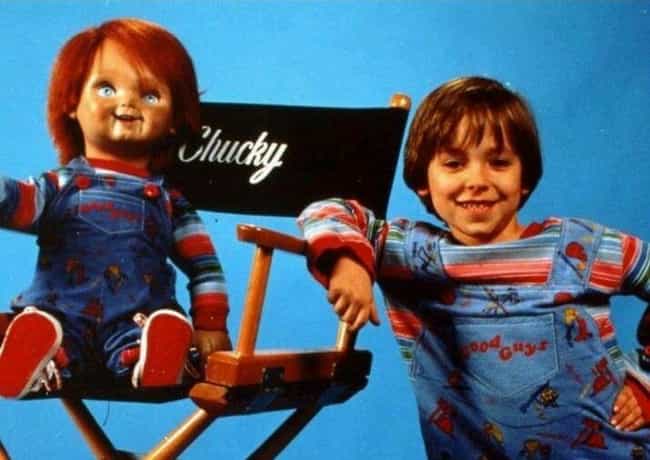 Whoulda thunk? Child Play's homicidal, sh*t-talkin' Chucky is based on an IRL murdering doll. According to iHorror, "Robert," the childhood doll of artist Robert Eugene Otto (whose name, poor thing, sounds like that of a serial killer) was real. Reports state:
"Much like Chucky, Robert is said to have the ability to speak, and Eugene's parents would often hear him having conversations with the doll, up in his bedroom. They would hear their son talking to the doll and then also hear responses back, in a completely different voice than Eugene's."
Neighbors and friends also reported that "Eugene's parents were quite often awoken in the night by the sound of their son screaming bloody murder, and Robert was always found at his bedside, taking the blame for knocked over furniture and other devilish deeds."
So there you have it: don't f*ck with your son's doll (whom you can see here). Or even allow the doll to go on existing, if you can help it. (We all remember what happened when Telly Savalas tried to destroy Talky Tina in that episode of The Twilight Zone).
Joe Pesci getting pissed and stabbing somebody in the throat with a pen, Joe Pesci putting a cheating gambler's head in a vice and popping his eyeballs out, Joe Pesci beating a Blackjack dealer with a casino security phone: Martin Scorsese's favorite sidekick brings it on home yet again, this time as Casino's Nicky Santoro, AKA real life mobster Anthony Spilotro.
According to Chasing the Frog, a site dedicated to extensively detailing the true stories and real people behind movie plots and characters, Spilotoro really did put someone's head in a vice, he really was banned from every casino in Vegas, and he really was beaten to death (not in a cornfield, as depicted in the film, but in a basement; his corpse was subsequently dumped in a cornfield).
In other words, in Casino (a masterpiece of a mob film if there ever was one), the factual apples (or heads) didn't roll far from the fictional tree.