Entertainment
Film Sets You Can Plan Your Vacation Around

Updated June 21, 2019
2.1k votes
411 voters
35.8k views
20 items
List Rules Vote for the coolest film location you'd like to visit one day.
Think about how cool it would be to visit Luke Skywalker's home planet of Tatooine. Or to see the exact areas of Martha's Vineyard where Steven Spielberg filmed Jaws. Or, maybe your dream is to play Rocky Balboa and climb all 68 steps of the Philadelphia Museum of Art, then triumphantly raise your arms in victory when you finally reach the top.
If checking out any those iconic film sets you can visit sounds like the perfect road trip, let this list be your guide. We ranked the coolest movies sets and film sites around the world, locations that you can plan your vacation around, or perhaps even make the focal point of your trip.
While most films are shot on studio lots, these famous film locations are open to the public.
This list can put you in Dr. Richard Kimble's shoes before he jumped into the Tennessee River. It can take you to Iowa, where you can stand of the same baseball field as Kevin Costner and say, "If you build it, he will come. The list can also show you exactly where to grab a slice at Mystic Pizza.
So, if you're a movie fan who always wanted to check where some of the greatest films were actually shot, this list of the coolest movie locations from around the world is a good place to start. Also, be sure to upvote your favorites.
The Lord of the Rings/The Hobbit - Middle-Earth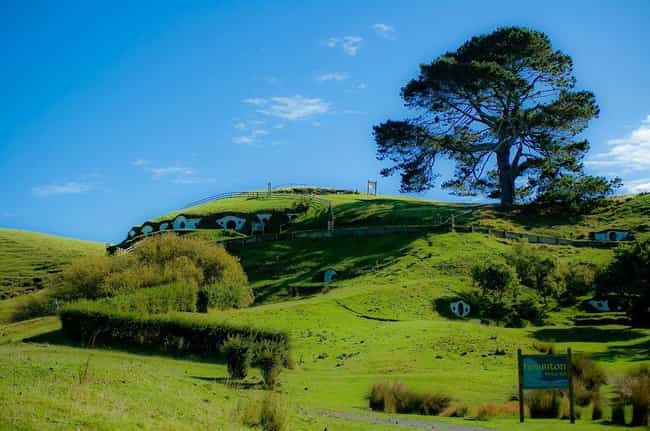 Visitors can get
guided tours
and all the Middle-Earth lore they can handle when visiting Matamata, New Zealand. The location was used in all three
The Lord of the Rings
films and
The Hobbit
series.
Would you like to visit one day?
The Shining - The Overlook Hotel
Jack Torrance (Jack Nicholson) is hired as a winter caretaker for a secluded hotel in Stanley Kubrick's horror masterpiece The Shining. The only hitch is that the hotel has a tendency to drive its winter inhabitants totally crazy due to its isolation. Kubrick used the real Timberline Lodge in Oregon for the film's locale. Its doors are opened to fans of the film year-round. The lodge is now a National Historic Landmark, and it boasts the longest-running ski season in the United States. Timberline also provides plenty of fun activities, including music performances and dining for its guests, to ensure that cabin fever is not an issue like it was for Torrance. A visitor even captured what he thinks is the image of a ghost standing on the main staircase.
The Stanley Hotel- where Stephen King found the inspiration to write announced in 2015 its plans to build a horror-themed museum on site. The Stanley Film Center, backed by Simon Pegg & Elijah Wood, will also build a working production studio and sound stage for filming, producing, and editing new movies, as well as a film archive center, an auditorium, and traveling film exhibits.
Source:
Moviefone

Source:
Variety
Would you like to visit one day?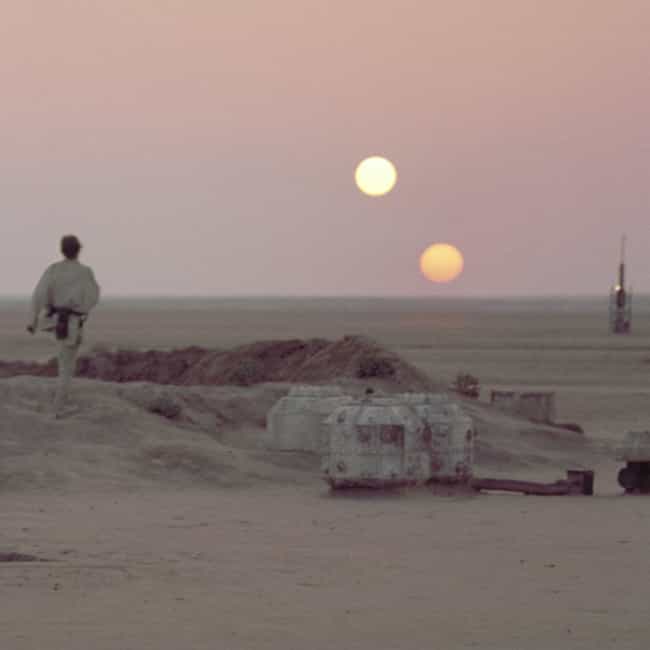 Sets depicting the Tatooine region, the home planet of Luke Skywalker, from the original
Star Wars
are still standing in the deserts of Morocco and Tunisia. It's evident that the location in the Sahara was selected because it really does
look like
it is from a galaxy, far, far away.
Would you like to visit one day?
Star Wars - Luke's Island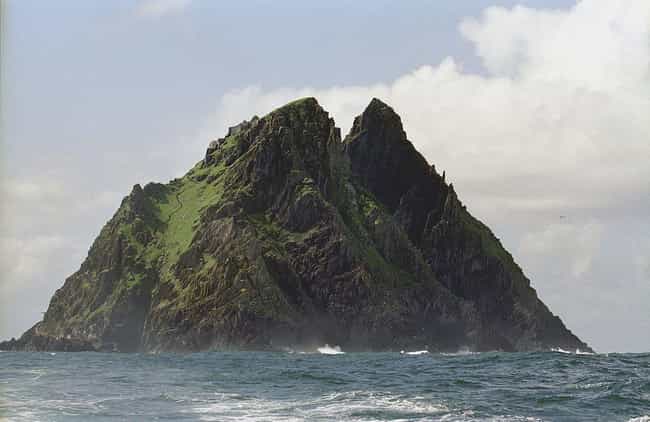 *SPOILER*
If you've seen Episode VII: The Force Awakens, you know Luke Skywalker pops up in the final scene, chilling on a picturesque island. But did you know that you, too, can dramatically turn around while standing atop that very same rock in the sea?Skellig Michael is an Irish island in County Kerry, and also a UNESCO World Heritage Site. Though uninhabited today, it was once the site of a sixth-century Christian monastery.
If you go, you'll climb
600 steep steps (small children and others who aren't exactly expert stairmasters should probably stay on the boat) to the beehive huts of what was once one of Europe's most remote religious communities.
Would you like to visit one day?