Total Nerd
Stunts That Went Wrong And Still Made The Final Cut

We've all heard about movie stunts that left people injured. Jackie Chan, who has been notoriously hurt on set, once used a catalog of personal incidents to help promote a film. Actors who do their own stunts are often quick to discuss when and why things went wrong in interviews, and failed movie stunts that still made the final cut draw even more attention from audiences. That look of pain after a wild scene isn't always acting.
If you watch closely enough, you can sometimes catch the moment when the most dangerous movie stunts that made the cut resulted in actual harm. In some cases, it's even the seemingly innocuous stunts that put someone in the hospital.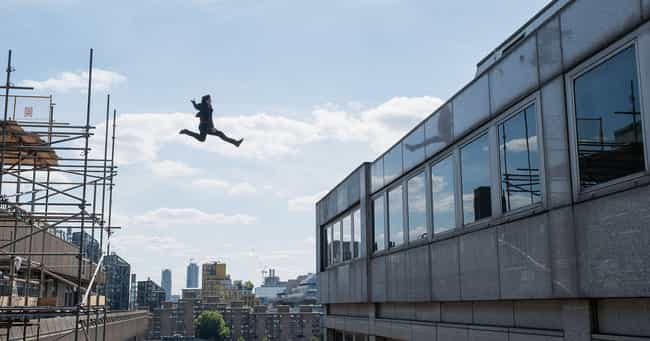 Tom Cruise became notorious for doing his own stunts in films like the Mission: Impossible series - including the epic HALO jump in Mission: Impossible - Fallout - so it probably comes as no surprise that he's hurt himself a time or two. In fact, while filming a comparatively simple stunt in Fallout, in which he leaps from one rooftop to another during a foot chase, Cruise actually broke his ankle against the side of the building.
The stunt went exactly as planned, with one exception. Cruise was supposed to hit the wall and pull himself up, but his foot jammed against it instead. "I knew instantly my ankle was broken and I really didn't want to do it again so just got up and carried on with the take," Cruise said.
In the film, he pulls himself up from the wall and keeps running with only a limp to give away the broken ankle.
see more on Mission: Impossible - Fallout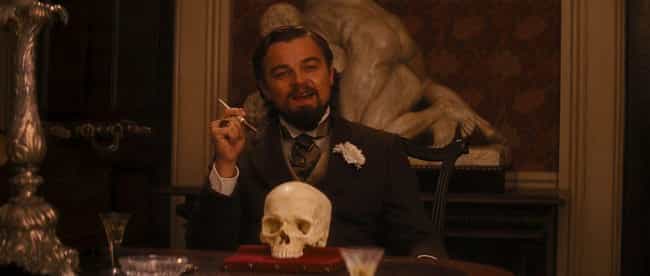 In one of the most intense scenes in Quentin Tarantino's revisionist western, Django Unchained, the malevolent Calvin Candie (Leonardo DiCaprio) slams his hand down on a table to emphasize a point, shattering a crystal cordial glass in the process. Candie doesn't even pause, however, and proceeds to pick shards of glass out of his hand with an unsettling calm.
Candie slapping the table was in the script, but he wasn't supposed to hurt his hand. DiCaprio accidentally broke the glass while filming, but he didn't break character and the scenes of him picking shards from his palm and wiping it on actor Kerry Washington are improvised. Tarantino is not one to shy away from a little extreme method acting and he kept the moment in the final cut.
see more on Django Unchained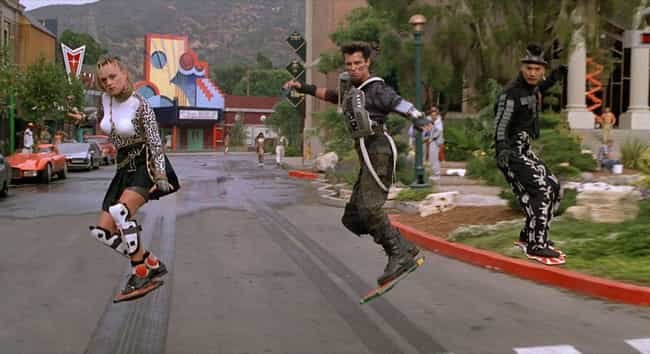 One of the most beloved scenes in Back to the Future Part II came with a heavy price. When Biff (Thomas F. Wilson) and his crew chase Marty McFly (Michael J. Fox) on hoverboards, several of them burst through the windows of the clock tower.
The stunt was supposed to be relatively straightforward - the performers would swing on wires to generate momentum, then smash through the candy glass windows while a member of the effects team released their wires and dropped them safely onto airbags concealed inside the tower - but it was unexpectedly difficult.
One stunt performer walked away because of how dangerous the scene became, and she was replaced by relative newcomer (and women's kickboxing champion) Cheryl Wheeler-Dixon. While filming the stunt, Wheeler-Dixon didn't go through the glass like she was supposed to. Instead, she hit a pillar and was outside when a crew member cut her wire, causing her to plummet twenty feet onto concrete.
Gary Morgan, another member of the stunt team, recalled the incident later, "I got up and Cheryl was laying on the concrete and the pool of blood by her head was getting bigger." The accident required Wheeler to undergo reconstructive surgery, including having metal plates implanted in her face. It also led to her suing the studio.
The scene, complete with Wheeler-Dixon crashing into the pillar, made it into the film.
see more on Back to the Future Part II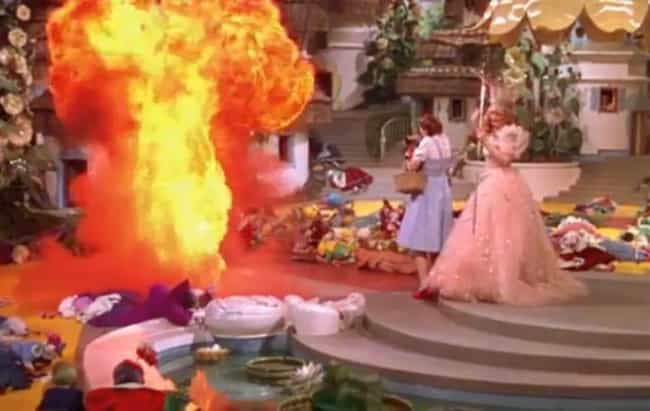 While filming the original Wizard of Oz, Margaret Hamilton, who plays the infamous Wicked Witch of the West, received serious burns on her face and right hand that put her out of commission for six weeks. She even had to wear a green glove for a few scenes because her skin was too sensitive for makeup.
The accident happened during the Witch's dramatic early disappearance, in which she vanishes from Munchkinland in a cloud of smoke and pyrotechnics. Hamilton was supposed to exit the scene through an ingeniously placed trap door, but the door malfunctioned and she ended up face-to-face with the flames.
When she finally healed enough to return, director Victor Fleming assured her that, "we have the film on your disappearance, and it was a great shot."
see more on The Wizard of Oz