watchworthy
presents
Movies That Completely Changed Their Endings After Everyone Freaked Out

Updated February 6, 2020
2.9k votes
1k voters
147.5k views
16 items
List Rules Vote up the movies that should have stuck with the original ending.
Many films go through a testing process where audiences are shown a rough cut and then asked to give feedback. Depending on what viewers say, the filmmakers might make alterations, especially if there's an element those audiences are strongly critical of. That can include the big finale.
Quite a few blockbusters, and even classics, received extreme adjustments because test audiences had intensely negative reactions to the way filmmakers wrapped up the plot. In some cases, the originally conceived endings made sense from a narrative or thematic point of view, yet viewers left without the catharsis they desperately wanted. Other times, the endings were just poorly conceived, and it took an audience to point it out. Regardless of the reason, one could reasonably argue these movies were helped by audience input.
You might be surprised by some of the movies that changed endings. A few, like Fatal Attraction, provide well-known examples, yet others - such as The Shawshank Redemption and Election - have not had their story publicized as much. In each of the following examples, we'll break down what was in the original finale and what freaked everyone out so much that it had to be altered.
Data-driven recommendations based on voting from over 40 million monthly visits to Ranker.
Try the free app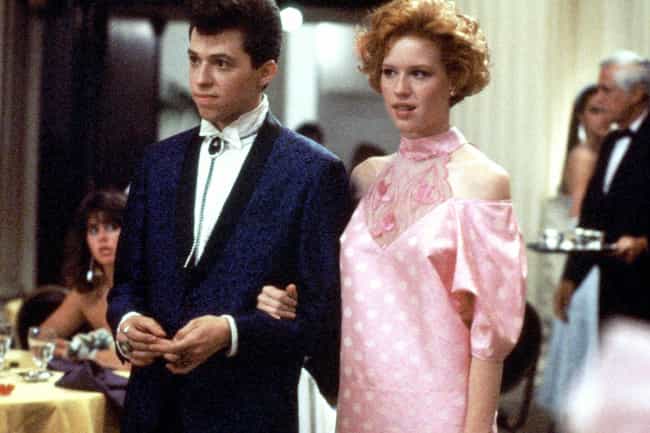 Pretty in Pink's ending change radically shifted the story's entire message. As fans know, the movie finds rich kid Blane (Andrew McCarthy) succumbing to peer pressure and backing out of an agreement to take working-class Andie (Molly Ringwald) to the prom. In the original version, she goes with Duckie (Jon Cryer) instead, and the movie ends with the implication that they get together romantically. Writer/producer John Hughes intended to deliver a commentary on social class and how hard it is to cross those lines.
Audiences weren't feeling that idea, though. According to director Howard Deutch, "The girls in the test screening didn't go for that. They didn't care about the politics; they wanted her to get the cute boy. And that was it. So we had to reshoot the ending."
Aside from having to devise a new finale that satisfied the target audience's desire, there were some logistical issues the filmmakers had to tackle. McCarthy, who had cut his hair for another role, famously wore a bad wig for the reshoots. There was also the matter of Pretty in Pink's theme song. The band Orchestral Manoeuvres in the Dark recorded a song called "Goddess of Love" to play over the credits. With the new ending, they had only one day to write and record a different song more suited to the Andie/Blane relationship. "If You Leave" ended up becoming OMD's biggest hit, while "Goddess of Love" was included on their album The Pacific Age.
Actors: James Spader, Gina Gershon, Molly Ringwald, Kristy Swanson, Andrew Dice Clay, + more
Released: 1986
Directed by: Howard Deutch

Did they overthink it?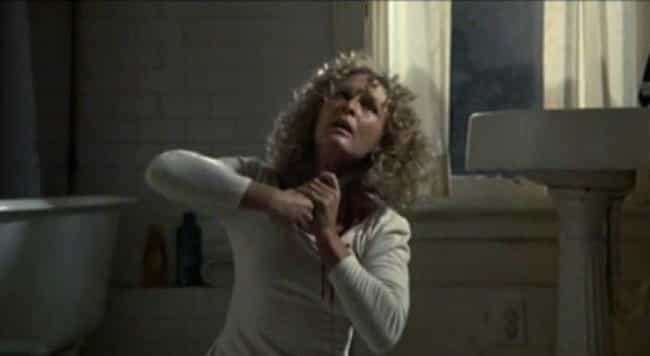 Fatal Attraction faced an interesting dilemma: Should the movie stay true to its own story, or give the audience what they want? The thriller about a man whose mistress becomes dangerously possessive initially ended with Alex (Glenn Close) taking her own life, after making sure Dan's (Michael Douglas) fingerprints are all over it, essentially framing him. That finale was perfectly in line with the tone and themes of the plot. The only problem: Test audiences resented it.
Studio executive Ned Tanen told the filmmakers that viewers wanted to see them "terminate the b*tch with extreme prejudice." Director Adrian Lyne balked at shooting a new ending in which Dan tries to drown Alex in a bathtub, and then his wife, Beth (Anne Archer), shoots her, so Tanen offered him an extra $1.5 million to do it. Lyne jumped on board, as did star Douglas. Close, on the other hand, resisted fiercely. The actress said, "I fought it for two weeks. It was going to make a character I loved into a [bloodthirsty] psychopath. My friend William Hurt said, 'You've fought your battle, now be a team player.' So I shot it."
Critic Roger Ebert concurred with Close's distaste in his review of the film, writing:
What's the matter here? Do [the producers] lack the courage to follow their convictions through to the end? They seem to have a knack for finding thoughtful, sensitive screenplays about interesting adults and then adding gruesome Hollywood horror formulas to them. Fatal Attraction clearly had the potential to be an Oscar contender. I walked out feeling cheated and betrayed.
Critics notwithstanding, Fatal Attraction was a huge hit, becoming the highest-grossing film of 1987.
The original ending has been included as a bonus feature in various DVD/Blu-ray releases of the film.
Actors: Glenn Close, Michael Douglas, Jane Krakowski, Anne Archer, Fred Gwynne, + more
Released: 1987
Directed by: Adrian Lyne

Did they overthink it?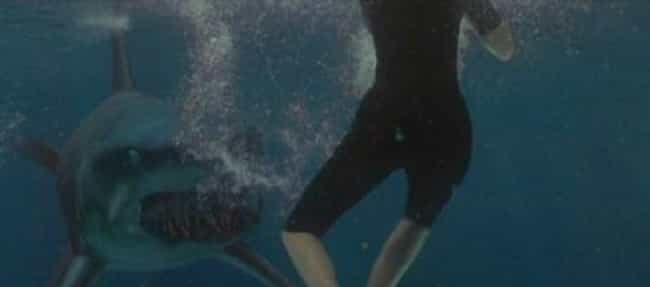 Deep Blue Sea is about a team of scientists performing experiments on sharks with the hope of finding a cure for Alzheimer's disease. No, it doesn't make a lot of sense. Things predictably go awry, and the sharks begin a rampage of terror. The story was supposed to end with three characters safely making it out of the research facility. One was Dr. Susan McAlester (Saffron Burrows), the scientist who masterminded the entire enterprise. Test audiences were not having that.
Director Renny Harlin said, "Basically what had happened was that the audience felt so deeply that the scientist character, the woman who was behind the whole experiment with the sharks, that it was all her fault. In their minds, she was the bad guy, and in our minds, she was the heroine and we thought saving her was the key. Basically, we had test cards that said, '[Slay] the b*tch.' It was an amazing revelation."
There wasn't a lot of time to fix the issue, but Harlin convened a one-day reshoot to film a new ending.
Actors: Samuel L. Jackson, LL Cool J, Thomas Jane, Saffron Burrows, Stellan Skarsgård, + more
Released: 1999
Directed by: Renny Harlin
Did they overthink it?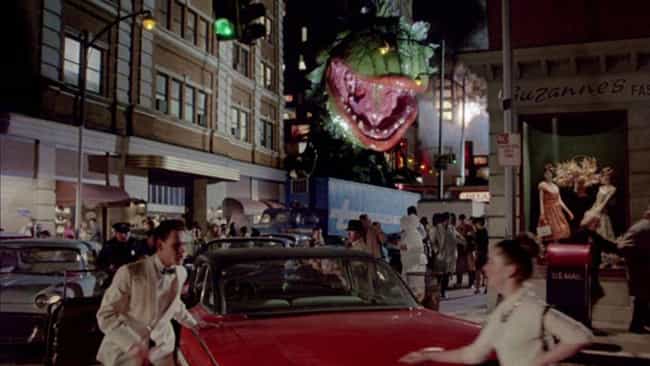 The film adaptation of the smash Broadway musical Little Shop of Horrors has one of the most significantly changed endings in cinematic history. As it stands, the story ends with hero Seymour (Rick Moranis) defeating the giant evil plant Audrey II. It's a massive deviation from the stage version, in which the plant eats Seymour and his girlfriend, Audrey (Ellen Greene), then goes on to devastate the world beyond Mushnik's Flower Shop.
Originally, director Frank Oz intended to replicate that ending. He shot an elaborate special effects sequence that was 23 minutes long and cost $5 million. In it, Audrey II spawns a bunch of other man-eating plants, which then go on a rampage through New York City. Buildings are toppled, citizens flee in terror, and Seymour and Audrey are consumed. The plant smashes through a movie screen in the final shot, indicating that it's coming to eat the viewer, as well.
Little Shop played like gangbusters during test screenings, until that ending. Audiences wouldn't accept seeing the two leads expire. As Oz told The AV Club, "We [offed] our leads and the audience hated us for it. They loved those leads, because in a stage play, you [slay] the leads and they come out for a bow - in a movie, they don't come out for a bow, they're [gone]. And the audience loved those people, and they hated us for it. It got very, very, very exceedingly low scores as a result, so we had no choice but to reshoot it."
A new, happier ending was shot. The original ending, which is quite magnificent, later became a bonus feature on the Blu-ray release.
Actors: Bill Murray, Steve Martin, John Candy, Rick Moranis, Jim Belushi, + more
Released: 1986
Directed by: Frank Oz

Did they overthink it?