Entertainment
Movies That Elicit Sorrow, And The Importance Of Feeling Sad

Updated August 24, 2018
1.1k views
10 items
Research has continually pointed to the fact that sadness is an adaptive emotion, and we apply it to better cope with and handle situations, whether they be social or personal in nature. When we choose to openly express our negative emotions and reject our desires to repress and forget them, we're doing so for the benefit of our psycho-social well being. Not only does this expression benefit us individually, but it makes us more receptive to foreign social interactions.
We run the gamut of emotions on a day-to-day basis, sometimes without consciously registering it. This creates a sort of emotional balance that we need for our stability, and when we actively allow ourselves to feel these emotions, we take strides toward a possible state of equilibrium. Sadness, for example, is an emotion that most feel gets in the way of progress. Many believe sadness is a hurdle to overcome, either by perseverance or sheer willpower. This is an outdated way of thinking, and researchers today stress the importance of freely experiencing sadness, without letting it dictate or prevent our actions.
Many directors have pointed toward film as the ultimate form of self-expression. Directing allows an individual to visually represent concepts and feelings en masse, and to open up a conversation they wish to have with the world. Many films elicit sorrow, and some of them are spectacular. They not only evoke sadness, but they open our eyes to bigger themes and ideas, and they make us wrestle with our own responses to negative situations. Bottom line, we can learn from sadness, and we can grow. Film serves as the perfect battleground to comprehend and combat these feelings, as it temporarily engrosses us in specific emotions.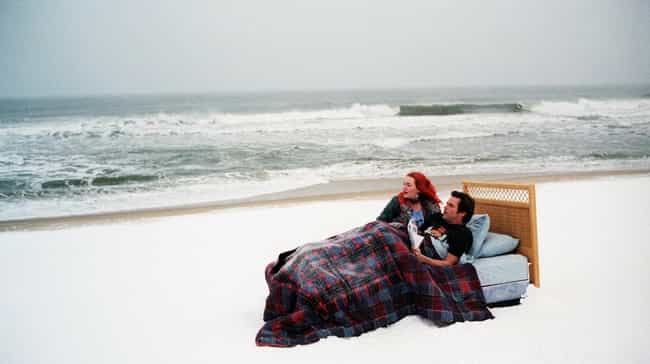 Eternal Sunshine of the Spotless Mind explores the relationship between Joel (Jim Carrey) and Clementine (Kate Winslet). We are first introduced to Joel and Clem in the throes of passion, but the film then jumps forward in time, revealing Joel's pain after the breakup of their relationship.
In the film, there's a technological advancement that allows people to permanently delete sections of memory from their brains. Clem undergoes this procedure and permanently deletes Joel from her subconscious; when Joel finds out, he replicates the process in order to bury her indefinitely. He enlists the help of the tech company's founder and his lead technician to delete Clem one memory at a time. Joel soon sees that both the bad and the good memories are going to be deleted from his mind and, in desperation, he attempts to hide Clem deep in his subconscious so she'll never truly leave. The film makes it abundantly clear that all memories (good or bad) are important for our individual development.
Actors: Kate Winslet, Kirsten Dunst, Jim Carrey, Mark Ruffalo, Elijah Wood, + more
Released: 2004
Directed by: Michel Gondry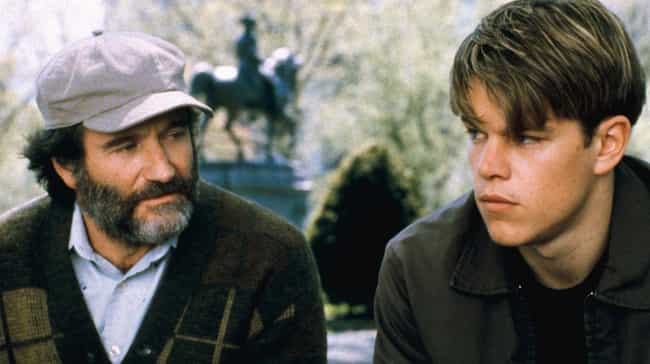 Good Will Hunting is surrounded by circumstances which make it difficult to watch in a modern context. Gus Van Sant did an incredible job directing the film from a brilliantly written script by Matt Damon and Ben Affleck (this is the film that earned them their coveted big break); the problem is the film is a ghost, and not a terribly cherished ghost at that. Miramax, the company owned by Harvey Weinstein, produced the film and the company's logo is displayed prominently before the film begins. In addition to Weinstein, both Affleck brothers have been accused of sexual harassment. Then there's the magnetic Robin Williams, who steals and haunts every frame.
The film vehemently follows the adage "do as I say, not as I do." There's a lot of wisdom in this script, and it rings true despite the film's complicated history.
The film is about Will Hunting (Damon), a 20-year-old from Southie (South Boston) who works the night shift at MIT as a janitor. He also just so happens to be a "wicked smart" math whiz who solves an equation that's stumped MIT's best and brightest. The film is structured around the pattern of the hero's journey, as Hunting attempts to reconcile with his past, embrace his gifts, and forget about his Boston roots that have forced him to hide what makes him special. He does all this with the help of his therapist and his new amour, a Harvard undergrad who schools him at every turn—be it personal or intellectual. Will struggles with his demons throughout the film, which prompts the viewer to do the same.
Actors: Ben Affleck, Robin Williams, Matt Damon, Minnie Driver, Casey Affleck, + more
Released: 1997
Directed by: Gus Van Sant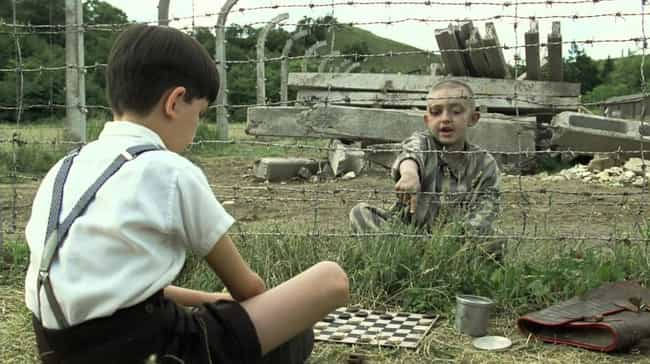 The Boy in the Striped Pyjamas is a deftly morose but brilliant story. The film takes the vantage point of a young boy, Bruno (Asa Butterfield), the curious child of Ralf, a Nazi official (David Thewlis). He enjoys his quiet little life, and he doesn't think much about his father's monstrous profession. Shortly after the film opens, Bruno and his family move to a farmhouse in the country. Bruno arrives at a large home surrounded by towering walls, overlooking what the audience easily recognizes as a concentration camp.
Bruno, curious as he is, begins to ask questions about the "farmhands" and why they all wear matching striped pyjamas. His father's accomplices merely deliver offhand remarks that make Bruno all the more inquisitive. One day, he sneaks through a crack in the walls enclosing his house, wanders over to the camp, and befriends a young boy trapped within the barbed-wire fencing that surrounds the death camp.
The two boys are blissfully ignorant of their situations, as genocide on a massive scale wouldn't be comprehensible to them (or to any sane or just individual). With one of the most depressing and shocking endings in history comes a lesson on perspective and communication. Ralf's reaction to this disastrous event reinforces the idea that loss is a powerful teaching tool. Because of his grief associated with loss, he finally sees the magnitude of damage he's inflicted on the Jewish people.
Actors: Asa Butterfield, Jack Scanlon, Vera Farmiga, David Thewlis, Rupert Friend, + more
Released: 2008
Directed by: Mark Herman
Ryan Coogler has, time and time again, proven himself to be adept at creating sensitive yet impactful dramas. Before he instilled new and potent life into his Rocky spin-off Creed or transfixed the world with his vision of Wakanda in Black Panther, he delivered a moving character piece about a young, unarmed Black man shot while facedown and handcuffed in Oakland, California. This is the true story of Oscar Grant III, one of the many tragic victims of racial injustice and unrest in America.
The film doesn't cut corners by presenting Grant as a perfect man; he wasn't. The film depicts Grant's demons (his criminal record, his infidelity) but it also showcases his desire to change. That transformation is cut short when the 22-year-old Bay Area native is shot dead by a jittery police officer. The story is simple: Grant wasn't perfect, but his death was inexcusable, and it points to a bigger problem with trust and recognition in the world that's as moving and crucial today as it was in 2013.
This loss—and the loss of many other unarmed Black Americans—should act as a wake-up call as well as a call to action. We should be constantly challenging our preconceived notions and perceptions and fighting to eliminate these tragedies that have become far too commonplace.
Actors: Michael B. Jordan, Melonie Diaz, Octavia Spencer, Ahna O'Reilly, Kevin Durand, + more
Released: 2013
Directed by: Ryan Coogler