Music
14 Music Power Couples Who Didn't Break Up

Updated November 25, 2019
1.4k views
14 items
Relationships are hard, even if neither person is in the public eye. But when the people involved are considered a music power couple, it may be even harder to sustain the relationship. An "everyday" couple doesn't have to worry about the paparazzi invading their privacy or about fans who sometimes may seem too invested in the couple's private life. If they work together, they may struggle to keep their personal lives separate from their work, but if the couple doesn't work together, they may not see each other for months at a time when one or both partner(s) is on tour.
Yet somehow, from country to pop to rock to heavy metal, there have been power couples all throughout the music industry who have managed to keep their relationships from breaking up. Here are a few of the ones who have successfully managed to balance the craziness of the music business and a personal life.
Johnny Cash & June Carter Cash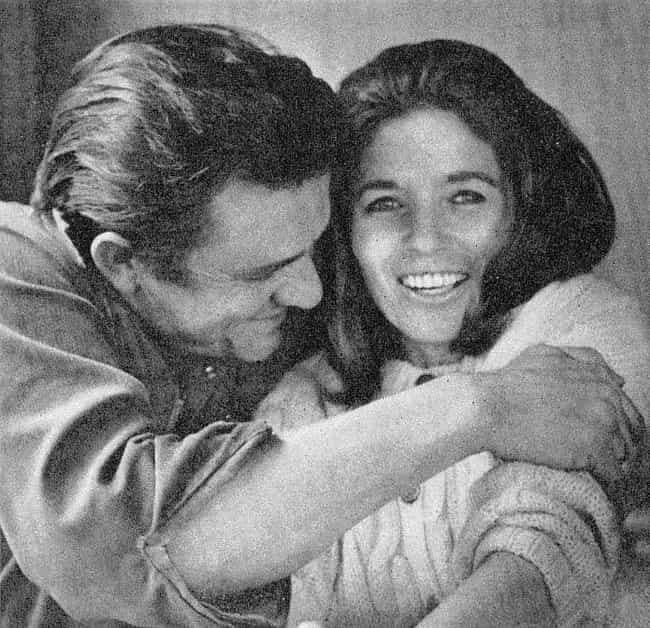 Johnny Cash made his Grand Old Opry debut on July 7, 1956. Backstage, he was introduced to June Carter for the first time. Cash had just released his first big hit, "I Walk the Line," while Carter, who had been an artist since she performed as a child with her family's group, had just finished a tour with Elvis Presley. At the time of their first meeting, both were married to other people, and while Carter would divorce her first husband (country artist Carl Smith), she soon remarried.
Carter toured with Cash's band in the early 1960s. Cash's famous song "Ring Of Fire," which Carter co-wrote with Merle Kilgore, was born when she was driving around at 4 am. "I was miserable, and it all came to me: 'I'm falling in love with somebody I have no right to fall in love with,'" she told Rolling Stone years later. "I was frightened of his way of life. I thought, 'I can't fall in love with this man, but it's just like a ring of fire.'"
Cash struggled with substance abuse and trouble with the law for much of the 1960s. He credited Carter with helping him move towards sobriety, even as she allegedly had addiction issues of her own. After they both got divorced from their partners, he proposed to her onstage at a concert in London, Ontario. They were married in March 1968 and had a son in 1970 (Cash had four daughters and Carter two daughters from their previous marriages). They continued to perform together, winning joint Grammys in 1967 (for their duet on "Jackson") and 1970 (for their duet on "If I Were A Carpenter"). Carter Cash passed in May 2003 and Cash passed in September of that same year.
Bruce Springsteen & Patti Scialfa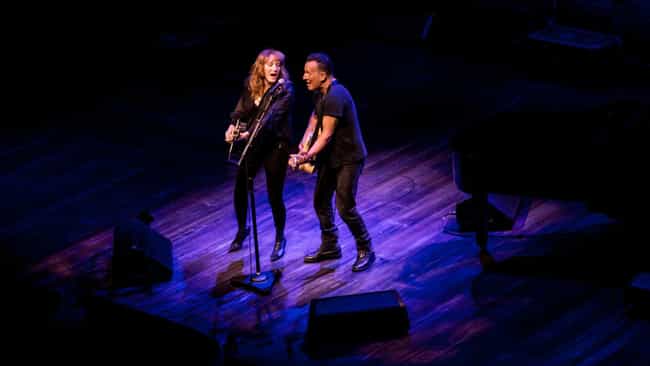 Bruce Springsteen first met Patti Scialfa at The Stone Pony, the famed Asbury Park, NJ, bar, in 1980. "It was the start of a beautiful friendship," Scialfa has said. In 1984 she auditioned for, and won, the job as backup singer on Springsteen's Born in the U.S.A tour. He warned her he had never had a woman in his band before and wasn't sure if it would work out.
Although Scialfa started touring with Springsteen, their relationship did not immediately blossom into romance. Instead, he married actress Julianne Phillips in 1985. But the marriage was rocky, and Phillips soon filed for divorce after seeing tabloid photos of Scialfa with Springsteen. Scialfa and Springsteen had their son Evan in 1990 and married the following year; two more kids followed.
Scialfa once said, "When you're married to someone famous, people know you, but they're not really seeing you." Others describe her as very down-to-earth and very independent. Very much her own person. Springsteen has said that it isn't hard to work with his wife because they've developed natural boundaries to separate their personal lives from their professional work. He also credited Scialfa with being strong enough and stable enough to help him through his bouts with depression. In his biography Born To Run, he admitted that Scialfa would see "a freight train bearing down, loaded with nitroglycerin and running quickly out of track."
Linda Eastman was trying to build a career as a celebrity photographer when she first met Paul McCartney while on assignment in London in 1967; in fact, one year later, she became the first woman to have a photo on the cover of Rolling Stone. They married on March 12, 1969 , eight days before John Lennon and Yoko Ono married. The wives of the Beatles had never been treated all that well by the fans and when the band broke up in 1970, both Ono and Eastman got some of the blame. McCartney adopted Eastman's daughter from her first marriage, and the couple had three children of their own.
The couple had no interest in spending any time apart; reportedly the only time they did so during their marriage was the 10 days McCartney spent in a Tokyo jail after he was taken in for having pot. Linda claimed McCartney had to convince her to collaborate with him. "It was hard work, and he really did have to force me ," she admitted in a 1989 interview. "And it was very tough on me. It's nothing I elbowed my way into." In the same interview, she said her husband was a hard taskmaster when it came to his music. "He had me singing on (his 1971 album) Ram , and he'd be like, 'Come on, get it together!' It was nerve-racking because, since I wasn't a good student, why would I be a good, in-tune singer? He'd get me in tune , but I found it hard." She learned how to play keyboards and joined his first post-Beatles band, Wings. It turned out to be a very commercially successful band and received a Grammy Award nomination for Best Album ( Band on the Run ) in 1975.
Linda McCartney passed because of complications related to breast cancer in 1998. Since her passing McCartney has remarried twice and pursued his successful solo career; at 77 years of age, he is still selling out shows.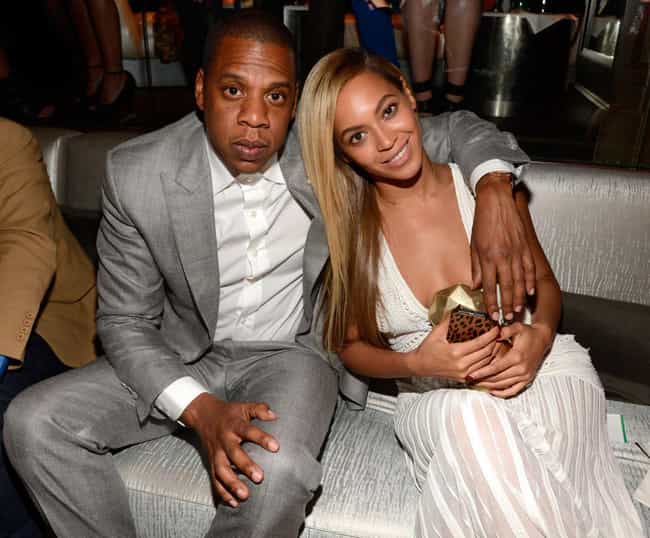 Beyoncé and Jay-Z (real name Shawn Carter) are notorious for trying to keep their relationship private; this was especially true in the early years. They reportedly started dating in 2002 after collaborating on his song "03 Bonnie & Clyde." They were married very quietly on April 4, 2008; as the couple said nothing publicly, it wasn't until the signed marriage license was found several days later that the media and public got any confirmation that the two artists had, indeed, wed.
The couple's relationship has not always been smooth; Beyoncé's album Lemonade and Jay-Z's album 4:44 both addressed the couple's marital problems. "Sorry," the second single off of Lemonade, has lyrics that revolve around the protagonist dealing with her partner's affair with a woman named "Becky"; although neither artist has said that the song was about Jay-Z's infidelity, he later admitted that he had been unfaithful and that the couple had sought counseling. In fact, rumors about Jay-Z's cheating have been rampant for years, dating back to when the couple was dating, and his infamous 2014 fight in an elevator with his sister-in-law was said to be over his numerous infidelities. Meanwhile, the lyrics to his 2013 single "Holy Grail" suggest that Beyoncé may have strayed as well.
But the couple has fought to try and save their marriage. In an interview with CNN in early 2018, Jay-Z talked about this, calling his wife his "soulmate." He went on to say that couples that experience problems could either address those problems or pretend they don't exist, "For us, we chose to fight for our love. For our family. To give our kids a different outcome. To break that cycle for black men and women." He added, "We were never a celebrity couple - we were a couple that happened to be celebrities. We are real people."
The couple has collaborated numerous times, beginning with her being featured on his song "03 Bonnie & Clyde." He was featured on "Crazy in Love," her first ever No. 1 song as a solo artist. He was featured on the lead single ("Deja Vu") off her second solo album, and on "Drunk in Love," which peaked at No. 2 on the Billboard Hot 100 in 2013. They have also co-headlined two tours (On the Run Tour in 2014 and On the Run II Tour in 2018). In 2018, they released "Family Feud," their collaboration from his 4:44 album and, billed as The Carters (his last name), they released the album Everything Is Love.