Watchworthy
The Best Musical Numbers In Movies That Aren't Musicals

Updated January 16, 2020
3.1k votes
470 voters
6.5k views
20 items
List Rules Vote up the most pitch-perfect musical sequences in movies where we weren't really expecting them.
It may sound strange, but some of the greatest musical moments in film do not come from musicals or musical biopics. Instead, these iconic music sequences are from comedies and dramas.
You probably wouldn't expect an absurd comedy like Monty Python's Life of Brian to feature one of the most memorable songs in cinema history. However, "Always Look on the Bright Side of Life" is still one of the most played songs in the UK. The Brits even sing the upbeat song at funerals. What's the most memorable moment from Wayne's World? Ask 100 people that question and almost all of them will certainly answer, "When they sing 'Bohemian Rhapsody' in the car."
Some of these magical musical moments feature elaborate song and dance numbers that have absolutely nothing to do with the actual movie. Others are sung a cappella like Heath Ledger's take on Frankie Valli in 10 Things I Hate About You. Heck, some of the characters in these films don't sing at all - they lip-sync. Who could forget Duckie lip-syncing Otis Redding for his romantic life in Pretty in Pink?
Which scene had you dancing in your seat?
Data-driven recommendations based on voting from over 40 million monthly visits to Ranker.
Try the free app
Tim Burton's 1998 fantasy horror movie Beetlejuice was made even more memorable with Harry Belafonte's "Day-O." In the film, two ghosts are trying to rid their house of the family of snobs that have moved in. While the family is having an uppity dinner party, the ghosts are able to possess the hosts and their guests to lip-sync to Belafonte's classic calypso song.
They don't know why they are singing along, but they are all in. The laughs grow throughout the scene as all of the dinner guests are moving and lip-syncing to the song. At the end of the tune, the large plated shrimp become huge fingers and grab the dinner guests in the face.
Actors: Alec Baldwin, Winona Ryder, Geena Davis, Michael Keaton, Jeffrey Jones, + more
Released: 1988
Does this make you want to sing?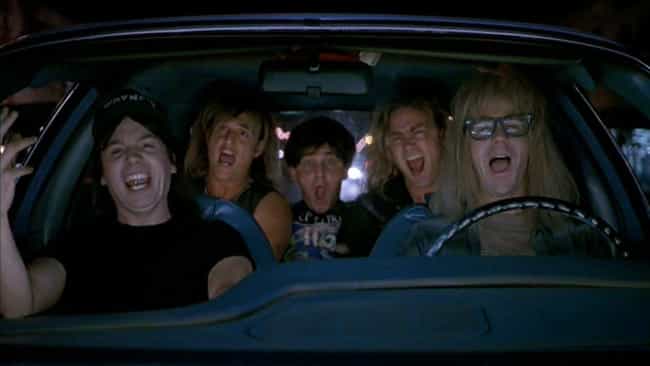 When Queen released the multi-part opera-like "Bohemian Rhapsody" in 1975, it was a minor hit without much staying power. That all changed in 1992 when Wayne's World hit the big screen. The comedy, which was adapted from a Saturday Night Live sketch, opens with Garth (Dana Carvey) picking up Wayne (Mike Myers) in his 1970s AMC Pacer.
Wayne pops a cassette into the car's stereo system and says, "I think I'll go with a little 'Bohemian Rhapsody,' gentlemen." Garth likes the idea and tells him, "Good call."
The epic song is already revved up to its heightened halfway mark. There are also three strung-out looking dudes in the backseat. The five young men sing the tune in that special way that only people in cars sing - without reservation or fear. They trade off on the harmonies, and when the opera turns to metal, they bang their heads back and forth like they are at a Metallica concert. It's comic gold that turned "Bohemian Rhapsody" into a 1990s hit, where it skyrocketed all the way up to No. 2 on the Billboard Hot 100.
Give Mike Myers credit - he fought the studio to put in "Bohemian Rhapsody." They didn't understand why two rock guys would bang their heads to a weird opera-like song. Myers knew it would bring the laughs so much so that he threatened to quit the film if the Queen song wasn't included. He reportedly told the filmmakers, "Well I'm out. I don't want to make this movie if it's not 'Bohemian Rhapsody.'"
Actors: Alice Cooper, Mike Myers, Rob Lowe, Tia Carrere, Meat Loaf, + more
Released: 1992
Does this make you want to sing?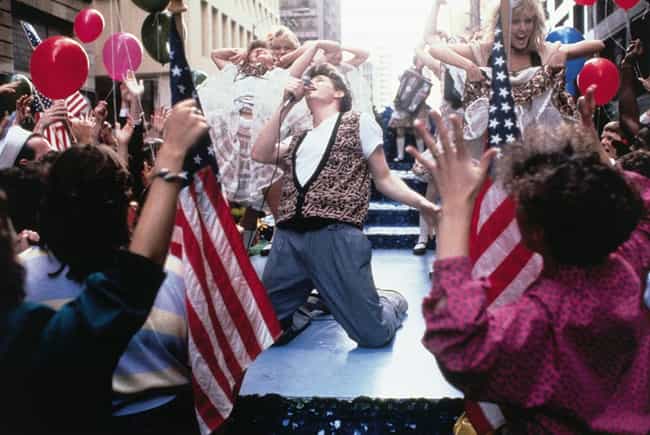 Ferris Bueller (Matthew Broderick), his girlfriend Sloane (Mia Sara), and best friend Cameron (Alan Ruck) do a lot of memorable things on the day they skip school in the 1986 John Hughes teen classic Ferris Bueller's Day Off. But perhaps the most memorable event is when Ferris, who just really wants to show Cameron what fun looks like, commandeers a float in the middle of a Chicago street parade.
The uninhibited teen lip-syncs to the Beatles' 1963 cover of "Twist and Shout." He has the entire crowd dancing and shaking to the tune - even construction workers. Over 10,000 extras turned up for the scene. The energy and vigor from the crowd helped Broderick keep up his energy because the scene took two days to film.
Broderick described what it was like to film the scene:
For the final shot, I turned around and saw a river of people. I put my hands up at the end of the number and heard this huge roar... I can understand how rock stars feel. That kind of reaction feeds you.
Actors: Charlie Sheen, Matthew Broderick, Jeffrey Jones, Jennifer Grey, Kristy Swanson, + more
Released: 1986
Does this make you want to sing?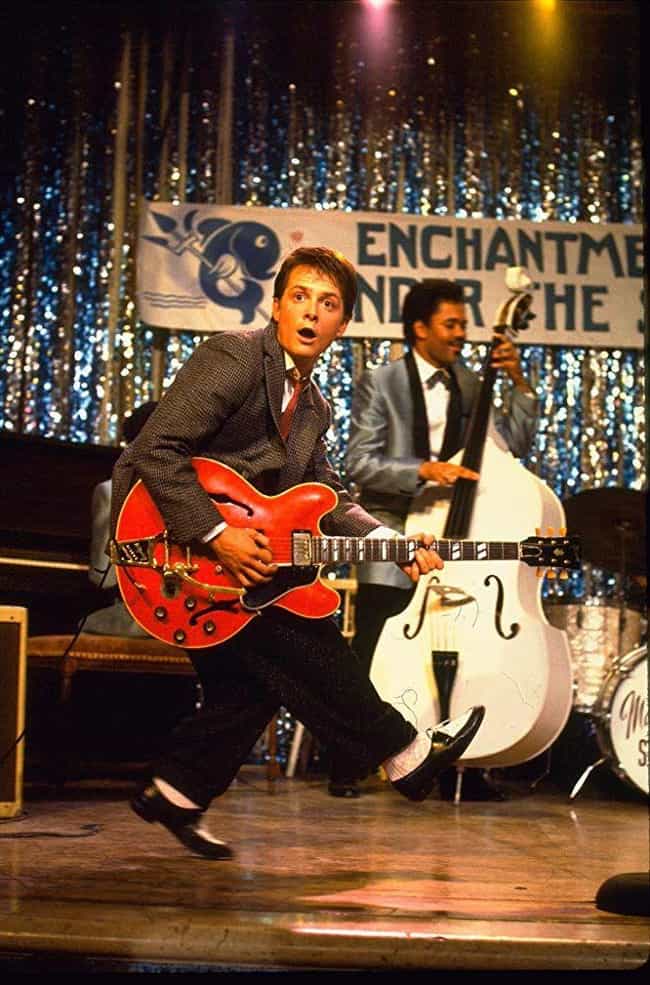 Marty McFly (Michael J. Fox) accidentally travels back in time in the science-fiction comedy Back to the Future. The 17-year-old goes from 1985 to 1955.
Young Marty is at the Enchantment Under the Sea high school dance, which is totally lame and filled with jitterbug dances and dull music. He grabs a red guitar and hops onstage with the band. He starts to play "Johnny B. Goode." Marty totally shreds to the Chuck Berry classic, which was not actually recorded until 1958. The young teen crowd has never heard or seen anything like it before. Suddenly, they start to move their bodies to the music in ways that they didn't think possible. Offstage, Marvin Berry calls his cousin Chuck to play him that "new sound" he's been looking for.
Toward the end of the song, Marty gets totally caught up in the rock music. He kicks the amp, plays the guitar behind his head, and crashes to the floor. He's unaware at this point that the entire high school is staring at him, terrified because they have no idea what rock and roll theatrics look like. He says, "I guess you guys aren't ready for that yet. But your kids are gonna love it."
Actors: Michael J. Fox, Christopher Lloyd, Lea Thompson, Crispin Glover, Billy Zane, + more
Released: 1985
Does this make you want to sing?