Photo: Universal Pictures
Movie Quotes
My Big Fat Greek Wedding 2 Movie Quotes

Updated November 6, 2017
91 votes
60 voters
17.6k views
My Big Fat Greek Wedding 2 movie quotes bring back the laughs as the Portokalos family returns for yet another lavish Greek wedding. Reuniting the original cast, the comedy sequel was written by Nia Vardalos and directed by Kirk Jones. My Big Fat Greek Wedding 2 opened in theaters on March 25, 2016.
In My Big Fat Greek Wedding 2, Toula (Nia Vardalos) and Ian (John Corbett) have now been married for several years and their daughter, Paris (Elena Kampouris), is preparing to head off for college. Paris deals with similar family issues as Toula did at that age with their big Greek family, including grandmother Maria (Lainie Kazan), grandfather Gus (Michael Constantine) and Aunt Voula (Andrea Martin), always around close, perhaps too close.
So while Toula deals with Paris leaving the nest and she and Ian deal with their own marital issues, a surprise in marital records sends the family on another adventure to throw one more big fat Greek wedding, this time even bigger, fatter and more Greek.
My Big Fat Greek Wedding 2
had stiff competition when it opened alongside other March 2016 films such as
Batman v Superman: Dawn of Justice
,
The Brothers Grimsby
,
10 Cloverfield Lane
, and
Eye in the Sky
.
Another Big Fat Greek Wedding
Toula: A long time ago, I had a big fat greek wedding. Now my daughter is all grown up. Ian and I are just trying to find a minute to ourselves, and my family is still too close, but there's always a few surprises. Now, my family has come together to pull off another big fat greek wedding.
Toula, in a voice over, gives an update on what the family has been doing for the last dozen years or so and provides a quick overview of the film. Now that her daughter is grown and heading off to college, this is tough, as is the family unexpectedly planning another big fat Greek wedding.
Should this be higher or lower?
Maria: We come from a long line of strong women. Remember, Paris, protect the polaki! Eyes open, knees shut!
Aunt Voula: If your knees are open, shut your eyes!
Maria gives granddaughter Paris some advice before Paris heads off for college. While the logistics of the knees and eyes being open or not are debated, the gist is for Paris to remember to value herself.
Should this be higher or lower?
Parents Deserve a Sex Life Too
Ian: How about another date tonight?
...
Aunt Voula: And afterward, this will help you sleep better. Satin, slippery like an eel.
Toula: Theia!
Aunt Voula: You're welcome. Shave everything.
...
Ian: You look pretty!
...
Gus: What are you doing?
Toula: Dad!
Aunt Voula: Parents deserve a sex life too.
A date night between Toula and Ian is a nice thought but between the intervention from family members like Aunt Voula, Maria and Gus, getting that time to themselves is tough.
Should this be higher or lower?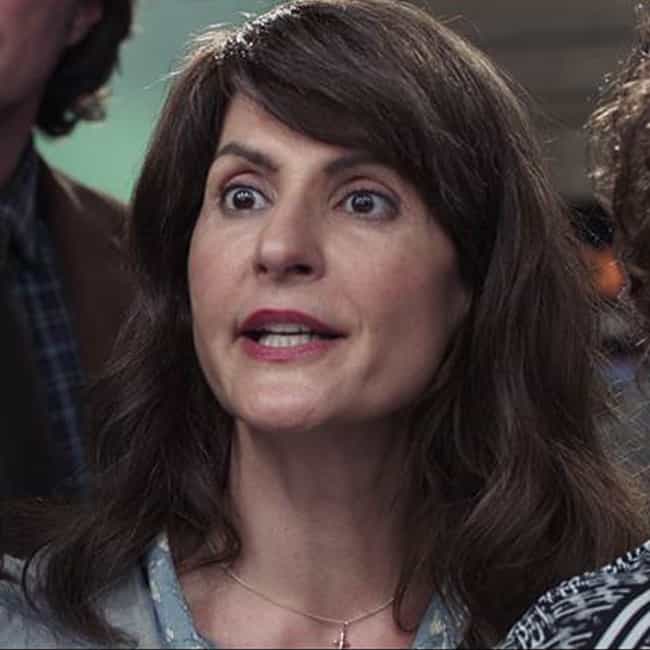 Toula: I hope you applied to some local colleges too.
Paris: Why do parents always say dream big when they really mean, not too big?
Where Paris will attend college is a sensitive spot for mother Toula. While parents always say they want their children to dream big, they also fear those same children leaving home, like to attend a college far away.
Should this be higher or lower?