Weird History
The Australian Robin Hood Survived A Shoot-Out With The Law In The Most Badass Way Imaginable
Updated October 13, 2018
3.1k views
11 items
Ned Kelly was arguably the most notorious armored Australian bandit in history. Known as a "bushranger" - an outlaw in the Australian wilderness - Kelly was a feared, beloved, and notorious gunslinger who donned an iron suit to save himself during his final fight. This ingenuity catapulted Kelly into the realm of myth and legend.
Born in the colonial state of Victoria in 1855, Kelly came of age in an inequitable Australia where the poor scraped by while the rich flourished. He, like many of his fellow Australians, descended from British Isles convicts deported to Australia for petty crimes.
With limited opportunities, Kelly turned to life outside the law. He lived fast and hard, robbing banks with his gang and murdering policemen who got in the way. He quickly became a wanted man, especially after he ambushed police at Stringybark Creek in 1878.
How did Kelly die? After a colorful life of crime, Kelly reached a striking end. Indeed, his career as a bandit concluded in a dramatic shoot-out. But though his guns and suit of armor saved him during his last stand, he could not escape the noose - Kelly ultimately hanged for his crimes. He has since become one of the most infamous robbers in history.
Ned Kelly Was Basically The First Iron Man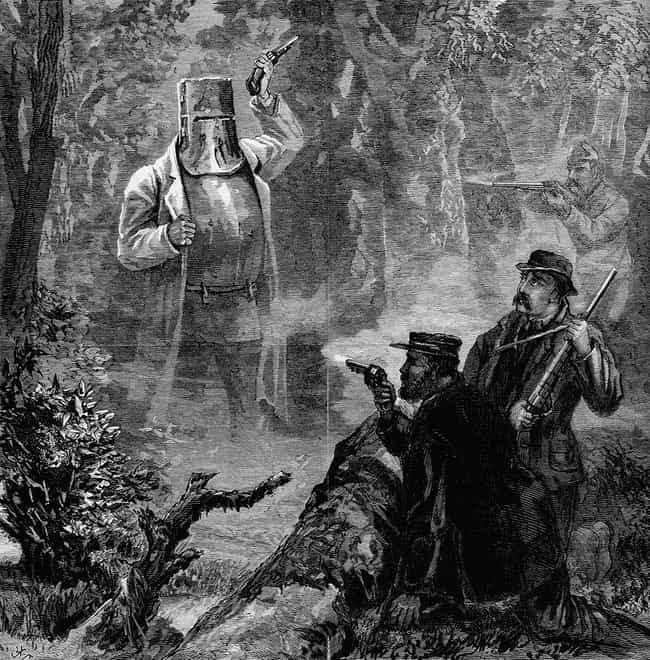 As an outlaw, Ned Kelly knew gun violence was just part of the job. To protect himself and his fellow gang members, Kelly considered a suit of armor a useful accessory. In late 1879, Kelly and his gang started collecting metal moldboards from plows in a move to acquire the materials needed to make their suits.
Though sympathetic farmers volunteered materials, the Kelly Gang was more than willing to steal the necessary moldboards to complete their armor. By June of 1880, Kelly and his associates crafted a set of metal suits they thought would make them practically bulletproof.
The Iron Suit Probably Caused More Grief Than Protection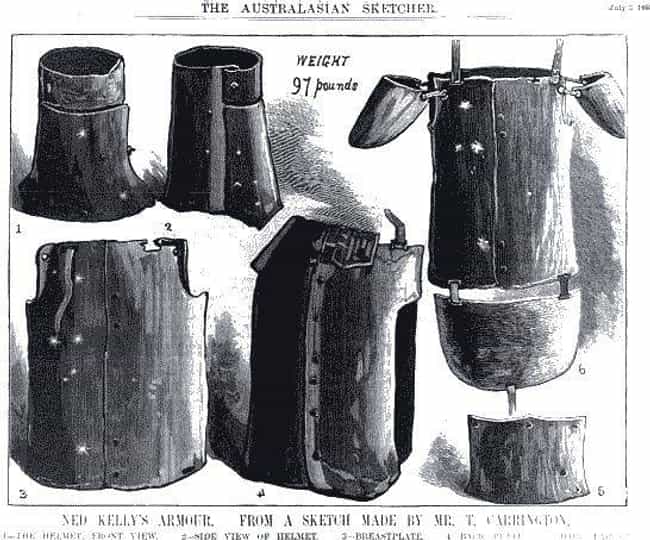 Carting around a full-sized suit of armor was no small task. Ned Kelly's suit was quite heavy, weighing in at 44 kilograms (around 97 pounds). According to one estimate, this was about half of Kelly's body weight. The size of the steel suits ultimately weighed the gang down. What the outlaws gained in protection, they lost in speed, making it difficult to quickly flee the scene.
The Kelly Gang Was Cornered After They Took Out A Suspected Informant

After holding up a police station in 1879, the Kelly Gang took their £2,000 haul and hid out in the Victoria mountains. They spent more than a year keeping one step ahead of the police with help from associates. However, they also speculated whistleblowers complied with the authorities to try to catch the gang.
The outlaws suspected Aaron Sherritt - a childhood friend of Joe Byrne, a key member of the Kelly Gang - was a police informant. The gang killed Sherritt in his home, then rode to the nearby town of Glenrowan. They planned to intercept a police train that would inevitably come after news of the murder became publicized. Instead of riding into the ambush, the police stopped outside of Glenrowan to surround the town, leading to the Kelly Gang's last stand.
Ned Kelly Caroused With Hostages During His Last Stand At The Glenrowan Hotel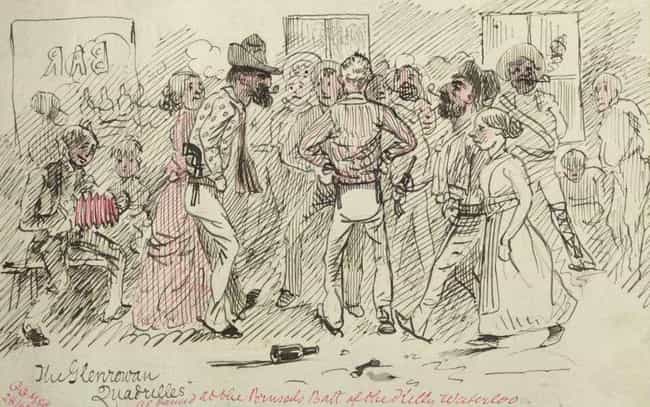 Given their status as the most wanted men in the colonies, the Kelly Gang fully expected a train brimming with police reinforcements on their tail. After all, they murdered suspected informant Aaron Sherritt. In a move to stay ahead of the law, the Kelly Gang resolved to destroy any train in pursuit of them.
In Glenrowan, a small town about 150 miles northeast of Melbourne, the gang set out to do just that. They took over the town, gathered up about 60 hostages in a hotel owned by Ann Jones, and destroyed part of the track, hoping it would lead to a train wreck. To keep the townspeople entertained for several hours, the gang caroused with their hostages, even organizing games and dances.
But the Kelly Gang's last stand in Glenrowan would not end with a celebration. Oblivious to the outlaws' hostages, the police arrived and opened fire on the hotel.