Living
Tooth-Achingly Wholesome Facts About Neil Patrick Harris As A Father

Updated June 27, 2019
2.1k views
13 items
The David Burtka and Neil Patrick Harris family is famous thanks in large part to Instagram. Most people know Harris as the eponymous boy genius on Doogie Howser, MD, the womanizer Barney Stinson on the long-running sitcom How I Met Your Mother, or the villainous Olaf on Netflix's A Series of Unfortunate Events. However, the family man and father of twins has totally won over the internet thanks in large part to these tooth-achingly wholesome facts.
NPH can do it all. He sings, he dances, he acts, he hosts major award shows, and he even dabbles in magic. But his true calling appears to be that of a loving, modern-day dad to girl-and-boy twins named Harper and Gideon, who were born in October 2010. Despite Harris's extremely busy career in show business, he prioritizes his family over work, and delights millions of people with his super sweet Instagram account. But no need to jump over to his social media accounts just yet - here you can learn all about Neil Patrick Harris's kids and his life as a father.
The Family Goes All Out For Halloween Every Year
No family owns Halloween quite like Harris, Burtka, Harper, and Gideon. Every single Halloween since 2011, the dads and their twins have looked to movies and pop culture to put together epic ensemble costumes.
In 2015, they used the Force and dressed as Han Solo, Obi-Wan Kenobi, Leia Organa, and Luke Skywalker. In 2012, they all followed the yellow brick road, dressing as the Tin Man, the Scarecrow, Dorothy, and the Cowardly Lion. In 2013, the family got super scary and appeared as Frankenstein, the Werewolf, the Bride of Frankenstein, and Dracula.
He Prioritizes His Family Over His Career
In the summer of 2018, Harris decided to put his entertainment career on hold in order to concentrate on his twins. "[I'm] just getting back into the routine of being a dad all the time," Harris said. "My upcoming project is not working. It's gleefully not working."
Harris had just wrapped filming on the final season of his Netflix show A Series of Unfortunate Events when he realized it was time to take a break from show business. He related, "Long distance is difficult. Necessary sometimes, but a challenge."
The Family Plays A Game Every Night At Dinner
Harris's successful career in show business makes him a very busy guy. However, he knows how important it is to balance his time between work and family. "We do travel a lot and we're busy a lot, but what's sacrosanct is the family eating dinner together," Harris said. "Whether we're ordering in Chinese food or having a ribeye, it's important to have family communion."
When Harris was growing up, his family played a game called, "My day by..." It's an activity in which each member of the family turns the events of their day, no matter how ordinary, into a story. Harris now plays the game with his own family at dinner every night.
"So I'd say 'My day by Poppa... I woke up, had coffee, did some organizing, sat with the kids for a while, went to the park and now I'm eating this amazing meal.'"
Harris Uses Magic To Get His Kids To Stop Arguing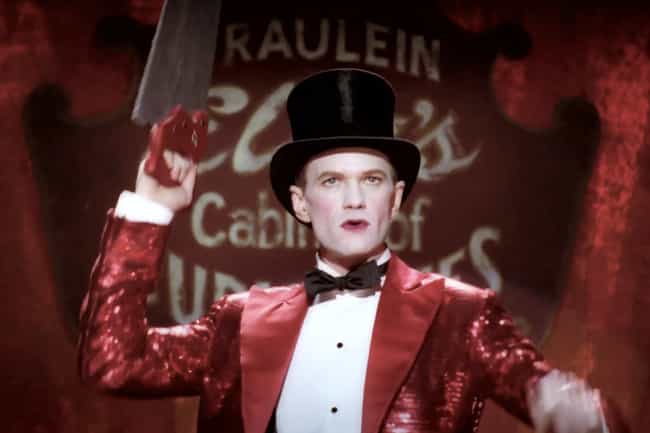 To say Harris is a big fan of magic is an understatement. He's not just a magician - he takes his game to a whole other level, serving as the President of Magical Arts at the Magic Castle in LA. Harris also often brings his real-life magical talent to his career as an actor. His character Chester Creb in American Horror Story: Freak Show performs as a magician, as does his Glee character Bryan Ryan.
The father of two has found an inventive way to incorporate magic into his parenting: "Come on, there's no easier way to make two kids stop arguing about who gets a toy than to just have it disappear."