Movie Quotes
Nerve Movie Quotes

406 votes
230 voters
14.6k views
Nerve movie quotes tell the story of two young adults who get involved in a dangerous game of dares. The crime thriller was directed by Henry Joost and Ariel Schulman using a screenplay Jessica Sharzer adapted from the book of the same name by Jeanne Ryan. Nerve opened in theaters in the United States on July 27, 2016.
In Nerve, Vee (Emma Roberts) is a high school student who has always lived life cautiously and mildly. So when a video game, Nerve, becomes popular, friend Sydney (Emily Meade) encourages Vee to give it a try. In the game, you can either pay to watch the action or play and take on a series of dares to earn money and fame.
But when Vee picks play and meets fellow player Ian (Dave Franco), things go from innocent fun to scary real quick. The dares become increasingly dangerous and illegal, plus Vee learns from mother Nancy (Juliette Lewis) that someone has stolen all of their money. It doesn't take long for Vee and Ian to learn that the game has stolen their entire identities and unless they play along and win, they will face dire and possibly deadly consequences.
Nerve was just one of several fun 2016 summer movies along with Bad Moms, Jason Bourne, The Infiltrator, and Mike and Dave Need Wedding Dates.
Like Truth or Dare, Minus the Truth
Game Voiceover: Welcome to Nerve, a game like truth or dare, minus the dare. Watchers pay to watch. Players play to win cash and glory. Are you a watcher or a player? Are you a watcher or a player? Are you a watcher or a player? Watch? Play?
Sydney: It's cool, right?
Vee: This looks very sketchy. This is legal?
Sydney: Vee, life is passing you by. You need to take a few risks every once in a while.
Vee: I do take risks!
Sydney: Okay, you're playing Nerve. Do you accept your dare, Vee?
In an effort to get friend Vee to break out of her shell a bit, Sydney encourages her to play a new game called Nerve. As a player, you're paid by watchers to complete dares. Sounds harmless, right?
Should this be higher or lower?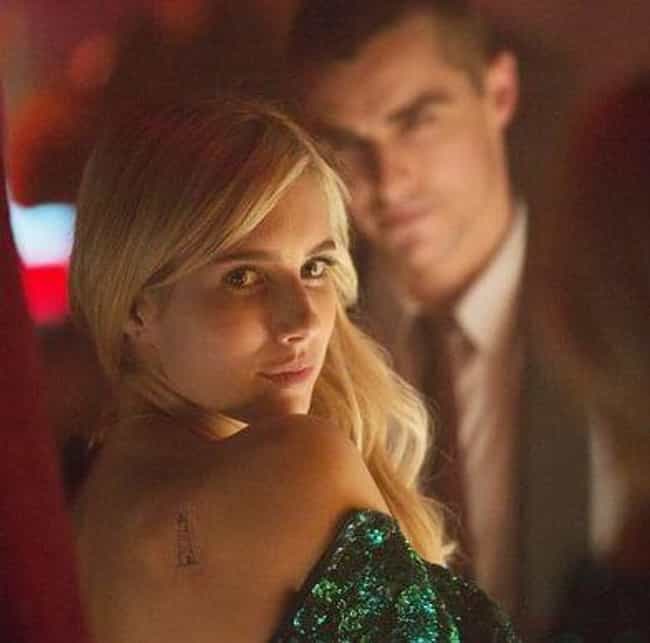 Tattoo Artist: Hold on, I'm just doing the Y in daddy.
Vee: What?!
Ian: He's kidding.
On a tattoo dare, Vee gets a tattoo on her upper back. While it's not immediately clear what it does say, according to Ian, it does not say daddy.

Should this be higher or lower?
Kiss a Stranger for Five Seconds
Vee: Kiss a stranger for five seconds?
Tommy: Just kiss that guy.
...
Ian: Okay
Vee: Okay, bye
On Vee's first dare, she's tasked to kiss a stranger for five seconds. So when she spots the cute guy, Ian, in a restaurant booth, she completes the task easily.
Should this be higher or lower?
We Became Prisoners of the Game
Vee: What the hell is going on?
Ian: Watchers stole our identities. We became prisoners of the game.
...
Game Voiceover: Vee, you can't stop playing. Now we control your life.
...
Ian: The only way out is to win.
Ian and Vee learn that the game has taken complete control of their lives. Their identities are stolen and their safety depends on their cooperation. No bueno.
Should this be higher or lower?