Weird History
The Most Beautiful Natural Wonder You've Never Seen Was Accidentally Created By A Power Company

Sometimes an accident leads to a wonderfully beautiful mistake - see potato chips, penicillin, chocolate chip cookies, and even Viagra (originally a medicine for blood pressure). Fly Geyser, a man-made geyser in Nevada, came about by accident as well, and eventually became a gorgeous natural wonder that no one ever gets to see. Fly Ranch Geyser, as it's traditionally called, rests about a third of a mile away from State Route 34 in the middle of Nevada's Black Rock Desert. Unfortunately, the geyser remains closed to the public, but if you're an urban explorer or a smooth-talker, you might find your way in.
Fly Geyser has an interesting history – it's a manmade drilling mishap that became one of nature's wonders. So what's the deal with this hyper-private tourist attraction none of us can ever visit? How far is Fly Geyser from Las Vegas, anyway, and why does this beautiful accident remain one of Nevada's most hidden gems? Here is the story of Fly Geyser – the gorgeous man-made feat of nature that almost wasn't.
Fly Geyser Isn't Huge, But It's Pretty Because Of Thermophilic Algae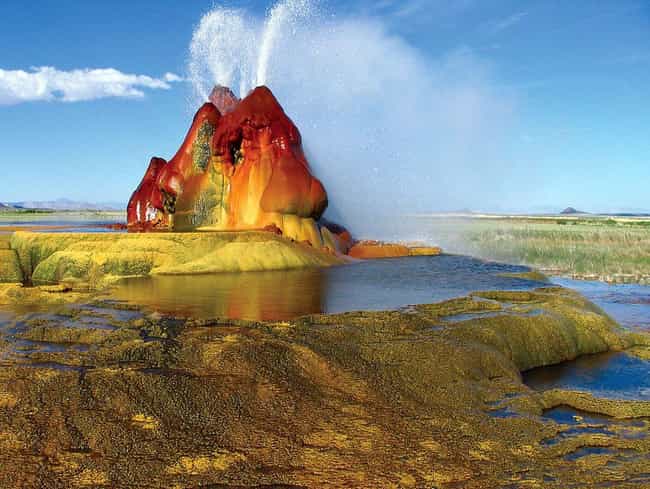 Fly Geyser rests on the edge of Fly Reservoir in the Hualapai Geothermal Flats, an area in Nevada about 500 miles from Las Vegas that's known for its unique geothermal pools. The stunning geyser boasts a rainbow of colors created by a mix of sulfate (yellow), iron (red), and algae (green). Though the geyser stands just five feet tall and 12 feet wide, it constantly grows in size because of the minerals deposited each time it blows.
Fly Geyser Sports Multiple Spouts, A Unique Feature Among Geysers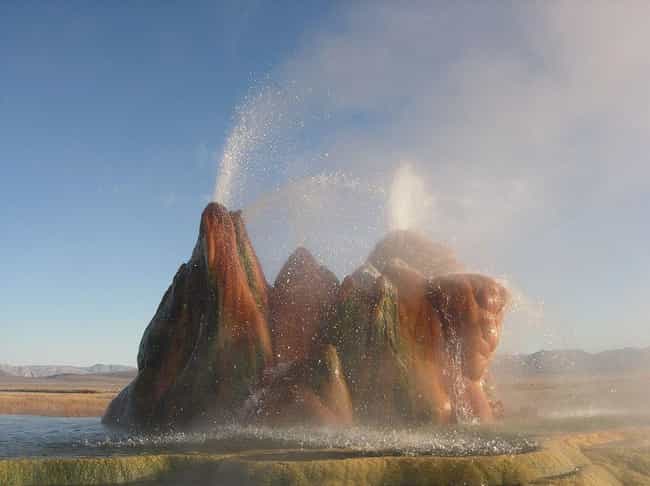 The water in Fly Geyser can shoot up to five feet in the air, which is kind of impressive because it can happen at all, but not really that awesome in the scope of wild things nature can do. For comparison, Old Faithful, a popular tourist attraction in Yellowstone National Park, reaches maximum heights of 90 to 184 feet tall – and that's not even considered the biggest geyser in Yellowstone. What makes Fly Geyser so unique, aside from its vibrant colors, are its multiple spouts, which actually account for its smaller stature in comparison to other geysers.
The Geyser Rests On Land Previously Known As Ward's Hot Springs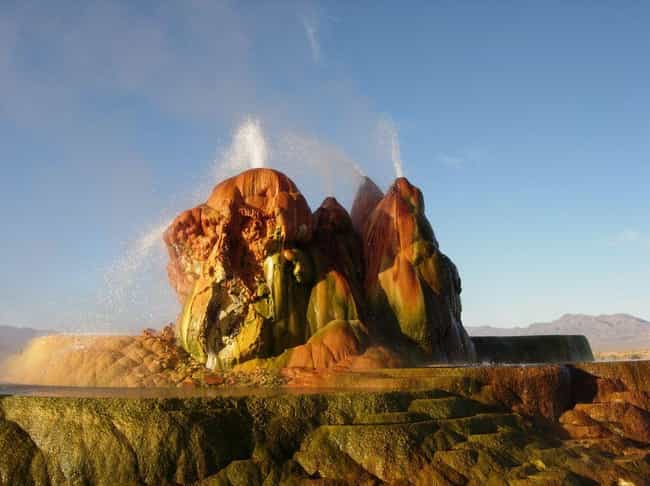 A map of California and Nevada from 1881 reveals a strange history for Fly Geyser. Originally, Fly Ranch was called Ward's Ranch. According to an 1886 geology report, Fly Geyser, before it was drilled, was Ward's Hot Springs. Ward likely refers to the Ward brothers, who sold the property to Louise Gerlach.
Its Location Has A Long History Of Hot Spring Activity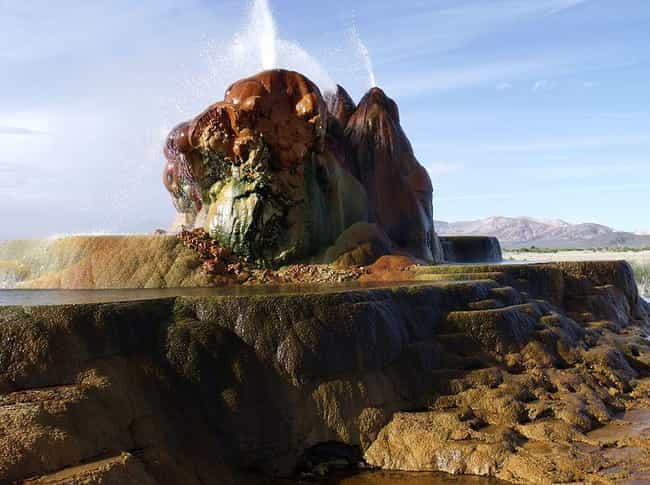 Located in the town of Gerlach, Nevada, which lies atop the Great Basin, Fly Geyser descends from a long line of hot springs in the area. Travelers headed through the area, home to the Northern Paiute tribe, christened the nearby area Boiling Springs in 1843. And farmers drilled to create the first agricultural well on the property 100 years before drilling created Fly Geyser