Entertainment
Now You See Me 2 Movie Quotes

206 votes
156 voters
19.2k views
8 items
Now You See Me 2 movie quotes bring another installment in the magic caper film series that follows a group of magicians/thieves. The thriller was directed by Jon M. Chu using a screenplay Ed Solomon wrote based on a story Solomon created with Peter Chiarelli using characters created by Boaz Yakin and Edward Ricourt. Now You See Me 2 hit theaters on June 10, 2016.
In Now You See Me 2, it's been a year since the events in Now You See Me and the crew of the Four Horsemen, including Danny (Jesse Eisenberg), Dylan (Mark Ruffalo), Merritt (Woody Harrelson) and Jack (Dave Franco), have been out of the public eye. Along with new member Lula (Lizzy Caplan), the Horsemen stage a comeback, but that show is rudely interrupted tech magnate Walter (Daniel Radcliffe). The Horsemen flee but somehow in their escape down a chute from atop a New York building, the magicians land in China.
In China, Walter explains that he wishes the Horsemen steal a powerful piece of technology that is the key to any computer system. While the Horsemen agree to the heist, they're really just plotting to expose Walter. Stealing the technology isn't exactly easy and their job is further complicated when old friends turned foes, namely Thaddeus (Morgan Freeman) and Arthur (Michael Caine) come back to get their own vengeance on the Horsemen.
Now You See Me 2
joined theaters already showing other films such as
Me Before You
,
Popstar: Never Stop Never Stopping
,
Teenage Mutant Ninja Turtles: Out of the Shadows
and
Alice Through the Looking Glass
.
You Will Get What's Coming to You
Thaddeus: The eye, it may not lie but don't think for a moment it can't be lied to. Seeing is believing but is it truth? People see the Horsemen as mobile Robin Hoods, but are they or are they common thieves? Depends on your points of view. Here's what we know. They robbed a bank in Paris from a stage in Las Vegas. They fleeced an insurance magnate from hundreds of millions of dollars and disappeared from a roof in New York, always showering their devoted fans with money. Here's what you don't know. They left one man behind, framed, holding the bag, me. Are you listening, Horsemen? When you emerge, and you will, I will be there waiting because, mark my words, you will get what's coming to you in ways you can't expect.
In a video message from prison, Thaddeus explains how he was framed by the not-so-innocent Horsemen in the last film. Thaddeus vows vengeance, though the details of how he will do this from behind bars isn't initially clear.
Should this be higher or lower?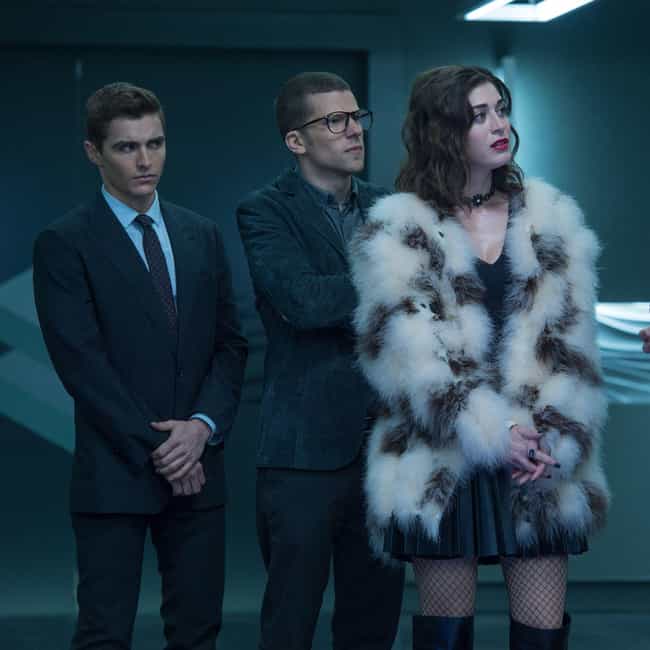 Jack: Not long ago, we were tricked.
Lula: So we think it's only fitting we do the same thing to the person who did it to us.
Jack and Lula explain that because they were once tricked, they are now trying to get revenge on the person who wronged them. Who really tricked whom in all of this seems to be a disputed point of contention.
Should this be higher or lower?
The Moment We've All Been Waiting For
Jack: Let the momentum of the card do the work for you. It's all in the wrist.
Merritt: Not bad. Now you want to see a thing of beauty? Bingo bang bongo!
Jack: That's good. It's good to be positive despite making zero progress in a year.
...
Announcer: You thought that they had disappeared forever but this is the moment we've all been waiting for. Ladies and gentleman, the Four Horsemen!
A year after the events in the first film, Jack and Merritt are still active in
the magic game
and preparing for their big return to the stage with the other two Four Horsemen. Clearly though, some have been preparing more than others.
Should this be higher or lower?
Nice to See You All Again
Arthur: Nice to see you all again.
Insurance magnate Arthur Tressler, who formerly funded the Four Horsemen performances before they stole all his cash, is back and looking for payback. As if the Horsemen didn't have enough to worry about with hackers and Walter on their behinds, now they have to deal with Arthur too.
Should this be higher or lower?