Weird Nature
Most NSFW Spider Sex Practices

In the entirety of the animal kingdom, few species inject weirdness into their normal sex routines quite like the spider. Spider sex practices are the animal equivalent of the stuff that goes on in the basements of sex clubs. It might be nature, but it's still very NSFW.
If you've ever found yourself wondering how spiders have sex, be warned that it's not for the faint of heart. There's a reason these creatures have a reputation as terrifying monsters; copulation for arachnids is bloody, complicated, and uncertain.
It's also fascinating, another morbidly amazing facet of one of the world's most unique creatures. Facts about spider reproduction might differ from species to species, but whether you're talking about jumping spiders or orb weavers, the sex talk is going to be truly bizarre.
Want to know more about how spiders get down? You've come to the right place.
Females Like To Consume Their Mates Before, During, & After Sex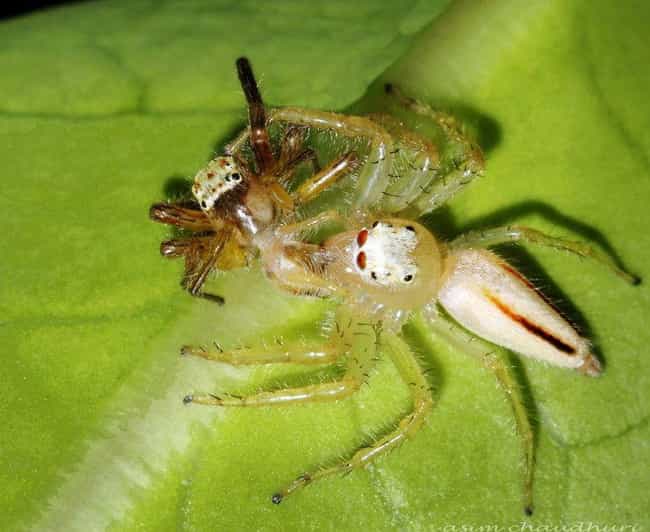 Most people know that the black widow spider has a reputation for killing and devouring her mate once the deed has been done. Weirdly, that's not the case.
What is true is that the whole eating-your mate-thing is actually a possibility in every single species of spider. Sometimes the lady needs a post-coital snack; sometimes the male isn't ready to be a dad. Either way, when the sex is over, there's a possibility that any species of spider is going to cap off the romance by cannibalizing their partner. And it's not just post-coital chomping that spiders like to do - "pre-copulatory sexual cannibalism" occurs in 10-15% of spider species.
In fairness to the black widow theorists, most arachnologists see the "eating your sex partner" habit as more common among spider chicks than spider dudes, presumably because males sacrifice themselves in an effort to produce healthier offspring.
Male Spiders Literally Break It Off Inside Their Ladies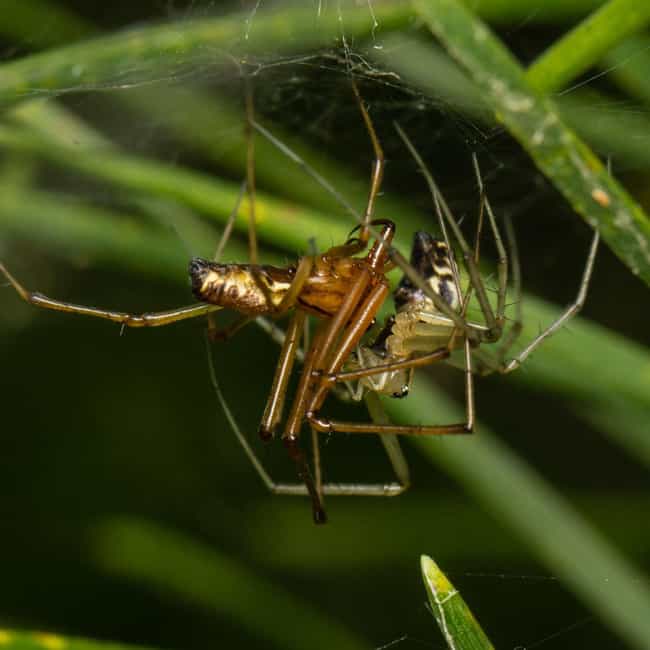 Among other really sad things involved in being a male spider is the fact that they only get to mate one time, because mating involves having their genitals literally break off inside the female. Species like the fishing spider and certain orb spiders are known for pulling this move.
The self-sacrifice has a mating advantage for the male, of course. It's intended to ensure that the female he's mating with can't ever mate again. This increases the odds that she'll choose his sperm shell to fertilize her egg sac, thereby continuing his line. The species also has a tendency to seek out virgins to mate with, since this cuts down even further on the competition.
Some Female Spiders Shriek To Make Sure Their Man Gets It Just Right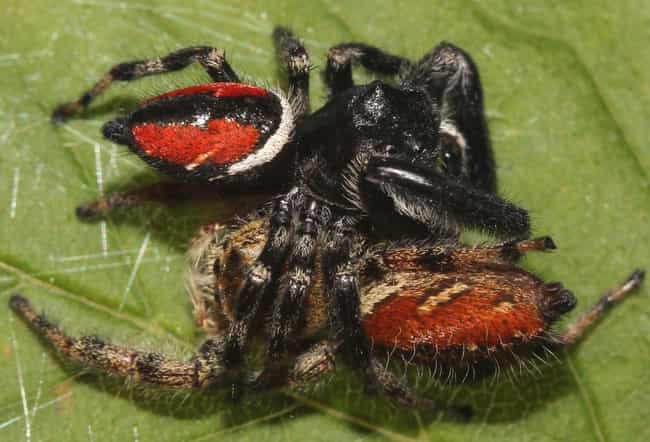 In the ever-competitive world of spider sex, female Physocylus globosus spiders have decided they won't take anything less than the best the males of the species have to offer. These ladies emit high-pitched shrieks that offer males instruction on how to get the job done during sex.
These high-frequency yips are called stridulations; supposedly they sound like, "squeaky leather and are made in response to the rhythmic squeezing actions of the male's genitalia from inside the female." If a male does good work, he increases his chances of having his sperm selected for impregnation. Because female spiders have the ability to do that - they can store the sperm from a bunch of males inside themselves and select the sperm they want to use to get pregnant.
For their part, males are often eager to comply with these demands as pleasing their lady increases the odds that their genetic material will get passed on.
Jumping Spiders Put On Their Best Rave Attire For The Event
When jumping spiders are ready to find the right partner, they still make potential mates go through a rigorous testing process. And they do something really weird to demonstrate sexual fitness; they develop a glowing patch on their bodies to indicate sexual maturity and health. Males don luminescent patches on their chests, and females' legs turn bright green when it's time for some sexy fun.
Scientists also say that jumping spiders will actually ignore each other unless they're able to see one another under the complete spectrum of light. All the better to hook up at a spider rave where they can be sure that their green is glowing it's most lurid shade.