Total Nerd
Obscure Pop Culture References From Rick And Morty, Explained

7.5k votes
1.2k voters
55.2k views
15 items
List Rules Vote up the pop culture references that made you go, "shum-shum-schlippety-dop!"
Rick and Morty is a show that wears its pop culture references on its stained, lab coat sleeve. After all, every single episode title is a play on a film, book, or movie title, and the show's very premise comes from a Back To The Future spoof that co-creator Justin Roiland previously worked on. Some of these references are outright mentioned in the show - like in "Look Who's Purging Now" - but the greatest reward for eagle-eyed and sharp-eared fans comes from the most obscure Rick and Morty references.
Whether they're allusions to other characters, paraphrases of memorable lines, visual spoofs, or little cameos lurking in the background, every episode is rich with references that probably went over your head. Do the writers do it to make you feel stupid? Well, this is a show with Rick Sanchez in it, so... yes, probably *cue belch noise*. To make you feel a little smarter than the average Morty, here's a handy explainer to the show's deepest cuts.
back to page 1
The Council Of Ricks Are Likely Inspired By The Fantastic Four's 'Council Of Reed Richards'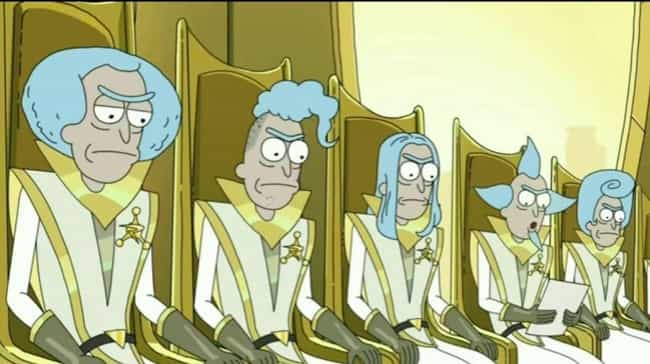 Reference:

The "Council of Ricks"

Season:

1

Episode:

10
The Council is comprised of different versions of Rick from across the multiverse. This is likely a nod to a similar idea in Marvel comics, in which the Fantastic Four's Reed Richards (one of the biggest brains in Marvel) has his very own "Interdimensional Council of Reeds" filled with his multiverse doppelgängers.

Did you catch this reference?
Doc and Marhti Make An Appearance In 'Big Trouble In Little Sanchez'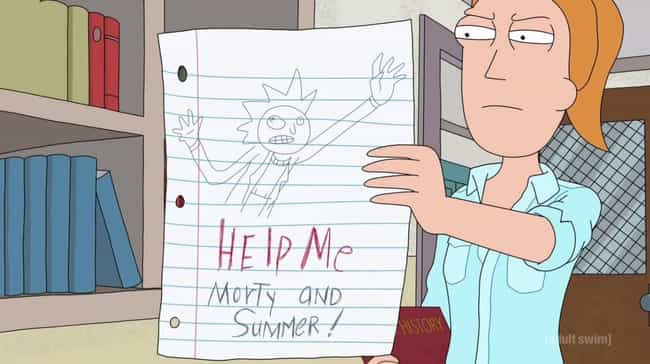 Reference:

The

terrible drawing of Rick with the caption, "HELP ME MORTY AND SUMMER."

Season:

2

Episode:

7
The poorly sketched version of Rick that Summer holds up in "Big Trouble In Little Sanchez" is not meant to poke fun at Summer's drawing abilities. The sketch of Rick looks just like the titular character's ancestral form ("Doc") from Roiland's The Real Animated Adventures of Doc and Mharti, the low budget show on which Rick and Morty is based.

Did you catch this reference?
The Time Cop Looks A Lot Like Stephen King's Langoliers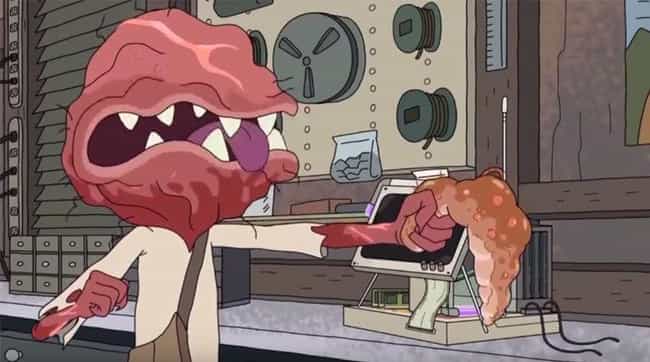 Reference:

The Time Cop's head

Season:

2

Episode:

1
In "A Rickle In Time," the Time Cop - with its large, venus fly trap-esque head - looks like a replica of the Langoliers from the Stephen King novella of the same name. Thematically there's a link too, as both the episode and King story are about the dangers of messing with the natural flow of time.

Did you catch this reference?
'Lawnmower Dog' Is A Shout-Out To Roiland's Failed Cartoon Network Show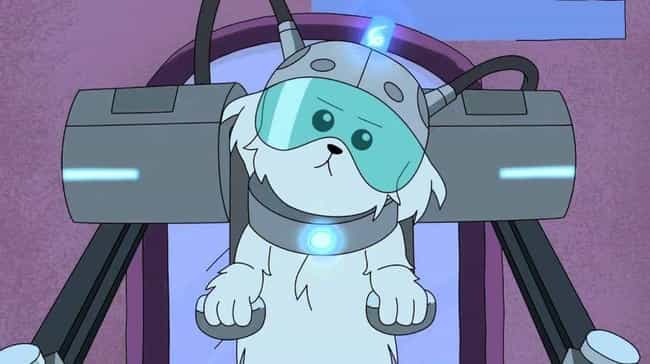 Reference:

A world in which humans are subservient to dogs

Season:

1

Episode:

2
The entire premise of the episode is lifted from a show called Dog World creator Justin Roiland successfully pitched to Cartoon Network in 2012. The network ended up dropping the project. The theme music for Rick and Morty was also recycled from Dog World.

Did you catch this reference?