Total Nerd
15 Very Absurd Trick Arrows From The Green Arrow Comics

181 votes
65 voters
2.9k views
15 items
While he's been dismissed as a Robin Hood rip-off in the past, comic book fans and fans of the Arrow TV show have a better appreciation for Oliver Queen. One of the big draws of Green Arrow is his progressive character and his skill with a bow, but he wouldn't be Green Arrow without his trademark trick arrows. Some Green Arrow trick arrows involve handcuffing a thug, releasing a net over a crowd of bad guys, or even clocking a foe with a cartoonish boxing glove. Yet even these bizarre arrows aren't the craziest trick arrows that you'll come across in Oliver's adventures.
Were you aware about the trick arrow that was essentially a bottle of bleach? Or the one that smells like fish to distract sea creatures? How about the arrow that's literally a gun? Take a moment and read up on the oddest trick arrows in Green Arrow comics.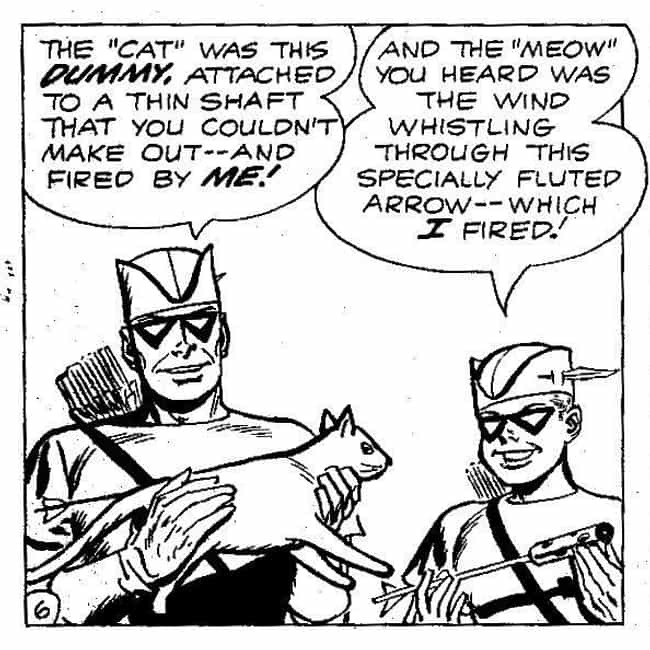 In an older Green Arrow tale titled "The Cop Who Lost His Nerve," a scaredy cat policeman is unable to do his job due to his fear of cats. The policeman ends up overcoming his fear after a cat saves his life. However, it turned out that the cat that cured the cop of his phobia was actually a cat decoy strapped onto one of Green Arrow's arrows and the "meowing" was actually a whistle from sidekick Speedy's whistle arrows.
Sure, these items actually served a purpose, but there are so many questions. How did the Fake Cat Arrow fit in Oliver's quiver? Where did he get a realistic cat decoy? Lastly, just... why?

Absurd arrow?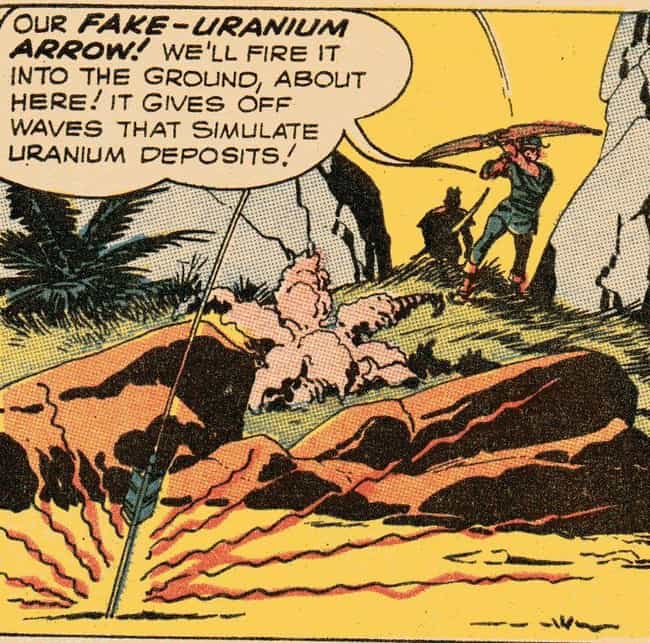 To protect his secret identity, Green Arrow needed something to throw off the explorers that were traveling on the island where Oliver was originally stranded. In Adventure Comics #256, Green Arrow debuted a Fake Uranium Arrow to mess with the explorers' Geiger counter. The explorers were veered away from the area where the fake uranium landed, fearing radiation poisoning. One still has to wonder why Oliver had such an arrow prepared in the first place. Also, what is "fake uranium" made of anyway?

Absurd arrow?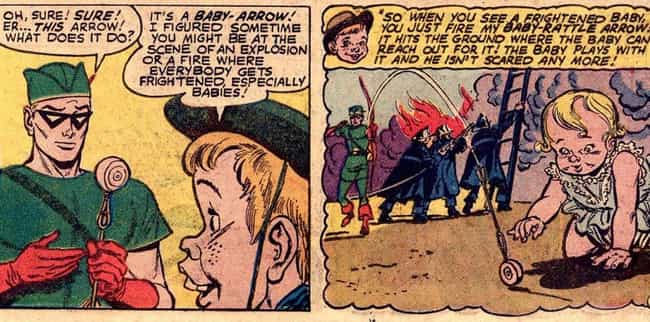 Sometimes, Green Arrow's fans come up with the craziest arrow ideas. In Adventure Comics #265, Green Arrow ran a cowboy-themed day camp for boys because this was the 1950s. One of the campers came up with the idea of a baby rattle arrow for GA to fire and calm down scared babies from a distance. While made with good intentions, it's highly impractical - at least there's a certain logic behind the Baby Rattle Arrow compared to other puzzling trick arrows.

Absurd arrow?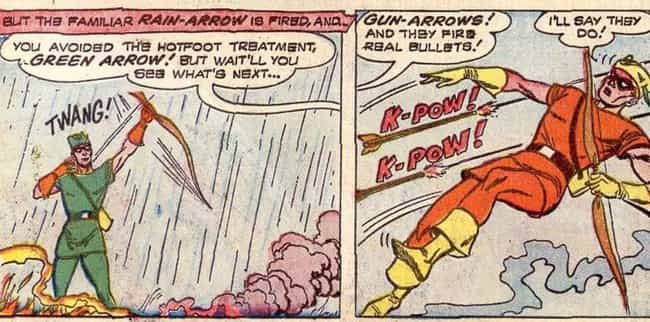 What's better than a projectile weapon? A projectile weapon inside of another projectile weapon! A charity donor wants to be like Green Arrow, so Ollie takes him under his wing as a reward for his generosity. Turns out that the charity donor was evil (surprise!) and he shows off his archery skills that includes trick arrows that fire bullets at their target. Luckily for Green Arrow, no one told this guy that a regular gun would have more effective and less redundant.

Absurd arrow?