Weird History
The Most Unbelievable Old Hollywood Estates

Updated January 7, 2020
2.3k votes
635 voters
49.4k views
14 items
List Rules Vote up the estate you'd like to call yours.
Old Hollywood mansions may not be as large or lavish as many celebrities' homes today, but considering their size and cost during the time in which they were built, they're still impressive. Often located on acres of property, many featured amenities like swimming pools, tennis courts, and even golf courses. Residents and their guests could make use of dozens of bathrooms, bedrooms, and private screening rooms for their films. While ideas of living in excess have changed since Hollywood's silent film era, the need for successful Hollywood residents to live beyond the means of ordinary mortals is pretty much the same.
Old Hollywood estates aren't limited to the silent film era, however, and stars from the golden ages of the 1930s and 40s through the 1960s all used their wealth to create elaborate living spaces for themselves. Many became places for the famous to gather and hold parties. From acres of gardens and stables to garages large enough to hold an entire fleet of cars, these estates provided an appropriate setting for Hollywood's larger-than-life elite to spend their days and nights.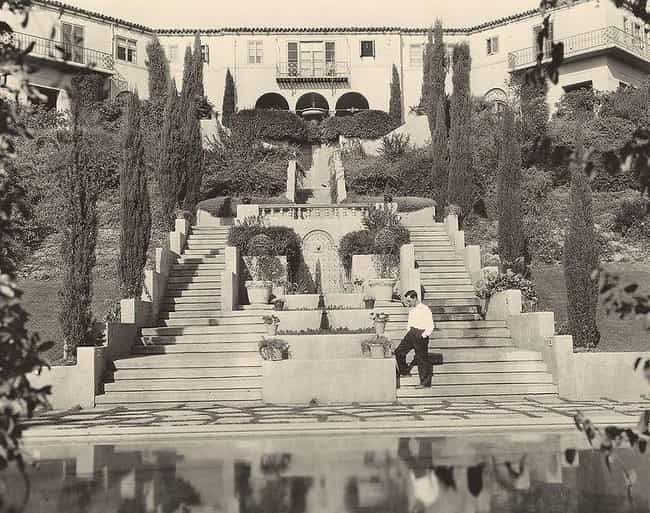 Silent film legend Buster Keaton built his Beverly Hills home in 1926, one block away from the Beverly Hills Hotel, where he lived with his wife Natalie Talmadge. Their newly built home measured nearly 11,000 square feet and sat on 3 and a half acres. Containing 20 rooms, it resembled Italian and Spanish villas, with wrought iron, stonework, and arched glass.
There was a 5-foot-wide fireplace and a room with a pool table and a hidden bar that could be converted into a screening room. Keaton's property also held a tennis court, a swimming pool built to resemble a Roman bath, and an aviary. Among the gardens outside, he built a trout stream and planted 42 palm trees, which cost a total of $14,000. Talmadge kept the estate when she and Keaton divorced in 1932, and she became the owner of the property. The house saw many visitors, counting Cary Grant and James Mason among those who lived with Keaton's former wife there. In 2016, Keaton's estate was finally reassembled by new owners, who purchased the $16.2 million property.
Is this enough room for you?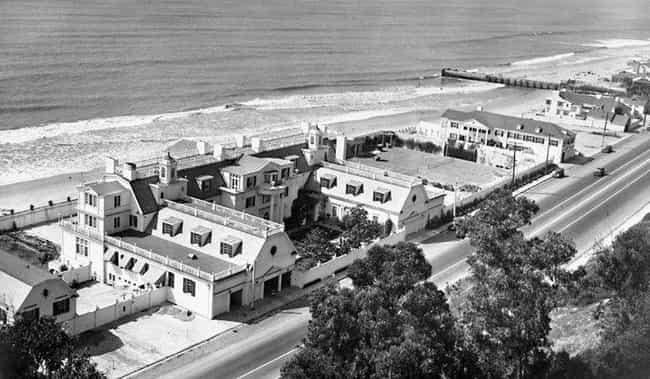 In addition to newspaper mogul William Randolph Heart's famous castle in San Simeon, California, he also built a home for his mistress, actress Marion Davies, with whom he was having an affair. In the early 1920s, he purchased property along the Pacific Coast Highway in Santa Monica to build Davies her palace, and she became one of the many wealthy celebrities to own land on what was becoming known as the "Gold Coast." Hearst bought 15 plots of land along the ocean and combined them into one property that totaled 5 acres.
Construction on Ocean House began in 1926 and when it was complete, the Georgian Revival-style structure boasted more than 100 rooms including a ballroom, a banquet room, and a complete tavern. Guests most likely had little difficulty finding a bathroom since there were 55, and they could easily stay warm in front of one of 36 fireplaces. Outside, the mansion featured a 110-foot-long pool, tennis courts, gardens, and houses for the staff. Hearst reportedly spent $7 million on the house, with only $3 million of the costs going toward actual construction. The rest of the budget went to pay for furnishings. The expense was reportedly worth it, however, since Ocean House became one of the era's premier party places for Hollywood's elite.
Davies sold the house in 1947 to Joseph Drown, who turned the property into an exclusive hotel and the Sand & Sea Club. Although the Sand & Sea Club continued to operate, the main house was torn down in 1956 and the property was sold to the State of California several years later. After the 1994 Northridge earthquake wrecked all of the structures on the property, the City of Santa Monica decided to convert the property into a community area. With the funding help of the Annenberg Foundation, they created the Annenberg Community Beach House at Santa Monica State Beach, which opened to the public in 2009.
Is this enough room for you?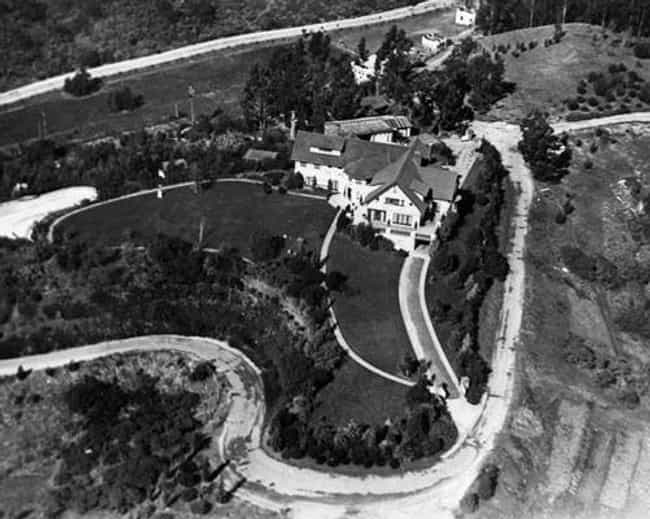 In 1919, Old Hollywood power couple Mary Pickford and Douglas Fairbanks purchased 15 acres of land on Summit Drive in Beverly Hills for $35,000. The property was previously uninhabited aside from a small hunting shack until the two silent film stars began building their dream mansion. They hired Wallace Neff to design their home, which boasted huge gardens, a copper roof, and 22 rooms. Pickford and Fairbanks also installed a swimming pool, one of the first to be built in Los Angeles. They named their home PickFair, and not only did they inspire other wealthy people to buy land in the Beverly Hills area, but the couple also helped start the trend of people building private swimming pools beside their homes. PickFair also became a place many Hollywood celebrities came to let loose, and it hosted many famous guests, including Fatty Arbuckle, Charlie Chaplin, and even Albert Einstein.
In 1930, Pickford and Douglas added two more wings to their mansion. The extra space became useful as their relationship fell apart and the couple reportedly claimed their own wings to limit their contact with one another. After their 1936 divorce, Pickford maintained control of the house and divided the property into smaller units before she passed in 1979. One year later, the owner of the LA Lakers, Jerry Buss, reportedly purchased the house and the then-2.7-acre property for $5,362,500, before he sold it in 1988 to actress-singer Pia Zadora and her wealthy husband, Meshulam Riklis. While Buss made few updates to the house, Zadora had other ideas. After reportedly paying $6,675,000, the couple said they would preserve and restore PickFair - but instead tore it down, claiming the house was infested with termites and possibly ghosts. Zadora and Riklis built a new home on the property that featured a disco and salon. It was put on the market in 2008 for $60 million.
Is this enough room for you?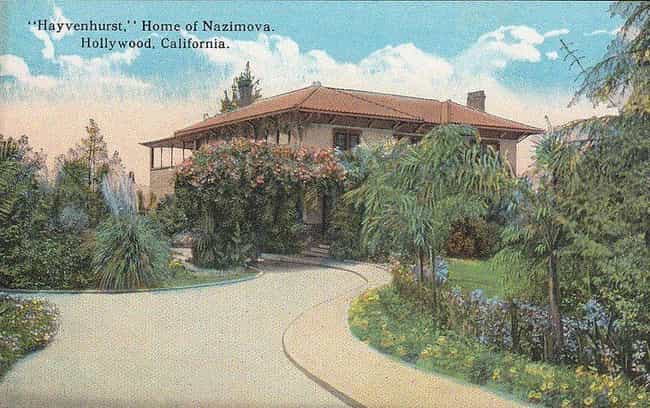 In 1918, actress Alla Nazimova began renting a 40-room mansion on Sunset Boulevard, for which she paid $50,000. She quickly began developing the 3-and-a-half acres on which the house sat, and built a swimming pool larger than any other in Hollywood at the time. Celebrities gathered at the house to relax or have parties, and when financial troubles forced Nazimova to sell the mansion in the 1920s, the parties didn't end: developers turned the house into a 30-bungalow hotel named the Garden of Allah.
Not only did celebrities gather to party there, but many also claimed the hotel as their residence. Marlene Dietrich, Humphrey Bogart, and Errol Flynn all called the Garden of Allah home at one time, among many other famous guests. Alcohol, controlled substances, and love flowed freely, and stories about what went on fueled gossip columns for years. Although she no longer owned the hotel, Nazimova rented a room there until her passing in 1945. After WWII, the Garden of Allah fell into disrepair and attracted more seedy residents. It finally closed in 1959, and the building was demolished.
Is this enough room for you?