Entertainment
14 Old Hollywood Movies Where the Stars Totally Hooked Up IRL

Updated January 2, 2020
211.7k views
14 items
The seemingly limitless ingenuity of the human mind has allowed people to go to the moon, touch the bottom of the ocean, cure diseases, and spread celebrity gossip like the plague. Yet the societal obsession with celebrity is hardly a new phenomenon, and neither is the desire to know every intimate, trivial facet about the love lives of stars. In fact, the tabloids and newspapers of yesteryear were chock full of details about old Hollywood actors who hooked up during filming.
Mostly, you weigh the significance of actor-on-actor romances by how hot the two are on screen. Who cares about the inevitable break-up? They don't put that on film (usually). When you go to the pictures, you wanna see scenes of beautiful people in love. The studio sets of Hollywood's Golden Age were just as depraved as today's, if not more so, and everyone was getting in on it. Studio heads tried to manipulate relationships, news agencies sent headlines around the world. Even the Vatican had something to say about the romance between Elizabeth Taylor and Richard Burton.
Read on to learn about old Hollywood movies where the stars were having sex, and to pick up some juicy tabloid tales of yesteryear to impress your friends with old Hollywood stories of stars hooking up.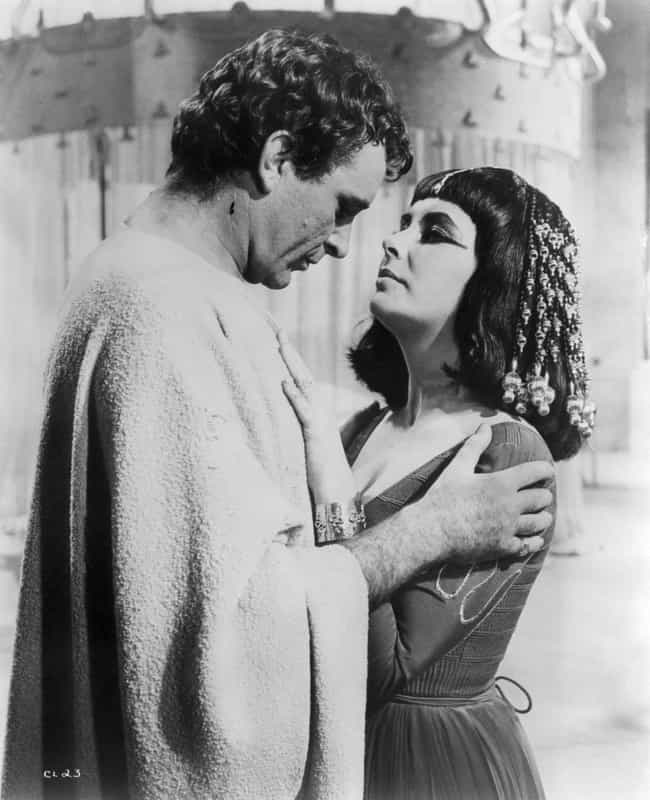 What would become the most famous affair in the history of Hollywood began on the set of a movie about the most famous affair in the history of the world.
Elizabeth Taylor, married to Eddie Fisher, starred as the great Egyptian queen Cleopatra, and Richard Burton, married to the bottle (and Sybil Williams), played opposite her as Cleopatra's Roman lover Marc Antony. Their first meeting came while shooting publicity stills before production started. As the photographers worked, Burton remarked "Has anyone ever told you you're a very pretty girl?" prompting a legion's worth of eye-rolling from everyone within earshot.
The two were antagonistic at first. Burton derogatorily called Taylor Miss T*ts, and she reportedly found the alcoholic Welshman "brutish and boorish." The hostility didn't last long, however. After shooting their first on-scene kiss, director Joseph Mankiewicz called cut. And then called cut again. And again. Because they just kept kissing. Word about their on-set liaison quickly spread and started a worldwide publicity tornado Burton dubbed "Le Scandale." Even the Vatican got in on, calling the affair "erotic vagrancy."
Burton and Taylor eventually divorced their respective spouses and married each other. Then divorced each other, remarried each other, and then redivorced.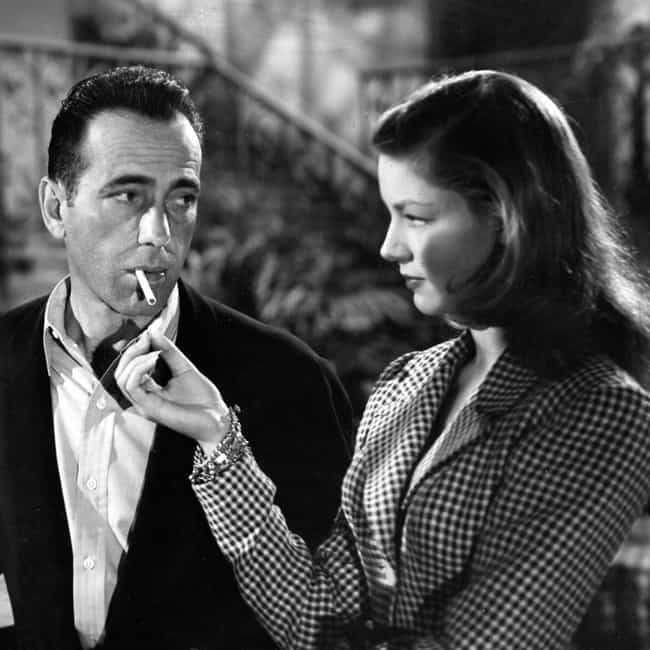 Going into To Have and Have Not, Humphrey Bogart was a married 44-year-old veteran actor and Lauren Bacall was a 19-year-old model appearing in her first film role. Coming out of it, they were one of the most iconic couples in Hollywood history.
The two started slow, horsing around on set and enjoying the rhythm of the work. By the time they made the film's most famous scene - the one where Bacall asks Bogie if he knows how to whistle - everybody caught on. "We knew things were happening," said costar Dan Seymour, "He had that sort of smile you can still see on the screen."
Bogie called Bacall "baby," they walked around set holding hands, and, in the craziest of Hollywood twists, the on-set relationship worked out: Bogie and Bacall stayed together until his passing thirteen years later. In fact, To Have and Have Not worked out so well for the couple they named their first child Stephen, after Humphry's character in the film.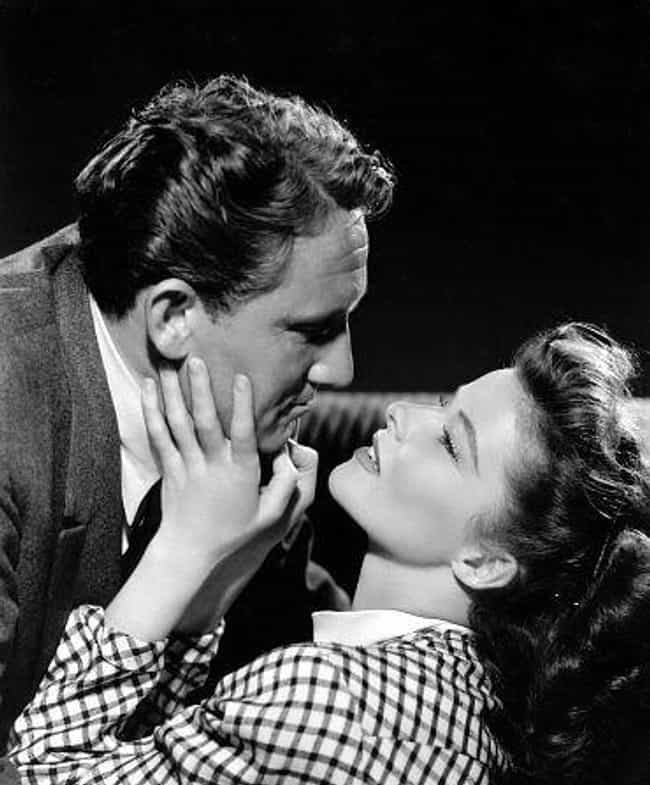 Katherine Hepburn was first introduced to Spencer Tracy during a lunch to discuss their roles in the upcoming Woman of the Year. Though she would later deny it, legend has it the first thing Hepburn said to the man who would be her on-and-off screen lover for the next quarter century is: "Mr. Tracy, I believe I'm too tall for you." This apparently caused director George Stevens to quip: "Don't worry dear, he'll cut you down to size."
Real or not, the exchange illustrates the brash, flirtatious, at times antagonistic relationship that became one of the greatest love affairs in Hollywood history. And it was an affair - Tracy was married at the time (and remained so until his passing), and lived in fear of his wife finding out about his relationship. The budding couple took lunches together in their dressing rooms to "rehearse," a practice that continued through their MGM days, even when they weren't working on a picture together.
The pair went on to star together in eight films after Woman of the Year , and even though they were frequently linked to other people , they never stopped the affair that began with a playful joke.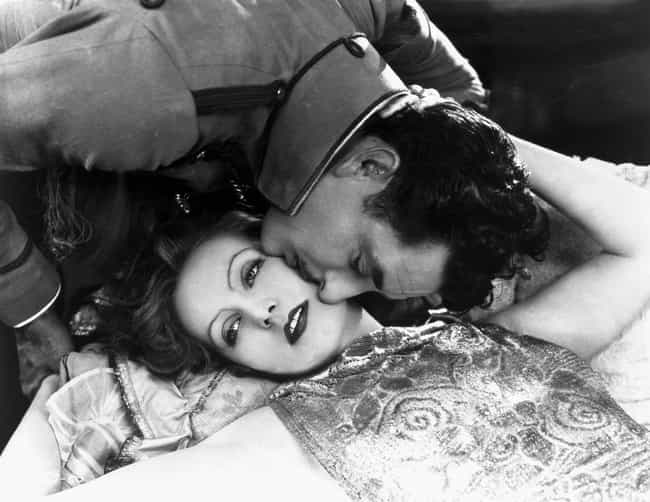 Silent film actor John Gilbert was known as the Great Lover of the Silver Screen for his ability to gaze romantically at beautiful women. Greta Garbo was known as one of the great Hollywood icons of any era for her ability to convincingly be a beautiful woman.
In 1926, MGM paired Gilbert with Garbo in the romance Flesh and the Devil. Their onscreen attraction was immediate and intense. Director Clarence Brown remembers it like this:
When they got into that first love scene… nobody else was even there. Those two were alone in a world of their own. It seemed like an intrusion to yell "Cut!" I used to just motion the crew over to another part of the set and let them finish what they were doing. It was embarrassing.
Gilbert and Garbo's real life relationship mimicked their on-screen one, with him playing the role of ardent schmuck and her as the frozen object of his desire. Gilbert was in the middle of an acrimonious divorce with Leatrice Joy, but that didn't stop him from proposing to Garbo. The story is, Garbo accepted the proposal but failed to show on the wedding day, leaving Gilbert alone at the alter. Heartbroken but undeterred, he proposed to her two more times, and was rebuffed each time.
Based on their very real chemistry in Flesh, the couple was cast in three more films together (Love, A Woman of Affairs, Queen Christine) before his falling, alcoholic star was eclipsed by her rising one. Gilbert had passed by 36 and Garbo was never married.