Weird History
The Life Of Oscar Micheaux - The First African American To Direct And Produce A Feature Film

In the first few years following the end of WWI, a new type of filmmaking started to appear in the United States. Known as "race movies," these were films usually featuring all-black casts targeted to black audiences.
The man widely considered to be the leading figure in this genre was Oscar Micheaux. From 1919 to 1948, the self-taught Micheaux produced and directed more than 40 short and feature-length silent and talkie "race movies," the majority of which he also wrote. He is believed to be the first African American to produce any sort of feature film, as well as the first to produce a talkie.
Most of Micheaux's movies have not survived. But two that have, Within Our Gates (1920) and Body and Soul (1925), are considered among his most important works; many historians believe the former was a direct response to D.W. Griffith's epic, The Birth of a Nation (1915), while the latter introduced movie audiences to the great Paul Robeson. Micheaux was not afraid of tackling controversial issues like prejudice, lynching, and interracial romance, which led to many conflicts with film censors. He was also determined to give black actors better roles than they could expect from white Hollywood. Here's a look at the life and career of the pioneer who inspired many black filmmakers.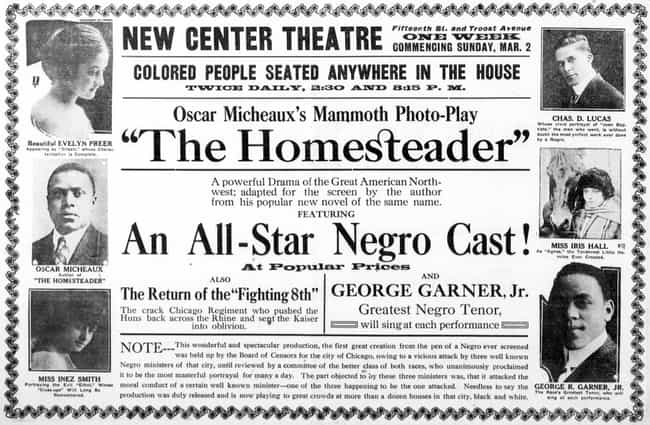 Micheaux's 'The Homesteader' (1919) Is Thought To Be The First Feature Film Produced And Directed By An African American
In the early 1900s, Micheaux turned to writing in an attempt to make a living. After having a few articles published, he began writing novels, most of which were autobiographical. He self-published seven novels over his lifetime, but it was one in particular that directly led to his career as a filmmaker.
The success of Micheaux's novel The Homesteader attracted the attention of George and Noble Johnson, who operated the Lincoln Motion Picture Company, one of the very first film production companies operated by African Americans. Negotiations for the company to produce a film version of the novel began in the summer of 1918 but fell apart when the Johnsons rejected Micheaux's request to direct and produce the project.
Micheaux formed the Micheaux Book and Film Company, selling shares to finance the Homesteader film project. He was able to raise much of the money quickly; in a letter dated August 11, 1918, he claimed to have already raised $5,000 of the $10,000 he had sought, and had begun filming. The film was released in March 1919; it's thought to be the first feature film produced and directed by an African American (Micheaux co-directed the film with Jeremy Mills). The Homesteader also had an all-black cast and crew and was marketed primarily to black audiences (although Micheaux did attempt to market it to white audiences, as well).
Using a technique similar to the one he had first used to sell his novels, Micheaux traveled to theaters in black neighborhoods across the Midwest, persuading theater owners to show the film and selling them rights to his next one. He ended up grossing $5,000.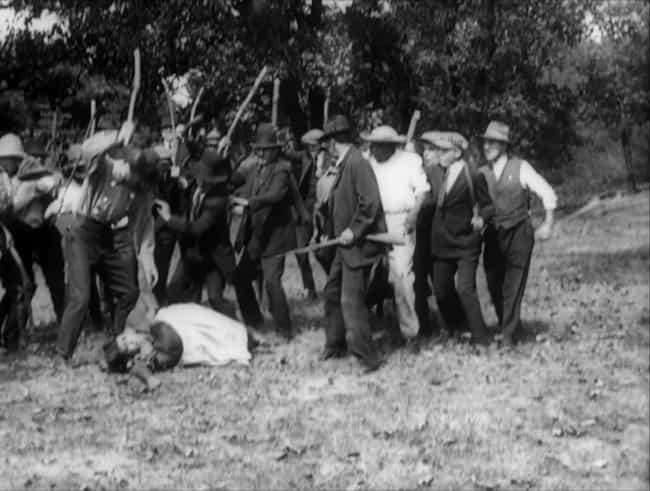 Some film historians believe that Within Our Gates was an answer to D.W Griffith's The Birth of a Nation, which was released in 1915. Griffith's film portrayed Southern black men as unintelligent thugs, lusting after white women, while depicting the Ku Klux Klan in a heroic light. There were widespread protests by African Americans against the film, and the NAACP even headed an unsuccessful campaign to get it banned.
Film historian J. Ronald Green claimed that Micheaux was "aware" of the "calls in the black press for a champion to counter the slander of Griffith and Hollywood." However, Micheaux reportedly claimed that he had come up with the idea for the film as a response to the widespread social instability in the United States following WWI. The film was also produced shortly after he had witnessed the Chicago Race Riots in 1919, in which white mobs took the lives of numerous African Americans and burned residential neighborhoods, leaving thousands of black people homeless.
Whether Within Our Gates was meant as an answer to Griffith's film, racial prejudice plays a key part in its plot. Unlike the characters in Griffith's film, many characters in Micheaux's are well-educated African Americans with good careers - the female lead, Sylvia, is a teacher, and the male lead is a doctor - whose goals are threatened by the actions of some of the white characters. In flashbacks, the audience learns that Sylvia's adoptive parents were lynched after her father was mistakenly accused of slaying a wealthy white landowner. The film shows the horrifying event, and also has a scene (shown in flashback) of a white man attempting to force himself on Sylvia, only stopping when he realizes she is his illegitimate daughter.
The lynching scene in particular caused considerable controversy. The film was to premiere in Chicago, but the city's board of censors originally rejected the film because it feared the film could trigger another race riot. And many white theater owners in the South whose venues catered to black audiences refused to book it, using the argument that it would be a "very dangerous" film to show in that part of the country.
Within Our Gates, which was selected for the National Film Registry at the Library of Congress in 1992, can been seen here.
see more on Within Our Gates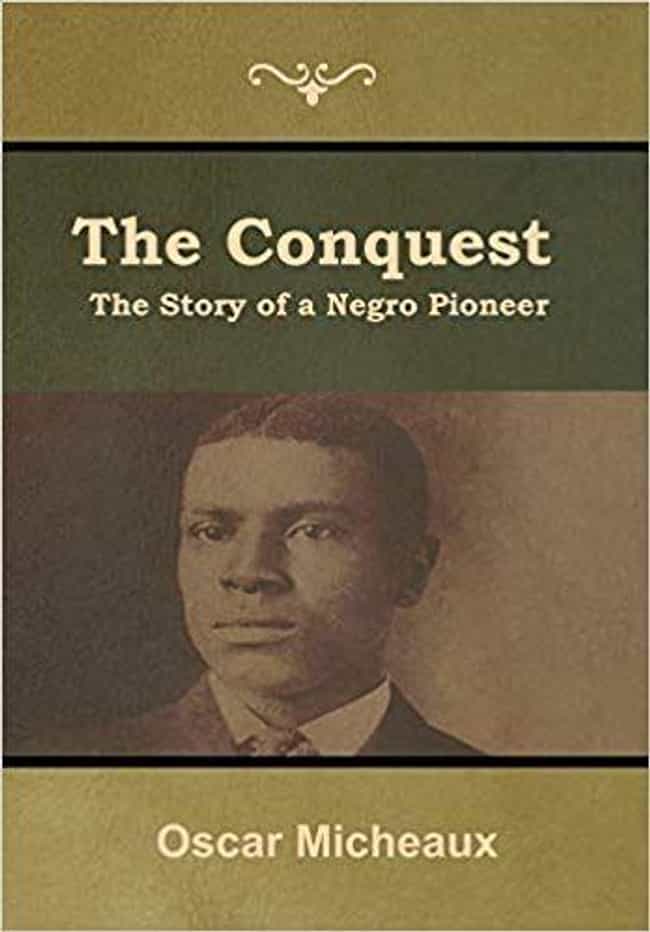 Micheaux Went Door To Door To Try To Sell His First Novel
After his attempt at homesteading failed, Micheaux tried his hand at becoming a writer. His first novel, The Conquest: The Story of a Negro Pioneer, was a largely autobiographical tale based on his life as a homesteader in South Dakota and his brief, failed marriage. Unable to find a publisher, Micheaux formed the Western Book Supply Company in order to self-publish the novel in 1913.
Micheaux went door to door to try to convince his (mainly white) neighbors to help finance the project. In exchange for them paying in advance for a copy of the completed novel, Micheaux gave each person an excerpt from the book. Through this method, he was able to raise enough money to print 1,000 copies.
Just prior to his passing in 1951, Micheaux told the New York Amsterdam News why he had self-published his novels: "I want to see the Negro pictured in books just like he lives. But, if you write that way, the white book publishers won't publish your scripts, so I formed my own book publishing firm and write my own books, and Negroes like them, too, because three of them are best sellers."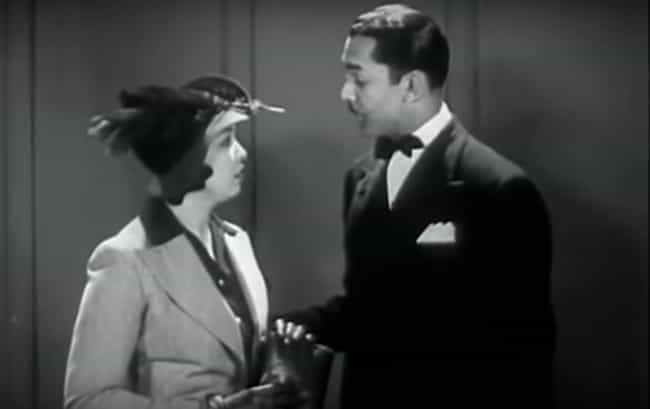 In The 1930s, Black Critics And Audiences Began To Reject Micheaux's Attempts To 'Uplift' The Race, Calling His Films Racially Ambivalent
Oscar Micheaux once said, "One of the greatest tasks of my life has been to teach the colored man he can be anything."
Although they were meant to entertain audiences, Micheaux saw his films as "propaganda" designed to "uplift the [black] race." He viewed this elevation as consistent with the idea of exposing the social problems that kept black people politically and economically unable to have the same sort of lifestyles that affluent white people enjoyed. He wanted to show that African Americans had the potential to be as well-educated and financially successful as white people.
But in the 1930s, black critics and audiences began to reject his message as racially ambivalent. Some accused Micheaux of creating a fantasy world in his films where black people were "just as white - as white America." Others criticized Micheaux for his realistic, sometimes unflattering, portrayals of the black underclass, saying that by doing so, he was supporting negative stereotypes perpetuated by white people.
Much of the criticism had to do with what could be called a skin color caste; the critic Theophilus Lewis wrote in the New York Amsterdam News that Micheaux made "artificial associations of nobility with lightness and villainy with blackness."
However, not all of the lighter-skinned actors played positive characters, and there were darker-skinned actors in heroic roles. Lorenzo Tucker, a light-skinned actor who had leading roles in several of Micheaux's movies, claimed the filmmaker was willing to cast against stereotype and employed "all shades of the black race." Micheaux himself had criticized the color caste system in the black community as destructive social behavior.