Chain Restaurants

P.F. Chang's Recipes
90 votes
46 voters
16.7k views
7 items
P.F. Chang's recipes - the easy way to prepare the best Chinese dishes from the P.F. Chang's menu. These are copycat recipes, not necessarily made the same way as they are prepared at P.F. Chang's China Bistro, but closely modeled on the flavors and textures of P.F. Chang's popular food, so you can bring these exotic tastes to your own table for a fraction of the cost.
P.F. Chang's is a chain of upscale restaurants best known for its American Chinese cuisine. Founded in 1993 in Scottsdale, AZ, the company operates more than 200 restaurants. In addition to burgers (two beef patties, sesame-seed bun, single slice of cheese, signature Big Boy special sauce), the restaurant also offers breakfast items, salads, and desserts.
From Red Lobster Cheddar Bay Biscuits to Buffalo Wild Wings hot sauce, chain and franchise restaurants are popular destinations around the world. Eating out too frequently can be costly, not to mention that it's hard to control portion size, ingredients, or the style of cooking to suit your preferences.
Making P.F. Chang's recipes on your own allows you to save money while enjoying your favorite menu items from the casual dining spot. This list collections the best copycat P.F. Chang's recipes from around the Web.
What are P.F. Chang's recipies?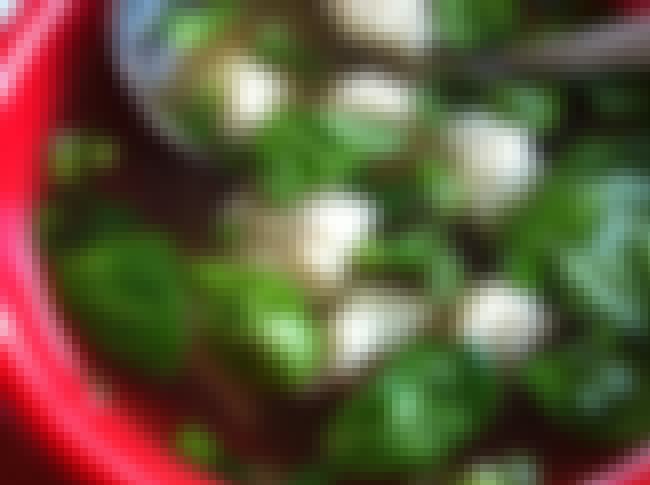 -2 chicken breast halves without skin, cubed
-1 lb medium shrimp, tail off, fresh or frozen
-1 cup fresh spinach, torn in small pieces
-1 cup sliced mushrooms
-1 x 8 oz can water chestnuts, drained
-1 tbsp Chinese rice wine, or dry sherry
- 2 tbsp soy sauce
- green part only 1 tspn finely chopped green onion
-4 cups chicken stock
-1 tspn finely chopped fresh ginger
-l tspn light brown sugar
* Homemade Wontons:
- 24 wonton wrappers
- 6 oz pork, coarsely chopped
- 8 medium shrimp, coarsely chopped
- 1 tbsp Chinese rice wine, or dry sherry
- 1 tbsp soy sauce
- 1 tspn finely chopped green onion, green part only
- 1 tspn finely chopped fresh ginger
- l tspn light brown sugar
- Bring chicken stock to a rolling boil; add all ingredients.
- Cook until chicken and shrimp are cooked through for 10 minutes.
- Homemade Wontons: In a bowl, mix chopped pork and ground shrimp with brown sugar, rice wine or sherry, soy sauce, scallions and chopped ginger;blend well and set aside for 25-30 minutes. Place 1 tsp of filling in the center of each wonton wrapper. Wet edges of each wonton with a little water and press them together with your fingers to seal, then fold each wonton over.
- Add wontons to boiling chicken stock and cook for 4-5 minutes; transfer to individual bowls and serve.
- Garnish with thinly sliced green onions.

Would you try this?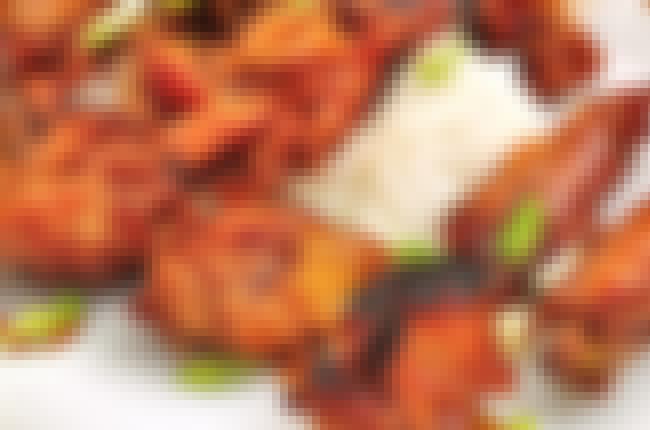 * Batter
4 ounces flour
2 1/2 ounces cornstarch
1 egg
6 ounces water
1/8 teaspoon baking soda
1/8 teaspoon baking powder
* Chicken Seasoning
1 lb boneless chicken breast , cut up
1 tablespoon light soy sauce
1/8 teaspoon white pepper
1/4 teaspoon kosher salt
1 tablespoon cornstarch
* Sauce
1/2 cup sake (rice wine)
1/2 cup honey
3 ounces rice vinegar
3 tablespoons light soy sauce
6 tablespoons sugar
- Batter: Mix the ingredients together thoroughly; let sit in the refrigerator for 2 hours.
- Coat chicken with seasonings; marinate in the refrigerator for 20 minutes.
- Coat chicken with batter and fry in oil.
- Sauce: Mix ingredients together; when ready to eat, mix 1/4 cup water with 1/4 cup cornstarch.
- Bring sauce to a boil and add the cornstarch mixture slowly; boil 1-2 minutes.
- Coat cooked chicken with the sauce.

Would you try this?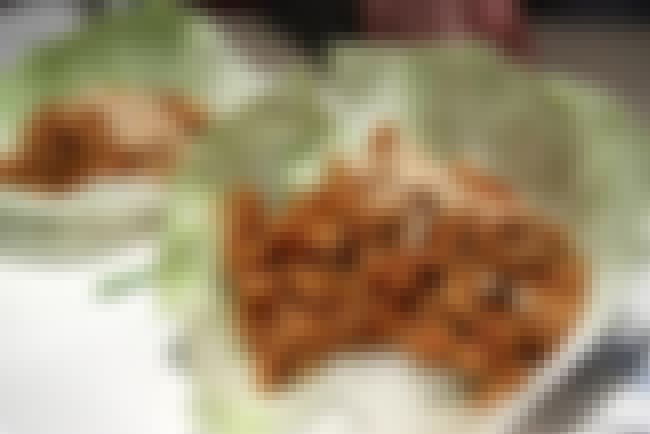 8 fresh shiitake mushrooms
1 teaspoon cornstarch
1 teaspoon soy sauce
2 teaspoons dry sherry
2 teaspoons water
salt and pepper
1 1/2 lbs ground chicken
5 tablespoons oil
1 teaspoon fresh ginger , minced
2 garlic cloves , minced
2 green onions , minced
2 small dried chilies (optional)
1 (8 ounce) can bamboo shoots , minced
1 (8 ounce) can water chestnuts , minced
1 (2 ounce) package cellophane noodles , prepared
* Cooking Sauce
3 tablespoons hoisin sauce
1 tablespoon soy sauce
1 tablespoon dry sherry
2 tablespoons oyster sauce
2 tablespoons water
1 teaspoon sesame oil
1 teaspoon sugar
2 teaspoons cornstarch
12 leaves iceberg lettuce , cups
- Cut and discard woody stems from mushrooms.
- Mince mushrooms; set aside.
2
Mix all ingredients for cooking sauce in bowl, and set aside.
- In medium bowl, combine cornstarch, sherry water, soy sauce, salt, pepper, and chicken; stir to coat chicken thoroughly.
- Stir in 1 tsp oil; let sit 15 minutes to marinate.
- Heat skillet over medium-high heat. Add 3 tbsp oil and add chicken; stir fry for 3-4 minutes. Remove from pan and set aside.
- Add 2 tbsp oil to pan and add ginger, garlic, chilies if desired, and onion; stir fry about a minute or two.
- Add mushrooms, bamboo shoots and water chestnuts; stir fry another 2 minutes.
- Return chicken to pan.
- Add mixed cooking sauce to pan; cook until thickened and hot.
- Break cooked cellophane noodles into small pieces and put into serving dish.
- Pour chicken mixture on top of noodles; spoon into lettuce leaf and roll.

Would you try this?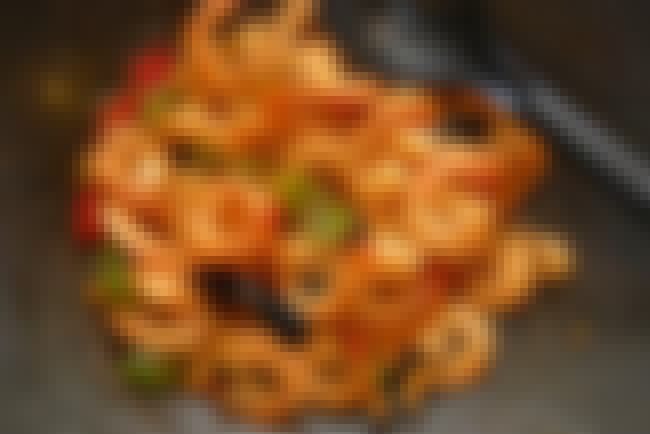 9 ounces shrimp, peeled and deveined
1 tablespoon Asian chili sauce (Sriracha or Sambal)
1 carrot, chopped
1 medium onion, chopped
1 long hot pepper, chopped
3 garlic cloves, minced
3 green onions, cut in small pieces
3 dried chilies
1 tablespoon vegetable oil or peanut oil
1 cup chicken stock
1 tablespoon soy sauce
Cornstarch slurry (1 tablespoon cornstarch mixed with 2 tablespoons of water)
1 tablespoon peanuts
- Mix shrimp with the sriracha sauce; set aside.
- Mix chicken stock and soy sauce together; set aside.
- In a large skillet over medium-high heat, add shrimp and half the oil.
- Sauté for 2-3 minutes on first side and another minute or two on the second side; remove shrimp from the pan and set them aside.
- Add all vegetables to pan with remaining oil and dried chilies.
- Sauté over high heat for 3 minutes; stir frequently.
- Add chicken stock, soy sauce and cornstarch slurry to the pan; allow to simmer for a minute or so
- Add shrimp back to the pan; simmer for another minute.
- Stir in peanuts and serve; garnish with additional scallions if desired.

Would you try this?