Graveyard Shift
Weird Phenomena Surrounding Religious Relics That No One Can Explain

Many people might dismiss severed body parts in decorative display cases as creepy religious artifacts; others, though, call them a respectful method of preserving a saint. Since ancient times, religions have maintained and cherished all manner of relics - from holy items like crosses and chalices to the actual remains of religious figures. In a few cases, such as saints whose bodies failed to decay, unexplained phenomena surround these items.
According to legend, a bishop named Polycarp became the first relic when Romans burned him alive. Polycarp prayed as the fire grew, and they miraculously avoided his body. Soldiers stabbed him to death and burned his remains, but the onlookers collected Polycarp's bones and prayed to them every year in recognition of his sacrifice.
Religious relics aren't always body parts, though, and not just Christians keep them. For some believers, relics represent an item of worship. Other relics embody the mysterious power of faith by healing, giving people strength, and performing miracles - no matter how creepy they look.
If Saint Gennaro's Blood Doesn't Liquefy, It's A Bad Omen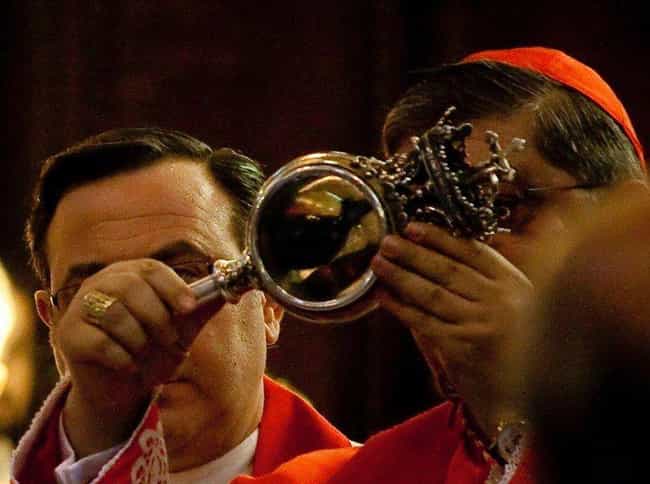 Saint Januarius, known as Saint Gennaro in Italy, lived during the 3rd and 4th century CE. As a Christian bishop, Gennaro suffered persecution ordered by the Roman emperor Diocletian. According to legend, Roman guards tortured Gennaro and threw him into a furnace. He managed to escape unharmed, so the Romans beheaded him instead.
A slave named Eusebia kept a vial of his blood at the time of his death until the church named Gennaro a martyr decades later. Wanting to add the vial to his other sacred remains, Eusebia brought the dried blood to the procession of Gennaro's remains on its way to the Naples catacombs. While observing the event, she discovered the blood had returned to liquid form.
Ever since scholars started recording this phenomenon in 1389, archbishops have included the blood ​​​​​in semi-annual celebrations of Gennaro. If the blood goes from a solid to liquid state, then everything's fine. If the blood remains solid, though, people consider it a bad omen.
In the 20th century, Gennaro's blood stayed solid in 1939, when World War II began, and in 1980, when a large earthquake hit southern Italy. Gennaro's blood also remained solid in 2017, but the unfortunate event it heralded remains up for debate.
An Image Of Our Lady Of Guadalupe Hasn't Aged In Nearly 500 Years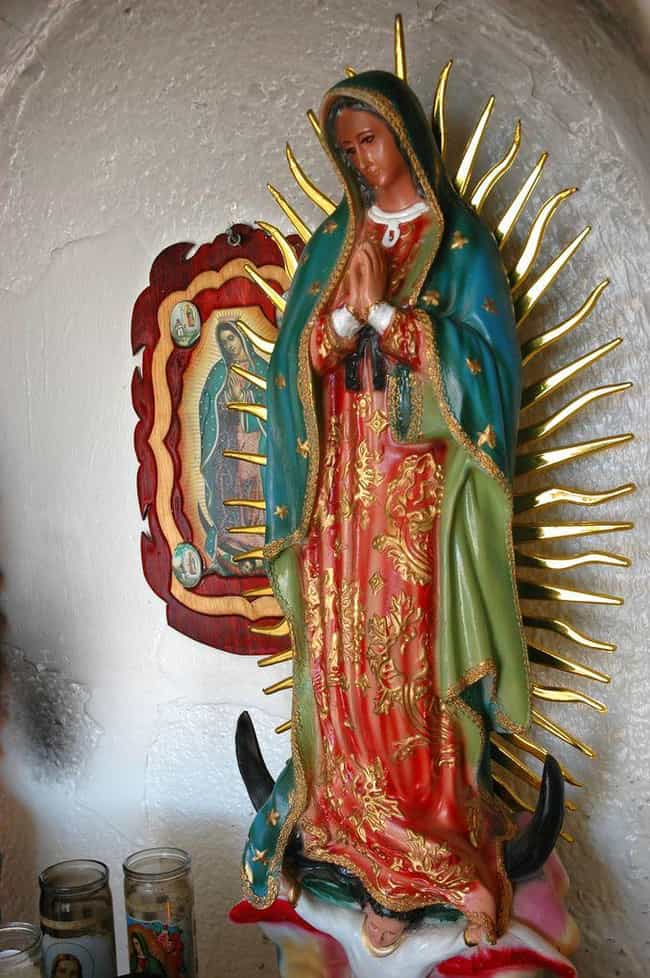 In 1531, a Mexican farmer named Juan Diego heard someone singing, only to encounter a vision of the Virgin Mary. She instructed Diego to ask the bishop to build a church, so she could help the people of Mexico.
Diego did what she asked, but the bishop didn't believe his story. Mary asked Diego to try again, and the bishop asked for proof. In a third vision, Mary told Diego to pick flowers and bring them to the bishop. As Diego unveiled the flowers from his cloak to the bishop, a picture of Our Lady of Guadalupe appeared on the fabric, convincing the bishop. That blessed cloak remains on display.
Although the image appears on a fabric woven from cactus fibers nearly 500 years ago, it has not faded, nor has the material deteriorated. Scientists have examined the image extensively and can offer no explanation. Some believe it's impossible a human painted the image, since it doesn't use any mineral or animal coloring - necessary ingredients for paint and ink at the time. The image of Our Lady even survived a bomb blast at the Basilica of Guadalupe in 1921, despite being a few feet from the explosive device.
The Head Of Saint Catherine Turned Into Roses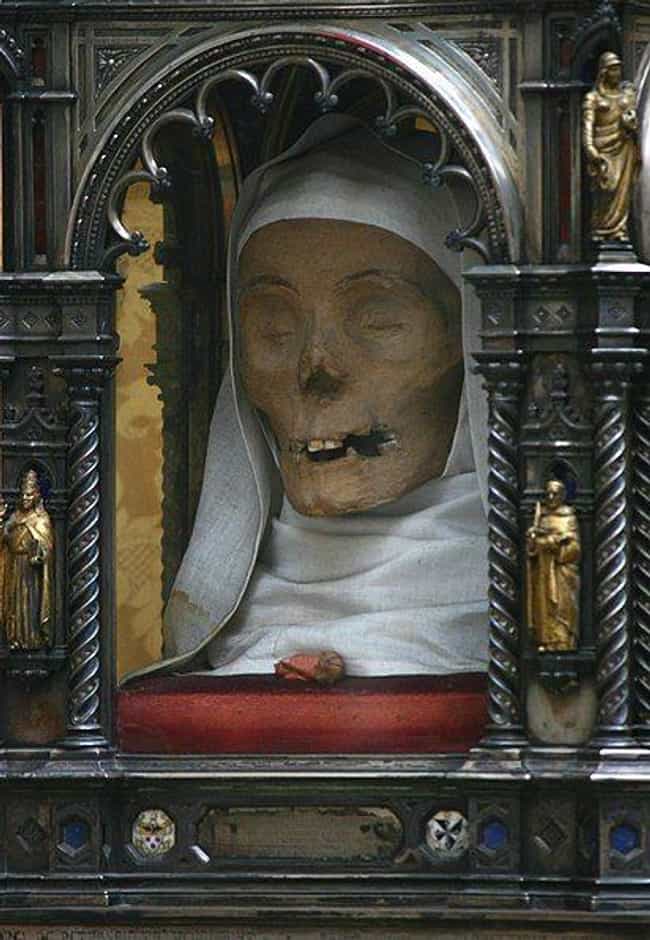 Born in 1347, Saint Catherine became a nun at a young age. She experienced visions of Jesus throughout her life, including one where he gave her a wedding ring made from his foreskin. A priest claimed he once saw Catherine levitating, and stories describe her receiving a stigmata at age 28. When she died in Rome five years later, she received a burial in the city - but citizens in her hometown of Siena wanted her buried there.
Since sneaking an entire body past Roman guards would be difficult, they removed her head and placed it in a sack. According to stories, Roman guards stopped the group of Siena citizens, but when they looked in the bag, Catherine's head transformed into rose petals. The guards allowed the group to pass and return to Siena where Catherine's head miraculously regained its original shape.
The head is currently displayed in the Basilica of San Domenico. And although her body remains in Rome, her ribs, a foot, and other body parts are showcased elsewhere in the world.
Women With Fertility Trouble Visit A Grotto Blessed By The Virgin Mary's Breast Milk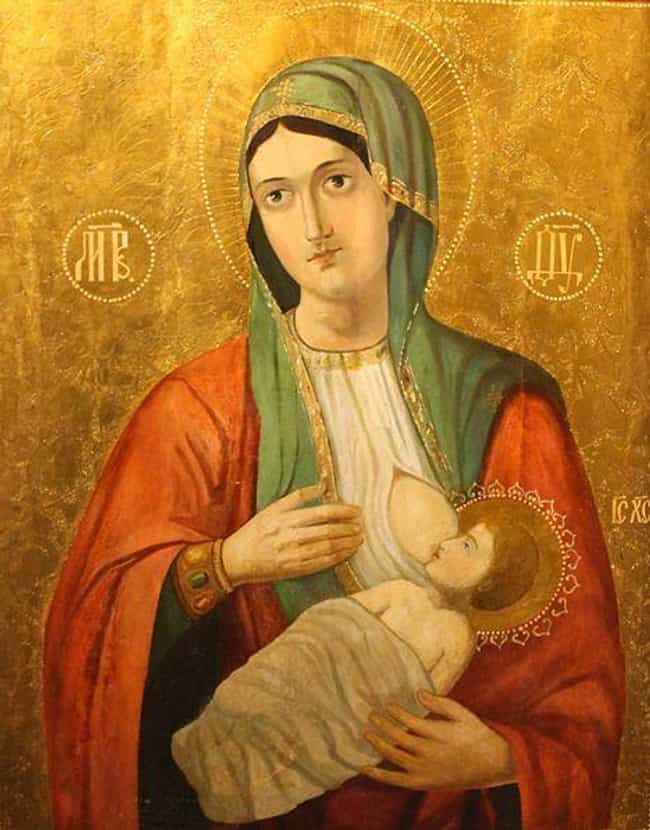 According to legend, Mary and Joseph stopped in a cave near Bethlehem to feed Jesus while running from King Herod's men. As Mary nursed the baby, a drop of breast milk landed on the ground and turned the entire cave white. Chapels and churches were built around the Milk Grotto beginning in the 4th century. And people have scraped pieces off the walls, sending them to churches all over the world to display as relics.
The Milk Grotto became a destination for women seeking fertility help. They pray to "Our Lady of the Milk" and scrape dust from the limestone walls, which they add to a drink and consume. Photos of children born thanks to the power of the Milk Grotto line the walls, and claims exist of more than 3,000 children born due to mothers' visits. Even those not looking to have children consume the cave dust to feel closer to the Virgin Mary.