Weird Nature
The Reason Patrick Stewart Has To Give Up His Dog Is Pissing People Off

Updated October 13, 2018
16.5k views
11 items
Sir Patrick Stewart is a genuine treasure in this often tumultuous world. His philanthropy, his acting, and his sense of humor - not to mention his friendship with Sir Ian McKellen - often give us hope and joy when we need it most. So, when the Internet got news and pictures of Patrick Stewart's dog, Ginger, naturally they instantly fell in love. Ginger the pit bull was sweet, energetic, loving, and the two of them were simply adorable together. However, when Sir Patrick decided to move back to England, it was revealed that he would have to give up Ginger. Why? Because of the UK pit bull ban.
You may wonder why are pit bulls banned in England? This ban exists to supposedly keep the public safe, despite the fact that it is mainly based on myths about pit bulls. Dogs can be confiscated just for looking too similar to a pit bull, and can even be put down though they've done nothing wrong.
Now, Patrick Stewart has stepped up to fight the ban, along with other celebrity pit bull owners. His time with Ginger has touched our hearts, and their tale is one that will, hopefully, end in some change for the better.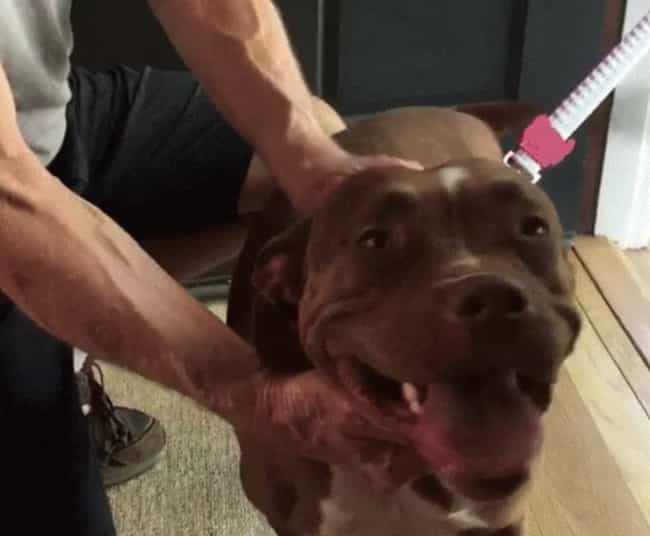 When Patrick Stewart decided he was going to try fostering a dog, he was a little uncomfortable with a pit bull being one of his options. He'd gained interest in the breed while advocating against dog fighting, but was still a little skittish until he met a neighbor's pit named Sadie, who he became enamored with. Then, when he greeted his two-year-old foster dog, a female pit bull named Ginger, it was love at first sight. Ginger had not had an easy life, and had been rescued from a dog-fighting ring where she was a breeding dog, and had been abused before. Still, this hadn't dampened her spirits or her ability to love.
From there, Sir Patrick and Ginger took the Internet by storm. His social media accounts blew up with photos and videos of his new best buddy, and anyone who saw them together agreed that they were pretty much the perfect couple. She would wake him up with kisses, he would take her for outings, and even sleep at her side sometimes. People began to wonder if Ginger would remain just a foster dog for long.
He Decided To Adopt Her And Move Back To England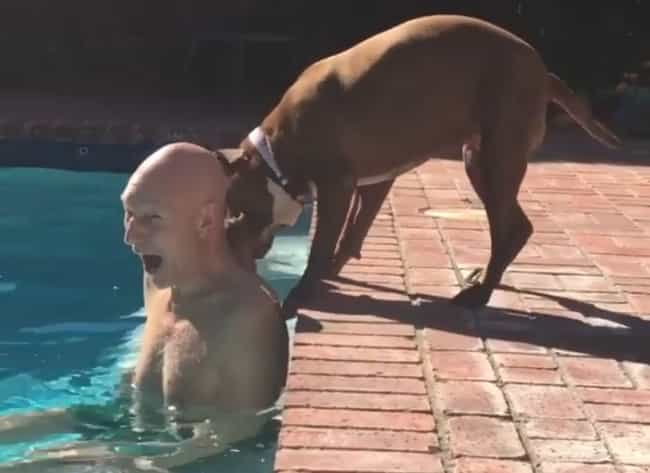 The fact was that Patrick Stewart had been left with a dog-shaped hole in his heart for far too long. He'd had to put down his old dog, Rover, when he was just twelve years old, and had not had a dog ever since. It became increasingly obvious to him that Ginger was a major part of his life, and that he would not be able to easily give her up. There is a term called a "foster fail," that means the dog foster owner falls in love with the dog and adopts it, rather than just caring for it for a limited time.
When it came time for Patrick to move back to England with his wife, the pair decided that they wouldn't do it as just a duo. The Internet once again lit up with joy as Sir Patrick announced that he was planning on adopting Ginger as a permanent member of his family. It seemed like a fairy tale, a perfect happy ending. But unfortunately, there was a problem...
The UK Has A Ban On Pit Bulls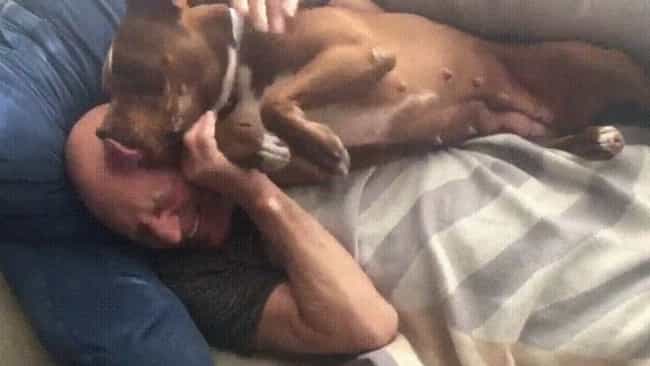 Since 1991, the UK has had a law in place called the Dangerous Dog Act. This act makes it illegal to own certain types of dogs, as a way of protecting the general public from potential attacks. Those breeds are the Japanese Tosa, the Dogo Argentino, the Fila Braziliero, and of course the Pit Bull Terrier. Any dog specifically "bred for fighting" is banned as well. If your dog is deemed dangerous, and you are found unfit to care for that dog, the dog can be removed from your care and put down, all according to this act.
Owning one of these dogs not only carries a heavy fine, but the possibility of jail time, and the dog in question will be seized and put down. Even with all this, surely, Sir Patrick Stewart, who has been knighted by the Queen, a celebrity, with a very sweet and non-dangerous pit bull must get special consideration! Right?
Ginger Had To Stay In The United States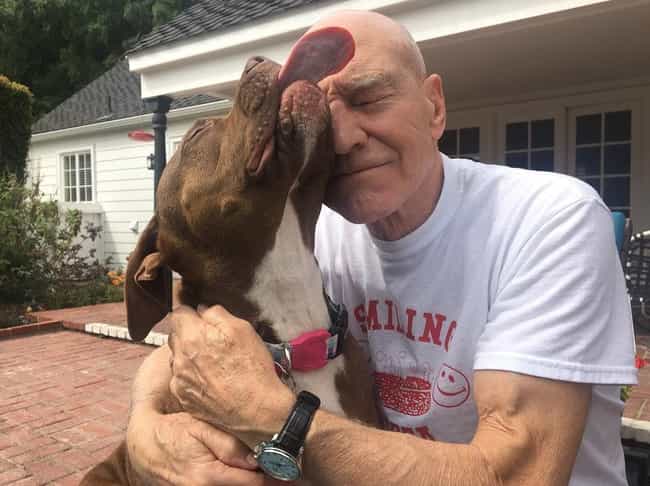 Wrong. As Patrick and his wife made plans to move back to the UK, it became increasingly clear that this ban on pit bulls meant Ginger could not come along. With a heavy heart, Patrick announced to the Internet that he would have to leave his newest and dearest companion in LA, and would not be able to adopt her.
From there, it was a matter of figuring things out for Ginger. They found a new foster home for her, and the foster organization thanked the Stewarts for their care of the dog, and noted how much she had improved in her short time with them. The trio said their tearful goodbyes, and then Ginger was gone. Luckily, Patrick Stewart's followers had gotten the word out about Ginger, and the foster organization Wags and Walks was inundated was inundated with applications to adopt the dog. She quickly found a forever home, which promised that Patrick could stay in touch and visit the dog whenever he wanted. Still, it wasn't the same for the Stewarts, who had wanted Ginger to become a part of their lives.